Company
Music and lyrics by Stephen Sondheim, book by George Furth
Derby Playhouse
(2005)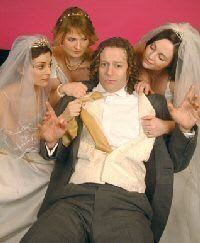 The hype for this rare outing of Sondheim's musical comedy would have impressed a Labour Party spin doctor: full-page adverts in the local evening paper for a week counted down the days until the start of the award-winning show "featuring the best singing cast ever assembled for a UK production". Sam Mendes, who directed the last professional Company in this country, at the Donmar in 1996, might have something to say about that.
The Playhouse was also quick to announce that Sondheim fans were coming from as far away as Japan and the United States to see Company. So does it live up to expectations? It certainly does.
This is the second Sondheim musical at Derby Playhouse in two years. The first was Sweeney Todd. The tale of the demon barber of Fleet Street is a heavy, dark, sometimes ponderous offering. Company is much lighter although both feature Sondheim's unmistakeably complex songs with clever lyrics that you won't be able to hum on your way home.
The reason Company is performed so infrequently, especially in the provinces, is because all 14 parts are principal ones. It calls for people who can sing, act and dance.
Company is the story of Robert, a bachelor in his 30s who would like to get married and settle down. But after seeing the marital problems experienced by five couples who are his closest friends, he wonders whether he needs the hassle and resolves to get wed only when he finds the perfect woman.
Glenn Carter, who has played Jesus Christ Superstar on Broadway, in the West End and on tour, is Robert. He performs the role well but never dominates the stage.
As I found out when I saw Superstar, Carter's smooth voice lacks power and he sometimes struggles to be heard above the ensemble. But he always retains control and no weakness is exposed.
As Robert, Carter doesn't have a lot to do in the first half as he witnesses the cracks in his friends' relationships.
Later Carter is convincingly melancholic, sad, troubled and depressed because he can't find the right partner. He just stays on the right side of the line that separates self-pity from wimpishness.
If Carter doesn't take over the show, a couple of actors threaten to steal it. Eliza Lumley (Amy) gives a superb performance of one of the production's fastest and most difficult songs, Getting Married Today. And extremely experienced Liz Robertson as drink-loving Joanne gives a husky, warm rendition of Ladies Who Lunch.
Director Karen Louise Hebden has done a commendable job with Company. She's assembled five well-matched couples, a lead who has charisma and a loyal following, and three single girls who are attracted to Robert for different reasons.
There's plenty of humour in the production, with Craig Purnell (Harry) and Melissa Jacques (Sarah) getting laughs during their karate bout, while Gabriella Santinelli (Jenny) and John Barr (David) are just as funny in the scene in which they're stoned on pot.
Steven Richardson's set, an art deco-style New York city apartment and skyline, looks stunning while musical director Moira Hartley leads a five-piece band whose enthusiasm for the show is evident in their bright, tight sound.
Forget the hype - this production is superbly done. Everyone who raves about it will obviously be in good company.
"Company" runs until May 21st
Reviewer: Steve Orme