Company
Music and Lyrics by Stephen Sondheim, book by George Furth
Sheffield Theatres
Crucible Theatre, Sheffield
(2011)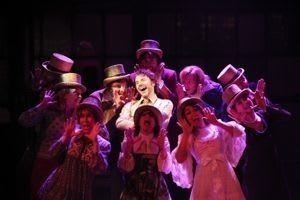 At seventeen years of age, Stephen Sondheim was hired as an assistant by Oscar Hammerstein (Oklahoma, Carousel) to work on an unconventional, experimental musical called Allegro, which subsequently bombed. Far from putting Sondheim off, this experience encouraged him to move on from the cheerfully romantic musicals of the 50s to evolve a distinctive and recognisable style, very much his own.
Company, written in 1970, is based on a book of one-act plays by George Furth about a number of marriages / relationships that are only held together by the presence of a third person, in this case Robert, who provides the 'company' that glues the relationships together. 'One's impossible/ Two is dreary. Three is company/ Safe and cheery'.
The setting is 1970s New York, 'a city awash with uncollected garbage and rife with unrest' (programme note). This is beautifully evoked by Chrisopher Oram's set. Along with burgeoning crime, public strikes and political protest, social and personal mores have been redefined, which leads to confusion, isolation and the impossibility of sustaining meaningful relationships. 'Another hundred people just got off of the train / And came up through the ground / While another hundred people just got off of the bus / And are looking around… It's a city of strangers'.
The musical is episodic rather than having a conventional linear plot. 'The show takes place, not over a period of time, but in an instant in Robert's mind… perhaps at the moment when he comes into his apartment on his thirty fifth birthday' (Sondheim, Finishing the Hat).
The excellent cast of confused and unhappy couples is held together by a strong central performance by Daniel Evans as Robert. In the first half, the couples seem self-indulgent and slightly irritating in their dependency on Robert, but social observation of the relationships is leavened by Sondheim's witty lyrics and rhythmic music. Show stoppers include the introductory song 'Company' and the plangent 'Another Hundred People'.
It is in the second half that the show shifts up a gear, and the music begins to reflect the depth of emotion felt by individuals in their strained and barely tolerable relationships. Francesca Annis gives a powerful and heart breaking rendition of 'The Ladies Who Lunch'; in 'Barcelona', when Robert eventually persuades air hostess, April, (Lucy Montgomery), to linger in bed with him a little longer, he is appalled when she agrees. 'Oh, well, I guess, OK'. 'What?' 'I'll stay' … 'But… Oh God'.
Daniel Evans's final song, 'Being Alive', is powerfully and passionately delivered. During the action of the play, Robert's head has been peopled by the friends he keeps company with, and the advice they offer to get married / not get married. He concludes that to be in a relationship, however flawed, is preferable to lonely solitude. 'Someone to need you too much / Someone to know you too well / Someone to pull you up short / to put you through hell / Is being alive'.
Although this is not the customary thigh slapping, bright and breezy kind of musical traditionally offered as Christmas fare, Company is entertaining, thought provoking and very moving. I am keen to see it again.
Company continues at the Crucible until 7th January.
Reviewer: Velda Harris