Measure for Measure
William Shakespeare
Complicité
RNT Lyttelton
(2006)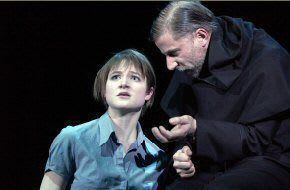 A year or so after my colleague Philip Fisher reviewed the Complicité revival of this tragicomedy of justice, mercy and the abuse of power, the production was partly recast before taking off on a three-month tour of Europe and India.
Played in venues large and small, it also involved working both with and without technical resources, an experience which director Simon McBurney in a programme note, admits helped shed new light on the play and his own concept.
His production, first seen on the open stage of the Olivier auditorium, now returns to London for a final run of just 39 performances set within the proscenium arch of the Lyttelton Theatre.
It might have gained something from a narrower focus on Vienna as a nightmarish city of shadows. But as before, videocams and monitors probe the smallest event like the trappings of a police state, while condemned prisoners wearing Guantanamo orange await execution, and George Dubya's face flashes up on TV news as a 'King of Hungary' threatening military aggression in the name of peace.
But despite these contemporary trappings, the production remains true to Shakespeare's intent, scenes flowing along in quick, almost overlapping succession, eyes firmly set on the moral values of sexual and political probity.
Isabella, as the key figure, remains in the capable hands of Naomi Frederick, playing the earnest, almost charmless novitiate nun, pressed to surrender her virginity to Angelo, deputy to the absent Duke. Angelo is demanding that she submit to his lustful advances as the price of saving her brother Claudio from execution on a trumped-up charge of adultery with his promised bride.
McBurney, unwisely casting himself as the Duke Vincentio, takes over the role from David Troughton. This effectively changes the character from a manipulating, sinister fixer, to a grumpy old man, a growling busybody with a low centre of gravity who scarcely bothers to conceal himself in his Friar's disguise while spying on the hypocritical antics of Angelo.
Another and equally crucial change of cast sees the promotion of Angus Wright from playing the Provost—a gangling prison governor—to take over the leading role of Angelo. Paul Rhys's original interpretation portrayed an icy, authoritarian hysteric. The character now becomes an uptight civil servant hiding behind his briefcase, a lofty pen-pusher with a sexually repressive personality, who clutches his crotch in horror when faced with Isabella's chaste allure.
More startling and new to this Lyttelton revival: when Isabella fails to respond to his oafish advances, he rips her blouse open and slashes at her brassiere with a pocket knife, leaving her breasts fully exposed—a moment of explicit shock and sexual outrage.
There now seems less ribaldry to be had from the low-life, mostly standing around in embarrassed groups on street corners or patronising a city brothel-cum-nightclub. But Tamzin Griffin is good fun as a handsome Mistress Overdone, plagued with disabling sciatica, while Ajay Naidu as her bawd Lucio extracts comedy from his 'slopping-out' chores in the city prison and his job as a cackhanded probationary executioner.
But the strongest support comes from Mike Grady as Angelo's decent, well-meaning second-in-command, interrogating witnesses with the help of a microphone and booming audio system, and notably from Richard Katz repeating his impudent role as Overdone's pimp, the nimble Pompey.
For talent spotters there's a welcome London theatre debut for Romanian actress Anamaria Marinca, playing Angelo's abandoned mistress, getting her own back with the notorious 'bed trick', as she takes Isabella's place for an offstage night of lust and love; all this leading to a protracted closing tableau of resolution, as the Duke himself bears down on the unsuspecting Isabella.
The Lyttelton run ends on 18th March, 2006
Reviewer: John Thaxter