Composed
Created and performed by Rosa Postlethwaite
Northern Stage, Newcastle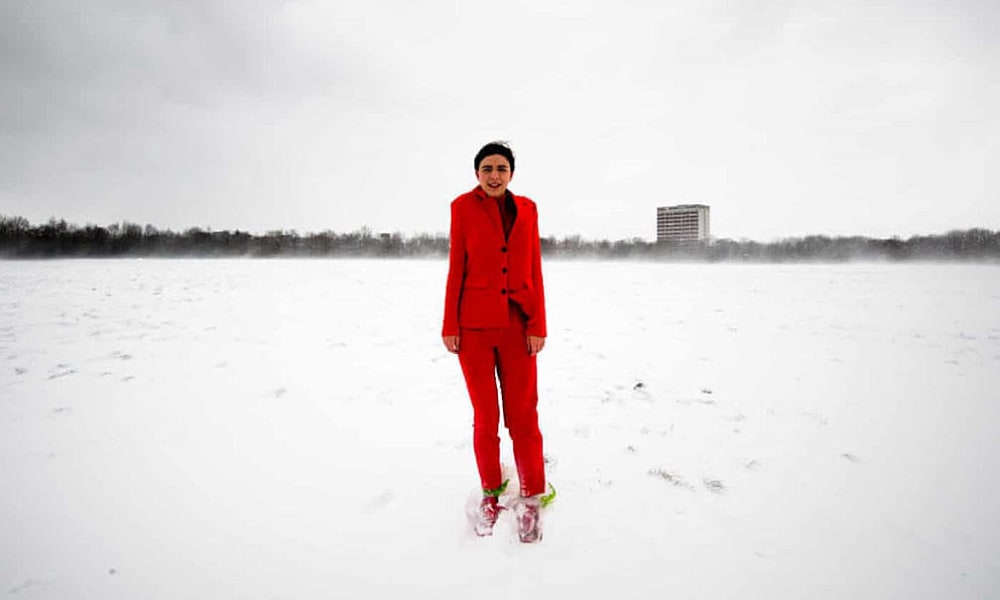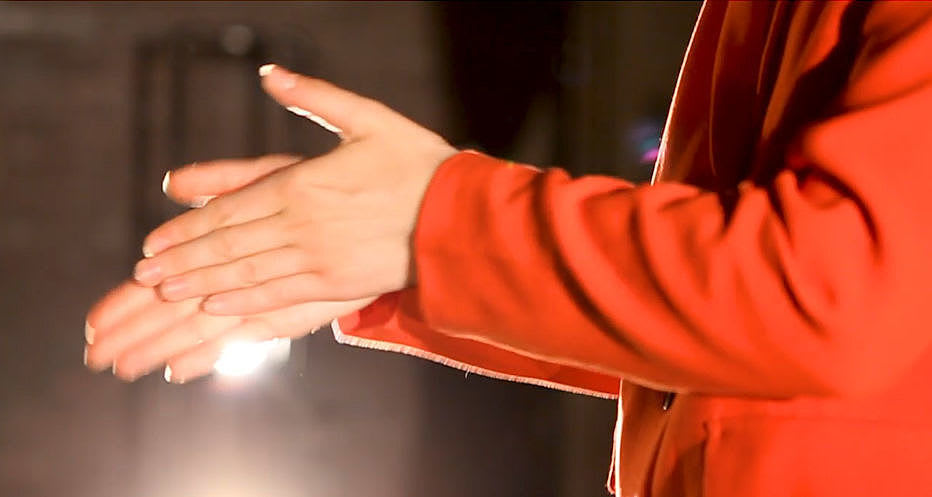 "This is a relaxed performance with captions and audio description," the programme tells us, but I didn't read it before the show. I simply couldn't be bothered to take out and put on my reading glasses. After all, I could read it later when I'd seen the show and it would all mean more to me then and, anyway, I was enjoying listening to the Frank Sinatra songs coming over the sound system.
The stage is bare and all black—black drapes at the side and a black back wall onto which is projected the information that songs by Frank Sinatra are being played. Then the house lights go down and writer / performer Rosa Postlethwaite, dressed in a red suit, walks onto the stage and stands looking at us. The back wall caption changes and tells us that a person in a red suit walks onto the stage and they stand looking at us. A "person", not a woman and "they", not she.
So, non-gender specific. Why not?
A voice-over is heard, reinforcing the information being given and what we see.
Ah! Right! I get it! Should have read the programme! Audio-description for the visually impaired and the entire text written for the hearing-impaired.
This voice and the constant presence of the ever-changing captions relaying what is being said all merge together. The captions become a part of the performance, not merely an adjunct, an aid to the deaf or hard-of-hearing. So, too, with the voice-over—which is itself captioned. A merging, then, of three different ways of communicating with us—hearing, seeing and reading.
Had I read the programme before the show, would I have ignored the captioning, the voice-over? I don't think it would have been possible, but who knows?
So what is this complexity conveying to us? Back to the programme: "drawing on her experience as an Arts organisation employee, Rosa examines the relationship between a spokesperson and their institution. Taking on familiar roles, she performs an in-house announcement, a thank-you to the sponsors, a warm-up act…"
She keeps wanting us to do things: "Rub your hands together. Oh yeah. That's right." Then she says, "Let's reduce this energy bill. Let's shiver." She hands out feedback cards. She asks—no, shouts, "are you having a good time?" She shouts it so many times that I begin to wonder what'll happen to me if I'm not?
The PR front which she is presenting becomes a variety show and she is the Master of Ceremonies who is having to do it all herself "because the next act hasn't turned up."
It's about theatre, management-speak, hoops to be jumped through. And don't forget the sponsors (which in her case includes the Student Loan Company).
There's a lot of humour there, some of it bitter. There's anger, and there's anguish. At one point she screams, her voice amplified by the sound system, a loud anguished and angry scream. The captions try to express it in written form—line after line of attempts to reproduce in writing what we are hearing—so as we listen, read and see, we are completely sucked into this emotional turmoil.
Later she dances. Just her hands and arms, she says, and certainly she doesn't move from the spot, but the movements become frantic, frenetic, faster chopping movements, a visible primal howl.
But usually her voice is level, almost deadpan. In this flat, level voice she warns us a few minutes before she screams. Ear defenders are available. A trigger warning. Shock has been removed. Don't blame us. We said the loud noise was coming. You were warned!
Rosa Postlethwaite describes herself as a performance artist, working "on the boundary of theatre and live art". And this certainly is not theatre, or at least not theatre as we normally think of it. It's more visceral, less transparent.
There's a danger here for the critic. If we try to approach it as a play, to read its story, to elucidate its meaning from the text, to say, if you like, this is what it means, to treat the audio-description, the captions and the trigger warnings just as aids for some sections of the audience, then we miss the bitterness of the humour and the kick in the gut, the despair at what we are making of theatre—or perhaps at what we are forced to do in order to make theatre.
Familiar territory, this, for those who have had to write an Arts Council funding application!
Touring to Theatre Deli, Sheffield (19 September), Exeter Phoenix (9 October) and Camden People's Theatre (10 and 11 October).
Reviewer: Peter Lathan