Confessions of a Butterfly
Jonathan Salt
Ojemba Productions
Lion and Unicorn Theatre
–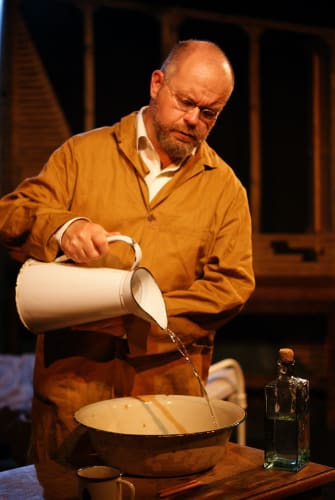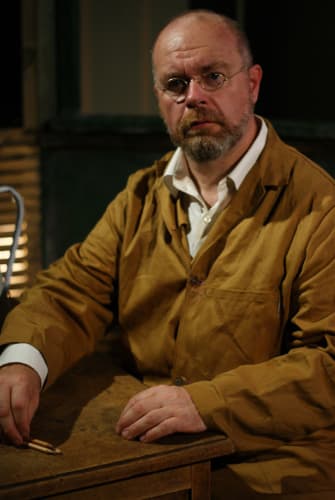 Confessions of a Butterfly is the title of a book in which Polish paediatrician Janusz Korczak describes his early life, and he is the subject of this play which borrows the title.
He was the director of two orphanages in Warsaw and his proposals for a Charter of Children's Rights form the basis of the UN Convention on the Rights of the Child. Korczak was not his original name but a pseudonym he adopted when he wrote a play. He thought a play by Henryk Goldszmit, an identifiably Jewish name, had less chance of being put on.
Joseph Salt's play is set years later when Korczak was in his sixties, head of a Jewish orphanage that had been relocated in the Warsaw Ghetto. It is 4 August 1942 and Nazi Germany is implementing its "Final Solution". Korczak knows what lies ahead and next morning he and his 200 charges will walk through the streets of Warsaw to be taken to Treblinka.
Confessions of a Butterfly, based partly on Korczak's Ghetto Diaries discovered after the war, presents us with the man himself, a play for a single actor, communicating directly with the audience. There are German soldiers on the streets below his window, shots heard and the flash of gunfire as Korczak tries to preserve a kind of normality for the children and what to do.
He decides against an offer from people prepared to hide him, deliberates on whether it would be kinder to use his supply of morphine to end the children's lives himself, prepares an ampoule for himself and tells the children a bedtime story before taking a nightcap of watered vodka, partly for the calories to keep him going, partly to help slip into nightmare-filled sleep. But the play is not only about those dreadful events, it also tries to encapsulate, often using Korczak's own words, his ideas about the way in which children should be treated.
Salt, who himself performs as Korczak, plays him very simply, capturing a gentleness and almost naïve innocence. He is someone any child would love and trust and there is a bitter irony in his promises to them that they will be going to a place where they will be happy, though the journey will be difficult and painful. We must use our imagination to see the children he is talking to but he calls up their presence by the way that he addresses them, and we can hear the playing of a young violinist whose presence is marked by light.
Salt and Sam Conway, his director, have achieved the difficult task of making a solo monologue hold an audience for more than 90 minutes. It is staged on Brian Barnes's set of bare laths and broken plaster, which is as much a metaphor for the broken times as a real room.
Sometimes there is a little too much business with props, though its fussiness adds to the portrayal of character, and some inconsistency in the way lighting is used to indicate the present and recalled memories. I saw a preview and that may not have matched sound designer Harry Wardley's intention, but that doesn't account for some of the briefly heard recorded voices whose performances certainly don't match that of Salt.
Confessions of a Butterfly forms a worthy tribute to a man who, as well as being a doctor, founded what was perhaps the first newspaper produced for and by children and was a regular broadcaster known to Poles as "the Old Doctor" and the winner of Poland's most important literary prize. Without this play I would probably never have heard of him, though his ideas have helped change the way we think of children.
Reviewer: Howard Loxton