Confessions of a Dance Whore
Michael Twaits
Trafalgar Studios 2
(2010)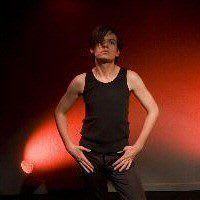 Originally seen at Oval House in 2007, and revived and slightly updated here as a contribution to Pride London 2010, this is part drag act, part cabaret, part autobiography and part lecture - all of which wrtier/perfomer Twaits delivers with confident aplomb and a succession of costumes interspersed with naked torso.
At first, as trannie Lady M, there is a lot of interaction with the audience, including the handing out of drinks so that they can join in a bit of camp confessional but Twaits' style is jokey in-yer-face not soul-baring self-analysis. Having established a rapport with the audience he discards the frock and he turns himself into a junior lecturer giving a psychology class on the workings of the Id, the Ego and the Superego and just as easily slips into an interview with his ten-years-younger self.
The hedonistic personality he presents is both defiantly himself and at the same time a critical picture of the Old Compton Street habitué and, in serious vein, this is also a reminder of the strength of homophobia (this is a queen who knows how to bite back) but there is nothing very original about his material. Where he and Lucy Ellerton (who rehearsed and helped develop the show) do try something different is in their use of mixed media, with some complex montage on film that reflects the political subtext and also enables Twaits to act with himself whether dancing in his own chorus line, giving us complementary images or in that doubled conversation.
A long final sequence of applying make-up and a dress appears to be a build up to something spectacular but in fact goes nowhere and much of what went before had the same lack of point and focus though it certainly amused the largely gay audience I saw it with. As an encore, and at the request of the organisers of Pride, Twaits follows the main show by delivering a number about the Stonewall Inn that was full of passion and much stronger stuff.
Ends 3rd July 2010
Reviewer: Howard Loxton