Confusions
Alan Ayckbourn
Union Theatre, Southwark
(2009)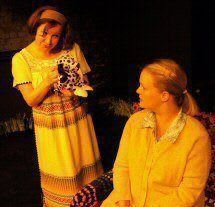 Not one but five plays here, all linked in some way, and the last reflecting that pattern by presenting a series of park bench conversations that drive the listener to move and then become the irritating conversationalist. With 22 roles to play it is an opportunity for its nine actors to display their versatility with at least two roles each.
Designer Robyn Wilson-Owen's set gives us a Luton lounge with tufts of grass sprouting around the table legs that add a suitably surreal touch and link suburbia with the provincial hotel, village field and park in which the other scenes take place.
As so often with Ayckbourn he takes some painful but all too familiar situations and with an injection of added theatricality allows us a good laugh at what could so easily be ourselves without softening their painfulness.
Gillian McCafferty makes a marvellously manic mother, fussing about her (off-stage) children, oblivious to telephones and doorbells that could interrupt her isolation and treating her visiting neighbours like another pair of tots. She doubles it with an outraged wife who erupts at dinner in a hotel restaurant with accusations against her unfaithful husband (Andrew Piper) while at the same time, at a nearby table, the girl he has been to Rome with (Aimi Percival) is dining with her husband who is his employee.(Nicholas Stratton). It is cleverly contrived so that one conversation continues unheard as we listen to the other, with Michael Mills's waiter farcically mistaking some of their comments as meant for him.
The farce is turned up a notch for the escalating disasters at a village fête with Ben Neale as a scout master who gets beautifully pie-eyed after hearing that his fiancée (a charming Claire Marlowe) is pregnant with another man's child, accidentally broadcast over the PA system. I know, it's corny, but Ayckbourn somehow manages to make well-tried ploys seem fresh and Ben de Wynter's production cleverly orchestrates the business and tunes the timing and it works without revealing the well-oiled clockwork.
What doesn't quite come off is Drinking Companions, despite strong performances from Howard Teale as a ghastly clothing salesman (he says haute couture, but you don't believe it) trying to score in a hotel bar, and from Claire Marlowe's embarrassed girl who doesn't know how to say no and Charlotte Milchard as her much tougher colleague. It is always a challenge to play a bore without being boring but here, though there are plenty of laughs on the way, it seems that Ayckbourn lays it on a touch to heavily and a tad too long.
Until 29th August 2009
Reviewer: Howard Loxton