Constellations
Nick Payne
Royal Court Productions and Ambassador Theatre Group
Duke of York's Theatre
–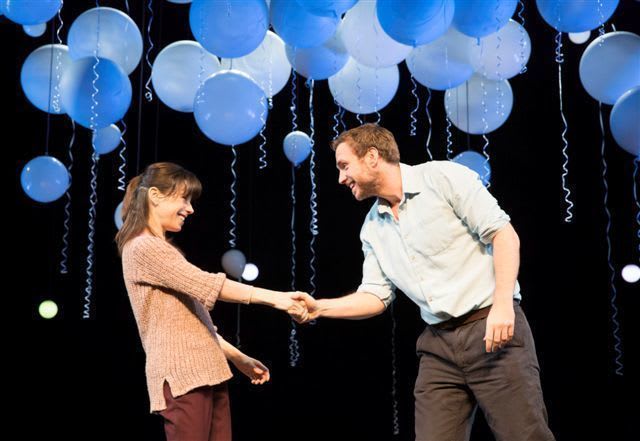 In books, science fiction has often explored the ideas of parallel universes but it is not a concept much explored in theatre. J B Priestley structured plays on Dunn's Time Theory, more recently Philip Pullman's His Dark Materials presented its characters crossing between different worlds and Michael Frayn's Copenhagen had leading scientists in quantum mechanics debating alternative possibilities in a way that paralleled their theories.
Nick Payne's play gives us a woman who works in a university department concerned with quantum multiverse theory and demonstrates the theories possibilities. Warmly received when it premièred in-the-round at the Royal Court Upstairs last January, it now comes to the West End in a proscenium production.
It begins at a barbecue, or was it a wedding—the question is in the play, it is not my uncertainty—where this young woman and a young man who keeps bees on his rooftop appear to be using the same chat-up lines to a number of different fellow guests. As the story moves on and the same words recur in sequences of partly-repetitive scenes, it becomes clear that these are not different people but alternative developments for the same couple: the multiverse alternatives of their lives.
We go from that first meeting through their getting together, rows, proposal, infidelities, separation and a second meeting. Incidents are continually re-patterned. There is no one dominant story, the catalyst changes between versions.
It is beautifully played by Rafe Spall and Sally Hawkins with a freshness that makes each reshaped repetition seem a first time. They are both touchingly funny and funnily touching without slipping into sentimentality, though on press night they could have done with a tad more projection, for the Duke of York's is much larger than the Sloane Square studio theatre.
Michael Longhurst's direction animates things in a way that exploits the differences in each scene version, the repetitions are never boring. For just over an hour, the whole length of the play, the actors never leave the stage. Scene rapidly follows scene.
A sudden flash of light and sound effect between them emphasises the episodic structure. It is as though we are seeing snapshots of emotional highlights in relationships that are multiple and yet the same, moments that ring true to almost every couple's experience.
There is no attempt to locate scenes apart from what is revealed in the dialogue but lighting changes mood and the energy of the playing is set against a cloud bank of balloons, floating above and behind the actors which can be gloweringly grey or shot with bright beams and sometimes shed some of its number gently in the background at appropriate moments.
It is a brilliant piece of design by Tom Scutt that greatly aids the production and also hints at the multiplication of possibilities in the play's multiverses which could number many more than are actually presented.
Reviewer: Howard Loxton