Consumed
Devised by Ning Li, Song Ru Hio. Serge Soric and Tony Guilfoyle
Border Crossings in association with Shanghai Arts Centre & Tara Arts
Tara Theatre
–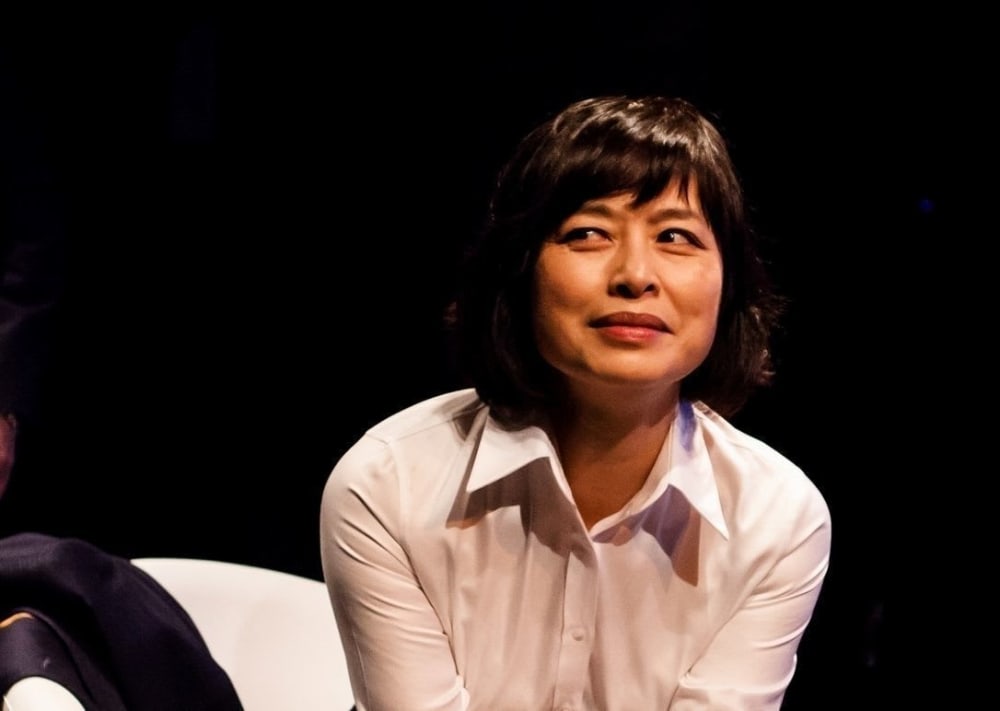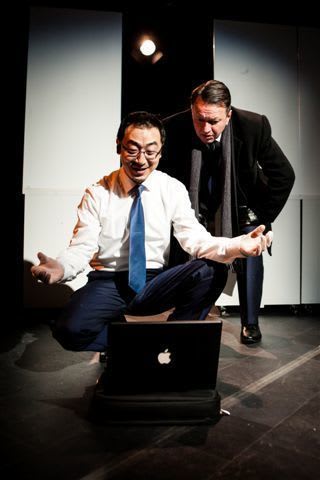 This ambitious bilingual production, conceived and directed by Michael Walling, explores cross-cultural contact and the impact of modern technology on both personal and business relations. It is both an intimate personal story and a reflection of global developments. It was developed by the company in China and the UK during 2012 and is played in English and Mandarin.
John Bartholomew, a British suit based in Shanghai, is approached by Tong Zeng, a Chinese newly returned after years in the States, to raise bank support for a business scheme. Computer hacking is involved and what sound like potential pressure through blackmail as he digs around in an executive's computer.
Despite his residence in China, the Englishman doesn't speak Chinese but he is now getting involved with an attractive Chinese woman called Su Chen. He agrees to support the deal in return for a cut and the discreet assistance as translator in his amorous on line exchanges with her.
The problems of personal relationships across language barriers are not exclusive to Sino-Western encounters and have a much wider relevance but this situation is set against the rapid changes that have taken place in China as well as cultural differences and it is partially played out in cyberspace as the lovers' mediated exchanges are presented.
Video is used not only to share what they see on screen but to provide setting and atmosphere. Sequences which combine live action and the same simultaneously on camera add another level of interpretation. At the première they needed some technical refinement to make them as effective as they could be but that may happen in later performances.
The theme of communication difficulty as our lives become global is not only one of language. This is a play that shows the way in which increasing use of electronic communications instead of direct contact creates new situations but it also touches on the problems of cross-generation understanding and the specific difficulties of those with different ways of handling information such as Bartholomew's autistic son.
Consumed takes on a little too much to dig deeply into its theme but it is continually intriguing and very well played by its trio of actors: Song Ru Hui as Su, Ning Li as Tong and Serge Soric as John. They not only engage the audience with their characters but glide through the shadows creating almost balletic scene changes in this elegant production.
Sets, lighting and multi-media imaging by Dori Deng and Nick Moran allow furniture to morph into surfaces for video projection and Dave Carey's lovely music makes a big contribution to these transitions between scenes which are announced as chapters with titles, encouraging a Brechtian awareness of what is behind what is happening. For a play that requires close concentration to run nearly two hours without interval is demanding and it would help if on the few occasions when the spoken dialogue needs to be supported by projected text the images were sharper but that does not detract from the accomplished telling of this strange love story.
A short tour follows performances at Tara theatre that will take Consumed to Hawth Theatre, Crawley University of Leeds, UK Rich Mix, London, Centre for Carnival Arts, Luton, Lakeside Theatre, Colchester, Brighton Dome Studio Theatre, The Drum, Birmingham, Albany Theatre, London, Chelsea Theatre, London, Lakeside Arts Centre, Nottingham and Chickenshed Theatre, London.
Reviewer: Howard Loxton