Contractions
Mike Bartlett
Deafinitely Theatre, New Diorama Theatre
ND2, New Diorama
–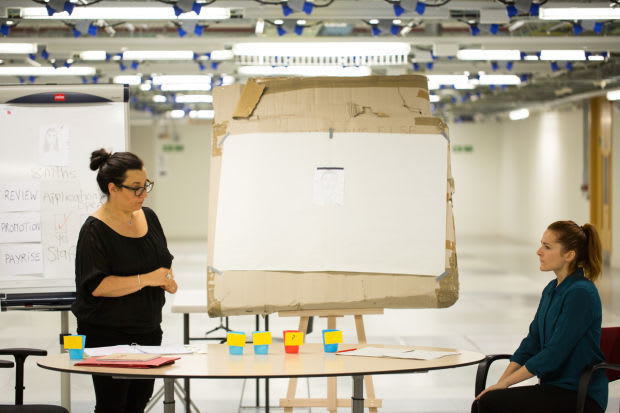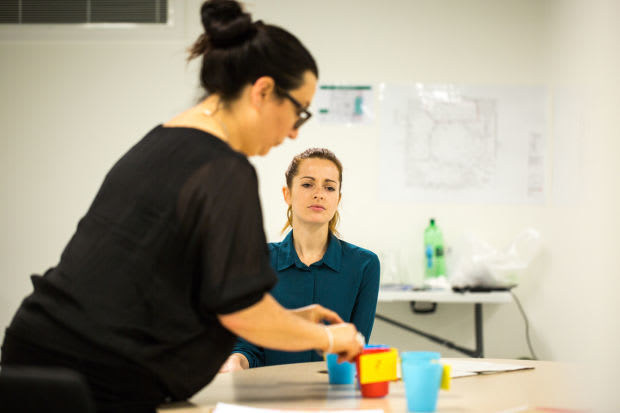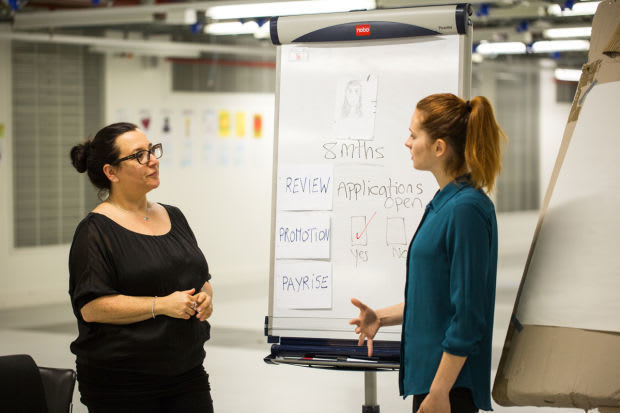 Recent revelations of sexual harassment of women by powerful men in workplaces from Westminster to Hollywood have prompted further demands on employers to improve their duty of care to employees.
Deafinitely Theatre's intense atmospheric production of Mike Bartlett's bleak satiric play Contractions gives us a glimpse of what the new protections might look like.
A sinister manager (Fifi Garfield) with a permanently severe, disconcerting expression sits at a boardroom table.
With a raised gesture of her hand, she waves the employee Emma (Abigail Poulton) into the room and begins to remind her of company policy on romantic or sexual relationships between its employees.
In a dozen or so meetings, the manager is interfering and officious. She also shows an acute awareness of Emma's relationship with work colleague Gareth including dinners shared and how they rate each other sexually.
The manager communicates almost entirely by British Sign Language (BSL) while Emma responds with BSL and spoken word which most of the time includes repeating what the manager has said as if checking she has understood what is being asked.
The play is set in the cavernous space of the former corporate trading floor in Regent's Place. Above us on every side of this panopticon are the glass-walled offices of businesses stretching four floors up into the secular cathedral.
As we watched the show, a small army of cleaners in black t-shirts and trousers polished and hovered their way through the building.
We could see them. They could see us. It was the perfect solution to management's need to know what everyone is up to.
If that wasn't unsettling enough, Chris Bartholomew has added a disturbing sci-fi sound design that includes between scenes a noise that is reminiscent of computers turning on.
Each time Emma arrives for a meeting, she moves her chair further away from the manager as if this would give her some controlling distance.
Initially the meetings make her uneasy. Later she becomes increasingly irritated and angry by the intrusion into her personal life. Gradually, she is overwhelmed by her manager's duty of care.
Of course it is just an entertaining warning of things to come. A corporate world that puts profits before everything wouldn't dream of using any new controls on relations between employees in the workplace purely in its economic interests. Or would it?
Reviewer: Keith Mckenna