A Conversation
David Williamson
Royal Exchange Theatre, Manchester
(2007)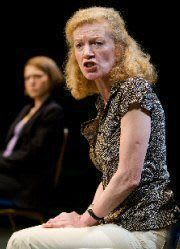 The middle play in David Williamson's trilogy about 'transformative justice', in which victims and perpetrators of crime are brought together to help victims to overcome their trauma and criminals to face up to the real consequences of their crimes, is the second of the Royal Exchange's plays this season to enjoy a transfer from the Studio to the main house.
For A Conversation Williamson has used a particularly horrific crime and created a situation in which neither the victim nor the perpetrator can be present so that we can examine the effects on those close to both people. Scott is a sociopath obsessed with violent sex who raped and murdered Donna. Session leader Jack Manning has assembled Donna's middle-class parents Derek and Barbara with Scott's lower-class single mother Coral, brother Mick, university-educated sister Gail and businessman uncle Bob, as well as Scott's therapist Loren who advised the parole board to free him before the murder.
Each has a different stance on what happened: Derek has pages of statistics to try to make Scott's family understand what his daughter went through; Coral blames herself for being a bad mother; Gail puts part of the blame on their poor, single-parent upbringing in a tough neighbourhood; Mick believes his brother has always been bad and his nasty actions were treated with amusement rather than punished. Each ends up by taking part of the blame.
This is a fascinating, often harrowing and occasionally amusing process to observe as an audience. Even though this is fictional, there seems to be an influence from the current trend for 'verbatim' theatre, although the concept of putting well-defined characters in a situation and seeing what happens can be traced right back to nineteenth century proponents of theatrical naturalism such as Zola. In an effort to give each character a unique position, each has a distinct character type, which occasionally borders on caricature.
Jacob Murray has assembled a very good cast for his production, with especially strong performances from Margot Leicester and Susan Twist as the two mothers Barbara and Coral. Paul Stocker gives out some emotional speeches as Mick, Kellie Bright gives out passionate political speeches as Gail and Colin Prockter is the old self-made businessman Bob who talks about how he came up from nothing. Jonathan Hackett occasionally lets the character of Derek slip into a pompous, middle-class caricature, but at other times he gives a heartfelt performance. Christine Stephen-Daly is very believable as flawed therapist Loren, and Stuart Bowman as session leader Jack comes over as a touch arrogant but holds everything together nicely.
The play is set on a circle of chairs, which makes it very static for most of the time, which probably seemed less pronounced in the studio space than even the intimate atmosphere of the Royal Exchange's main house. The lengthy speeches and even the fact that some characters are persuaded to attend and to not leave seems a touch contrived at times, but the play pulls no punches and does not protect the audience or the characters from the grisly details of the murder or the emotional traumas of the two families. By the end, whilst the emotional intensity has far from lifted, the conversation is starting to become a little repetitive. The play does not offer any easy answers, but it does a good job of selling this controversial process as one that can bring some measure of peace and even understanding after a traumatic event.
Even at just an hour and a half running time (there is no interval) this is quite an emotionally draining piece for the actors to perform eight times a week. For the audience, this is also a strong emotional experience that poses some difficult questions for all sides of the political spectrum to encourage audiences to examine more closely their beliefs about criminal and social justice.
Running until 8th December
Reviewer: David Chadderton