Cooking With Elvis
Lee Hall
Upstairs at the Gatehouse
(2009)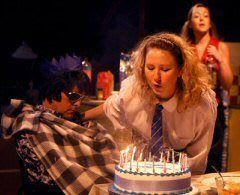 It's fairly rare to find an Elvis impersonator and a tortoise sharing a stage and yet here we have it in Lee Hall's Cooking with Elvis. First staged at the 1999 Edinburgh Fringe with a subsequent transfer to the West End, Cooking with Elvis is back in London serving up a tasty treat.
Lee Hall, best known for writing the screenplay for the film Billy Elliot tells a very dark but funny tale of 'Dad' - a wheelchair bound "cripple" (the result of a terrible crash) who dreams of being an Elvis tribute act. Meanwhile his wife and daughter Jill antagonise each other as they struggle to cope with their inner frustrations.
I'm not sure if it's the voice of Big Brother or Cheryl Cole on the X Factor but there is something about the Geordie accent that makes you pay attention and Hall's dialogue in Cooking with Elvis is no different. You cannot help but be drawn into the conversations of this dysfunctional family.
Whilst the activities in this Northern household are utterly bizarre, the dialogue remains completely normal, thus making the events that unfold all the more peculiar.
It is hard to believe this Mother and daughter are related as Mam refuses to eat and drinks herself into oblivion while fourteen year old Jill finds solace in the kitchen cooking and eating everything she can get her hands on. When Mam invites her twenty-eight year old lover, Stuart, to move into the family home with her, her daughter Jill, her paralysed husband and their tortoise, things go from the bizarre to the completely surreal as Stuart gets a little too close with Jill and goes above and beyond in an attempt to "help" Dad out. Not to mention the breakout Elvis moments that punctuate the piece when Dad springs to life performing various Elvis Presley songs, to which the family are completely oblivious.
Despite first impressions this is a pretty depressing script and director John Plews achieves just the right amount of tongue in cheek attitude. The cast expertly tread that tightrope of finding humour without indulging it. Catherine Nix-Collins in particular is superb as a troubled teenager, struggling to digest the enormity of what is going on around her and her skilful negotiation of constantly eating throughout the majority of her dialogue is to be applauded.
Cooking with Elvis has all the ingredients for a hit and, let's face it, Mario Kombou is pretty much the closest you'll ever get to seeing Elvis in Highgate. Over the top costumes and a voice that has been officially endorsed by Graceland; he's a pretty good substitute for the real thing.
Running until 19th April
Reviewer: Rachel Sheridan