Copacabana
Music by Barry Manilow, lyrics by Bruce Sussman and Jack Feldman, book by Barry Manilow, Jack Feldman and Bruce Sussman
The Watermill Theatre, Newbury
(2010)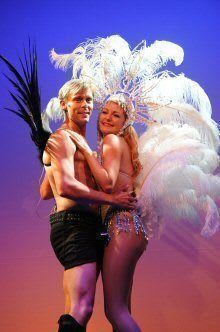 The Watermill Theatre has a sumptuous summer hit with their latest production of Copacabana. There is certainly a real feel-good factor in this spectacular musical with sassy sexy choreography and direction by Craig Revel Horwood ; a beautiful set with a revolve that reveals a grand piano and a set of Broadway stairs and gorgeous costumes designed by Diego Pitchard .
The cast are a sheer joy to watch. The theatre's trademark pioneering tradition of using the performers as musicians as well as actors is breathtaking as the company effortless switch roles and play and act with panache in what is a passionate, high energy production. I really do urge you to book soon to get one the remaining tickets.
Having said that I must admit that Barry Manilow's script is somewhat lightweight and over-long. There is no high drama; after all the whole show came about from one song, " Her name was Lola, she was a show girl", and it's very predictable. But for sheer entertainment value it works well and the cast successfully recreate the period of New York and Cuba in the 1940's with style.
Young wanabee star Lola Lama, delightfully played by Laura Pitt-Pulford, has arrived in New York from Tulsa determined to make it as a 'Copa' girl at the famous club. She has little success with her auditions elsewhere in Broadway but meets Tony the bar keeper-cum-songwriter, charmingly played by the charismatic Edward Baker-Duly who falls in love with her and becomes her song coach.
Lola manages to get an audition with the grumpy owner of the club Sam (Julian Littman) and achieves her heart's desire by getting the job. As a naive beginner she is helped by Gladys, a one-time Copa girl but now reduced to selling cigarettes and cigars, brilliantly characterized by Karen Mann.
All is going well until gang mobster Rico, strongly played by Antony Reed, from the rival club in Havana arrives in New York and immediately falls in love with Lola, seeing her as a replacement for the exotic but aging Conchita, strikingly played by Basienka Blake who was the star of the Tropicana in Havana.
Rico drugs Lola, kidnaps her and flies her to Havana where he seduces her. She has become the replacement for Conchita who is forced to teach her own routine to Lola, much to her angst. But rescue is in hand and there is a happy ending.
Cassie Pearson and Sally Peerless were superb dancers ably supported by Robin Colyer as Willy and Joe West as McManus and the Maitre D' with Adam C Booth as Luis.
Musical supervision and direction was by Sarah Travis and in the very capable hands of MD Neil MacDonald. Even if you are not a Barry Manilow fan the sheer pazzazz of this performance is a perfect way to spend a summer evening.
Runs until Saturday 4th September
Reviewer: Robin Strapp