Coppélia
Choreography Ronald Hynd after Marius Petipa, music Léo Delibes
English National Ballet
London Coliseum
–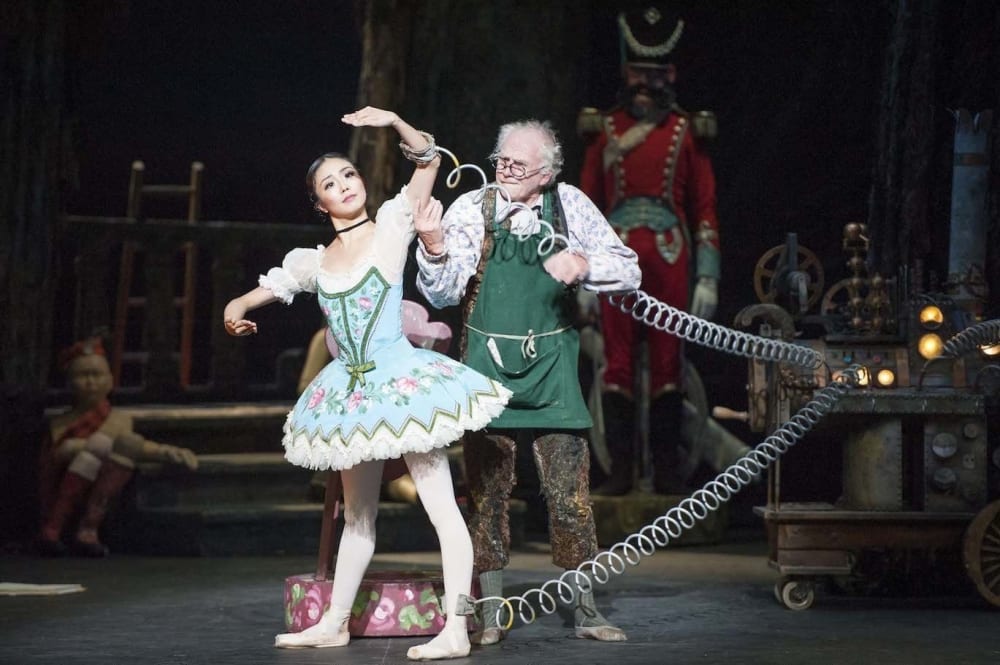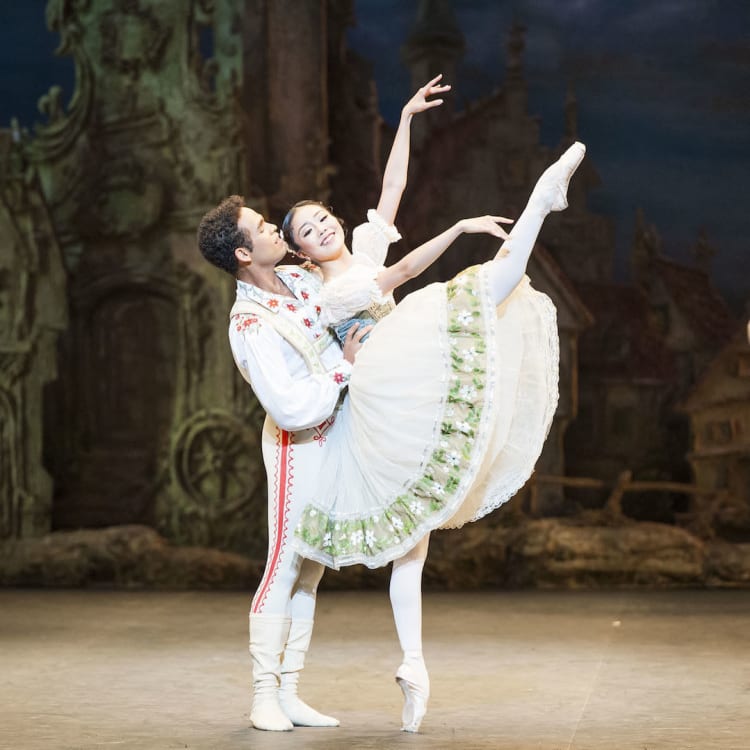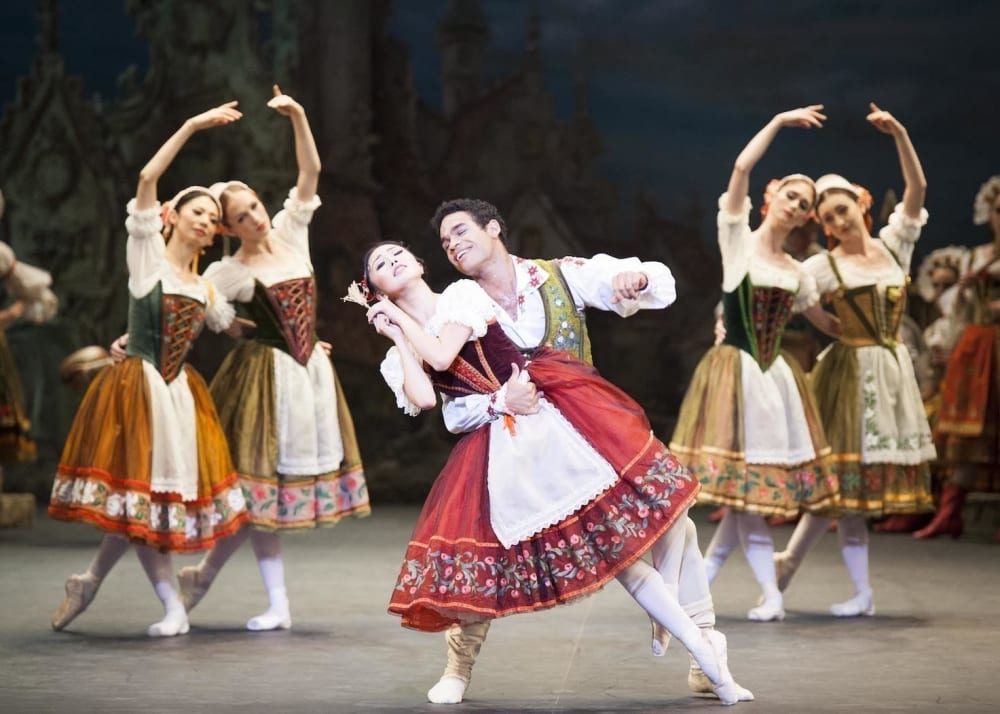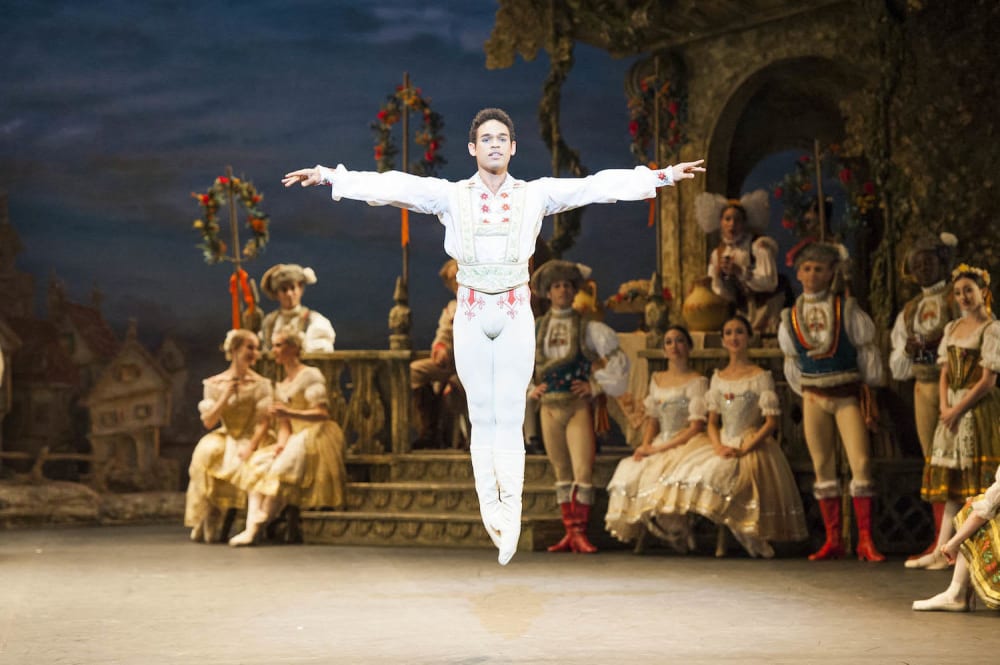 Ronald Hynd's version of Coppélia has been around for nearly three decades. It was created when the company was still Festival Ballet in 1985, but it comes up as fresh as ever
Coppélia, first seen at the Paris Opéra in 1870, has been popular ever since but it is rare among 19th century classical ballets in being a comedy (La Fille Mal Gardé is probably the only other that remains in the ballet repertoire). English National Ballet dance it with a joyous energy and great sense of humour.
It is an enjoyable romp with Delibes' familiar lilting music vividly played by the company's orchestra under music director Gavin Sutherland. The opening night of this brief London season presented the debuts of Yonah Acosta (newly promoted to Principal Dancer) and Shiori Kase, (Gold Medal winner at last month's USA International Ballet Competition and now made First Soloist) in the roles of Franz and Swanilda.
For once, this is a romantic ballet free of sylphs and fairies; we get a village full of happy peasants instead. Its lightweight, inconsequential story depicts Franz and Swanilda, all set to be married when the potential bridegroom develops an obsessional attraction to Coppélia, whom he sees sitting reading on a balcony, not realising that she is actually an automaton created by eccentric toy-maker Dr Coppélius.
This naturally upsets his fiancée and she spurns him. A group of anti-social local lads playfully rough up the doddering Doctor causing him to drop his door key, which some of Swanilda's friends discover and let themselves into the Doctor Coppélius's house while Franz goes off to fetch a ladder to climb up to the balcony and through its open window, too obsessed to notice that the door is open.
Act II takes them inside his little cottage where, Tardis-like within his cottage, is the Doctor's spacious workshop where the delinquent girls start interfering with his other mechanical figures. Swanilda hides while the others are shooed out and then pretends to be the doll while Coppélius drugs Franz and (in this version) connects him up to her to transfer his life force into the toy before things get sorted into a happy act III ending.
Desmond Heeley's deliberately antique-looking setting emphasises the storybook atmosphere with its gauzed, cut-cloth borders and fussily baroque buildings that look like souvenir ornaments from Eastern Europe. Against it, the colours of his peasant costumes and the boy's embroidered tights stand out brightly, adding sparkle to the lively dancing which is continually inventive.
In the third act especially, this is choreography and dancing that suggests a village really enjoying themselves, much more exuberant than the usual classical variations, and that is a spirit that both principals and corps carry right through this performance.
Michael Coleman makes a delightfully dotty old dodderer ad Dr Coppélius, which keeps things light-hearted; his rather wicked use of Franz and the youngsters' improper behaviour are easily forgiven and forgotten.
Yonah Acosta delivers a very creditable performance with strong jumps and turns that probably reflect the Cuban training he shares with his uncle and makes a fluid transposition between mime and dance steps. He has an excellent sense of comedy and an engaging personality with plenty of boyish charm.
Acosta gives a debut performance that no doubt will develop now he has moved up in the ranks of the company, but the accolade of the evening must go to Shiori Kase's Swanilda which can only be described as delightful. This is a Swanilda full of wit and feeling with a delicate precision in her footwork and an audience in the palm of her hand.
Reviewer: Howard Loxton