Coppélia

Birmingham Royal Ballet
Sunderland Empire
–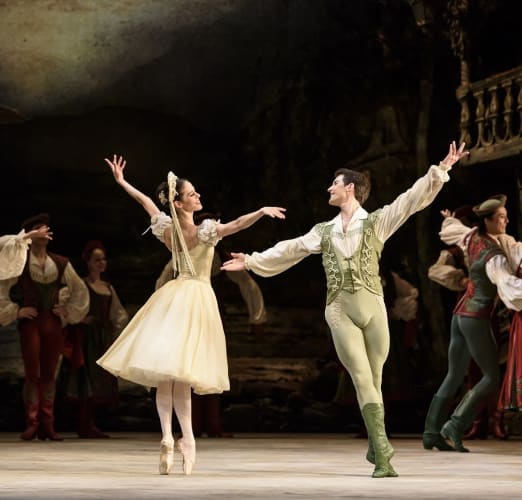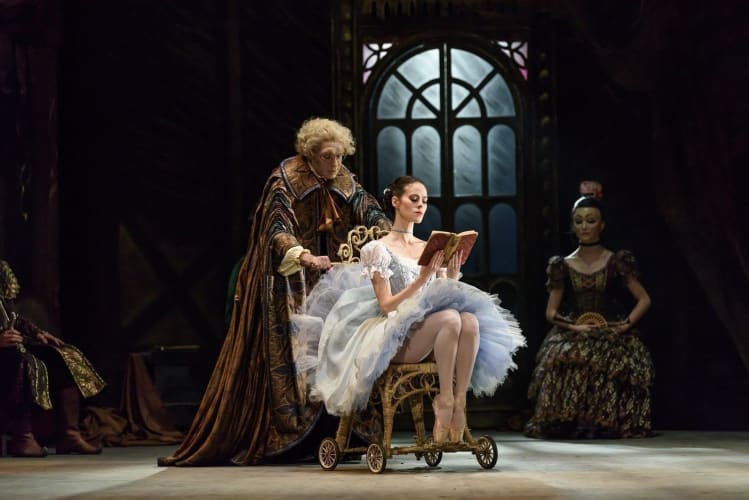 Birmingham Royal Ballet returns to its North East hub, the Sunderland Empire, for Sir Peter Wright's production of Coppélia. Accompanied by the Royal Ballet Sinfonia, under the baton of Maestra Misato Tomita, the three-act comic work is emblazoned by Peter Farmer's designs, splendidly lit by Peter Teigen.
Premièred at the Paris Opera in 1870, the romantic ballet was originally choreographed by Arthur Saint-Léon to Charles-Louis-Étienne Nuitter's libretto, only to be revived a year later, following the Franco-Prussian War. Today's production, Wright's third revival, was created in 1995 to mark the 125th anniversary of the ballet's first performance. However, it is chiefly based on Marius Petipa's version, created in 1884 for the Imperial Ballet in Saint Petersburg, also later revised by Enrico Cecchetti and Ninette de Valois in 1894 and 1933, respectively.
Set in a village in Eastern Europe, toymaker Dr Coppélius (Soloist Valentin Olovyannikov) yearns to bring his life-sized doll Coppélia to life and places her (Soloist Yaoqian Shang) out on his workshop balcony with a book in her hands. Coppélia fools the villagers as a real life person, including Swanilda (Soloist Miki Mizutani) and Franz (Principal Tzu-Chao Chou), her betrothed, who takes a keen interest in her.
With Franz's attention now turned to Coppélia, an upset Swanilda rattles an ear of corn to test his faithfulness. The demi-caractère nature of this act, complete with oodles of mime, featuring the Polish Mazurka and Hungarian Czárdás—both highlights of Delibes' folkloric score. Intrigued by the mysterious girl on the balcony, Swanilda and her Friends (First Artists Ruth Brill, Karla Doorbar, Reina Fuchigami, Jade Heusen, Alys Shee and Artist Brooke Ray) stumble across Dr Coppélius' misplaced key and enter his house, shortly followed by Franz, who climbs a ladder to enter via the balcony, closing act I.
Now inside Dr Coppélius' workshop for act II, Swanilda and her Friends wind-up the dolls: Oriental (Apprentice Jade Wallace), Spanish (Apprentice Claudia Nicholson), Scottish (Artist Haoliang Feng) and Soldiers (Artists Gus Payne and Harry Wright), soon discovering that Coppélia, too, is just a doll. Dr Coppélius returns and shoos the trespassing Friends away. Encountering Franz, he raises a glass and surreptitiously laces his wine with a sleeping draught until he falls asleep.
Opening a large magic book, Dr Coppélius tries to bring Coppélia to life using Franz's spirit, yet his efforts are beguiled by a hiding Swanilda, now dressed up as Coppélia. Waking up Franz, together they escape, leaving Dr Coppelius with his lifeless creations.
Joined by young students from the Kathleen Davis Stage School, Sunderland, the villagers come together to celebrate the Duke's (First Artist Max Maslen) gift of a new church bell. Savouring a series of dances, which each embody the different uses of the bell, the Artists of the Company lead the enchanted waltz "Dance of the Hours". Principal Céline Gittens delivers a fine drill of the "Dawn" variation, yet most striking is the hallowed "Prayer" solo, danced by Artist Brooke Ray. With palms facing upwards, her bourrées arc the stage space—full of reflective adagio quality, further accomplished by a succession of battement relevé lent, each followed by a fouetté into the stillness of a superb arabesque line.
Variations en masse ensue, the joyful "Work", guided by humming melodies—the curvity of their tools (sickles) mirror the ensemble's classically rounded arms. Partnered by the vivacious dramatism of Tzu-Chao Chou and his stunning 180-degree grand jeté extension, Mizutani's exhilarant whipped turns, the squareness in her line and articulate promenades en pointe, Swanilda and Franz reunite for the finale, entitled Peace.
Reviewer: Naomi Cockshutt