Coppélia
Moscow Ballet
Whitley Bay Playhouse
(2006)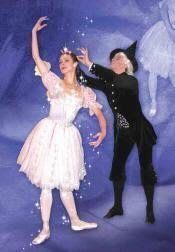 The Moscow Ballet performed to a packed house at the Whitley Bay Playhouse tonight with a one night only performance of Coppélia, delighting the audience and in particular the numerous (and very well behaved I must say!) young ballerinas of the future.
Coppélia is one of the most light-hearted ballets. Set to the rousing musical score of Delibes and choreographed by Arthur Saint-Leon, it incorporates humour, vigorous national dances, romance, and, unusually for a ballet, a happy ending!
The part of Swanilda was played by the very beautiful Anastasia Chumakova, who not only danced superbly, but brought a great deal of fun to the part with her facial expressions, especially when she played the part of Coppélia, the mechanical doll. Nikolay Olyunin gave us a very handsome and energetic Franz, the flirtatious fiancé of Swanilda, who falls in love with Copéllia.
Act 2, set in the creepy house of Doctor Coppélius, was particularly enjoyable. Having mischievously broken in, Swanilda and her friends find themselves amongst the strangely immobile, life size dolls, complete with wonderful costumes and china mask faces. It is not long before they discover how to animate these dolls and soon all spring to life and move, albeit rather jerkily around the stage (definitely not for those with a phobia for china dolls!).
I have to say, I was amazed at how young all of the dancers were, or is that just a sign of my getting old? Their youthfulness brought an energy and charm to the performance which perfectly suited this fairytale romance. The pageant with The Dance of the Hours, The Dawn of a New Day and The Call to Prayer was particularly beautiful.
All credit must be given to the backstage crew who, under the skillful direction of Elik Melikov, effortlessly transformed the Playhouse stage into firstly, a delightful and very colorful village square, then the rather awesome interior of Doctor Coppélius house.
The costumes for the whole ensemble were stunning and together with the visual impact of the beautiful scenery and the skill and energy of the dancers, made for a delightful spectacle on a cold, February night.
Reviewer: Diane Kennedy