Corali Mixed Bill

Corali
Sadler's Wells (Lilian Baylis Studio)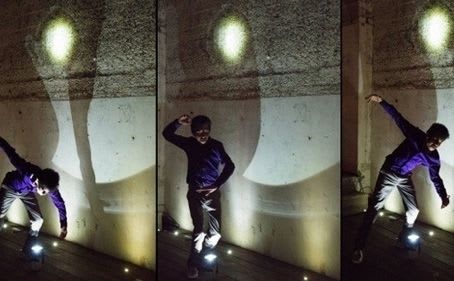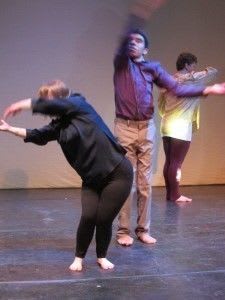 Corali is a group of dancer-performers who have learning difficulties and artistic collaborators and educationalists from a variety of backgrounds who do not. This hour-long presentation forms part of Sadler's Wells' =dance performances that celebrate the innovative dance being created by deaf and disabled artists and inclusive companies.
The bill opened with Empty Theatre Dream, a work devised by the performers and choreographer Jacobus Flynn inspired by the performers' own dreams.
It has an hypnotically attractive score in which Daniel Weaver mixes pre-recorded and live sound and uses natural movement, stark lighting and film projection of images being drawn to evoke some of the uncertainties and sudden changes of dream worlds with performers each approaching a microphone to briefly announce what their dream is—in one case simply of appearing on the stage.
An opening sequence has torchlight flashing around the auditorium: in fact a spotlight handheld by a performer who places it on the stage floor throwing her shadow on the upstage screen. Other performers bring on more lights, the very repetition mood creating, then a performer is joined by the video, the simplicity of the drawing as a pencil line develops on screen matched by movement.
Overlap, choreographed by Housni Hassan (DJ) and Katarzyna Mslowska and performed by Hassan to Tseque-Maryam Guebrow's Presentiment, uses much more complex dance forms and sophisticated film which was created independently but functions in parallel, being created from the same source of inspiration.
Hassan, who has been mentored by Corali for some years now, is a more conventionally accomplished dancer with spinning break dance leaps and strong theatricality performed with exuberant pleasure. Devised in a process that involved a day workshop with dancers from Impermanence Dance Theatre, it is described as a work-in-progress but has already achieved a form that is very effective.
The third work, Origami Atoms, was developed with the dancers by Anna Nowak and Jasmine Wilson from Random Dance and draws on Wayne McGregor's Atomos as its stimulus. Those who know that ballet will recognize some of its influence both in the idiosyncratic freedom it gives individuals and in its ensemble work and line-ups.
Here, each dancer is given a chance to show their own style but much of it brings them together in beautifully integrated group work; at one point three pairs are dancing three different duos, at others the whole company moves as a single body with great discipline.
Graham Evans, not the conventional slim shape for a dancer, has a precise rhythm as he moves to Aphex Twin's score, Paul Davidson brings street and contemporary dance experience to turn and jump with Hassan and, though the men are more showy, Bethan Kendrick, Jackie Ryan and Katy Cracknell all make an individual contribution as well as smoothly contributing to the ensemble.
In the work that the Wells and other organisations do in the community, the emphasis is often on the value for the participants more than creating entertainment. After dutifully attending some performances where my reactions have been the opposite of the enthusiasm of the performers' indulgent close friends and families, it was a delight to find this hour-long programme by Corali so watchable.
That is partly due to the intriguing choice of music and the showy abilities of Housni Hassan and the way his moves set off the different style of the others. It is due even more to the feelings of pleasure and achievement that come with such strength from the whole of the company. They generate a warmth and an energy to which you cannot help but have a joyous response.
Reviewer: Howard Loxton