Cornbury: The Queen's Governor
Anthony Holland and William M. Hoffman
Theatre Askew
Hudson Guild Theatre, New York City
(2009)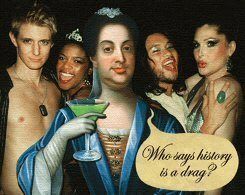 Looking back on last night's performance, it's hard to say exactly why Cornbury: The Queen's Governor works quite as well as it does.
It isn't that the performances blow one away, because with three exceptions, no one on stage makes more than a caricature (and a poor one at that) of their characters' foibles. It isn't that the direction is so stunning one is carried up in the current of Tim Cusack's passion for his material, either, because whether he's trying to do flat-out comedy or a sort of Commedia dell' Arte pastiche (that never quite makes it off the ground) isn't clear. And while writers Holland and Hoffman occasionally uncover a gem of a phrase or a series of words so improbably strung together they create a gaspingly outrageous lyrical sentence, their strength is not in realistic dialogue or well-paced drama.
Despite this befuddlement by its parts, Cornbury: The Queen's Governor is monstrously enjoyable and, more than any play I've seen before, completely defies quantification of this success. Had I paid eighteen dollars (the going rate) for my ticket, I would not have walked out feeling cheated. There were times when I wished the action would speed up a bit, but the ridiculous accents and even more ridiculous nuances carried me through those moments without making me lean toward the exit. I was with precisely the right theatre companion (at one point during intermission, I had to tell her I thought she was probably the only friend I have who would have enjoyed the play quite so much) and after leaving the theatre we cackled our way to the subway with under-breath mutterings about dropping the yam cakes and how accursed this would leave us.
The set is clever, a sort of shabby-chic arrangement of obviously fake period furniture made from cardboard. There are some excellent visual gags, and the marvellous Edward Hyde as the title's cross-dressing governor of Colonial New York manages to drag the audience into his own personal sphere of delusion. We go willingly, it must be said.
One thing that's highly troubling about this otherwise enjoyable experience is that for a company which believes "in a radical new approach to the representation of 'queerness' that serves as a metaphor for ALL those who stand outside of, challenge, or reject mainstream, consumerist models," Cornbury does a disservice to the women it portrays. At least the men get inner conflict, but despite heavy representation from the women they seem to fill one-dimensional roles of passivity, there mainly to support the men. Even two lesbian barmaids fawn over Cornbury the moment he arrives in their pub, and the cartoonish demonization of Cornbury's female rival Margareta de Peyster (Bianca Leigh, almost a Dutch painting come to life) is at odds with the sympathetic portrayal of the title character's few moments of solitude.
Some reorganization of the script might help improve the pace of the first twenty minutes, which is almost exclusively exposition. Perhaps moving some of Act II into the early moments, then moving back in time a bit, would make the audience feel as though the story were moving to a point rather than simply dancing in circles around Cornbury's finery.
Reviewer: Rachel Lynn Brody