Cornelius
J B Priestley
Anna Collins and 31 Productions in association with Neil McPherson for the Finborough Theatre
Finborough Theatre
–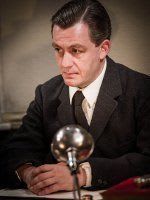 Set in the Holborn office of aluminium importers Briggs and Murrison, this 1935 play presents a picture of a small firm facing insolvency.
The senior partner Murrison is away visiting northern customers trying to fill up the order book but there is no news from him apart from a mysterious telegram. You might think one was in for a Galsworthian study of guilt and business malpractice or a critique of the capitalist system that had brought financial meltdown, but in this play Jack Priestley seems more interested in people than politics.
It centres on junior partner the eponymous Mr Cornelius, a part that he wrote for Ralph Richardson that could exploit that actor's quirky mix of ordinariness and otherworldliness. He is a middle-aged man who's had a relatively easy life, buying abroad and selling at home at a profit with no difficulty, and with no great interest in the trade that has provided his income. He has a romantic and imaginative streak ans so can dream of places and adventures way beyond his banal world; now, with his secure environment threatening to crumble around him, he is beginning to wonder whether his whole life has been wasted.
Alan Cox creates his own mixture of the conventional and the quirky in his portrayal of Cornelius, an eye for the girls when a bright young woman comes in selling toiletries and a heart that can still flutter when Emily Barber's delightful Judy turns up to fill the place of her sister as the office short-hand typist and with enough attractiveness himself to see why his clerk, Annabel Topham's bespectacled Miss Porrin, forever supportive, is infatuated with him, though he is oblivious to her devotion.
The rest of the staff is made up of office-boy Lawrence, elderly accounts clerk Mr Biddle and the cockney cleaner Mrs Roberts. David Ellis captures nineteen-year-old Lawrence's building frustration at his lack of progress, and his enthusiasm for gramophones and radios and Col Farrell makes Biddle, with his passion for personalising figures, one of those delightful old buffers you can't help but love. The play has been beautifully cast.
Designer David Woodhead's old-fashioned office with its coat hooks and odd telephone arrangements is believably conscientious but inefficient, getting on with things under Cornelius's leisurely leadership despite the situation. Pestered by their bank and other creditors, they have no orders coming in but get frequent interruptions from door to door salesmen. Technology may have changed the way business is done there is much here that echoes our current situation and the undercurrents of office life are much the same today.
There is a big contrast between Xanthe Patterson's smartly sexy early Avon lady and the other washed-up salesfolk, played by Robin Browne, Simon Rhodes and, especially, Andrew Fallaize's half-starved ex-airman who also double the very different supplier, banker and lawyer who attend a meeting called to review the firm's financial position. They are joined by the landlord's posh niece: Beverley Klein in a contrasting double to her Mrs Roberts.
When missing partner Mr Murrison eventually arrives—Jamie Newall gives him a mystifying mixture of the ordinary and delusion—there are sudden surprises. What had seemed to be a play that would eventually get around to being about the economy takes on whole new issues.
The ideas one has come to expect in a Priestley play are there but it is the office relationships that make this play and, despite the fact that we learn so little about them outside the office, it is on that that director Sam Yates has placed his emphasis, and his cast do the play proud.
Reviewer: Howard Loxton