Corrie!
Jonathan Harvey
Palace Theatre, Manchester, and touring
–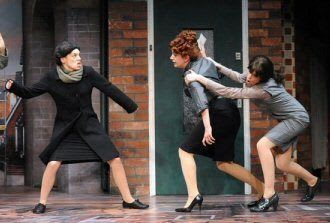 After a tentative but very well-received and award-winning tryout at The Lowry last summer, the stage tribute to fifty years of popular ITV soap Coronation Street scripted by acclaimed playwright and regular Street scriptwriter Jonathan Harvey has embarked on a full-blown tour, which this week visits the programme's home city of Manchester.
The format used is one that is very common to this type of spoof tribute show—there are probably more than a hundred shows that take the same approach in every Edinburgh Fringe Festival—utilising varying approaches to staging significant moments, characters and storylines from the past half century from straight reproduction, often with exaggerated characterisations, through silent movie comedy and even ballet in what really amounts to a comedy revue. The whole piece is linked together by a narrator played in each stop on the tour by a different past member of the real Coronation Street cast; at the Palace we have the wonderful Sherrie Hewson (Maureen Holdsworth in the TV version).
Much of the humour comes from the original scripts for Coronation Street, which, despite many shocking and terrible events, has always contained a lot more laughs than most soaps, but there are also Harvey's knowing winks to the audience as we all know what is about to happen. The best use of this comic dramatic irony is Gail's repeated enthusiastic assertions that this time, everything's going to be great, "I can feel it in me water." I had the added entertainment of watching Helen Worth, who plays Gail in the TV series, sitting in front of me in the theatre sinking lower and lower in her seat while shaking with laughter each time her character came on (she said to Harvey in the interval, "I feel like my life is flashing before my eyes").
There is also a lot of fun to be had pointing out the ridiculousness of some of the storylines, especially when already exaggerated events are compressed and exaggerated further for this show. However this gentle mockery is all done with obvious affection for the programme and there is nothing here to offend fans or the programme's makers. There are even a few serious moments, which do get some laughs because of the characterisations but do create, for fleeting moments, a sense of poignancy amongst all the silliness.
There are some minor annoyances with the script, such as the oft-repeated gag about confusion over who someone is playing now (it isn't funny the first time and it is repeated half a dozen times) and other self-conscious references to the theatrical process. The character of the narrator, despite the fact that Sherrie Hewson carries it off in a much more accomplished fashion than the rather hesitant Charles Lawson (Jim McDonald in the programme) did at The Lowry, it is still a rather awkward device that doesn't entirely work.
However despite there being a few elements that are a little too close to student revue, there is also some very good comic writing both from Harvey and from the original scriptwriters, but the thing that really raises the show to the level of great entertainment is some superb ensemble playing from just six performers—Leanne Best, Simon Chadwick, Daniel Crowder, Jo Mousley, Peter Temple and Lucy Thackeray—who change costumes and wigs and transform their bodies and voices very quickly to become instantly recognisable, sometimes before they even speak, as the 54 characters named in the programme. Fiona Buffini's direction is slick and fast-moving with a sharp eye for comic details and there are some lovely touches in Liz Ascroft's design, such as the black and white cakes in the corner shop from the first ever episode and the pub bar created from a scale model of the front of the Rovers Return.
If you know nothing at all about Coronation Street, this show will come across as impressive and often amusing but won't make a great deal of sense. If you are an avid fan of the programme, you will love spotting characters and storylines and joining in the many laughs of recognition from the audience. If, like me, you have never been a fan but have grown up with the programme always in the background from an early age, this is still hugely entertaining and often very funny indeed.
Until 9th April, then touring
Steve Burbridge reviewed this production on tour in Darlington
Reviewer: David Chadderton