Corrie!
Jonathan Harvey
Civic Theatre, Darlington, and touring
(2011)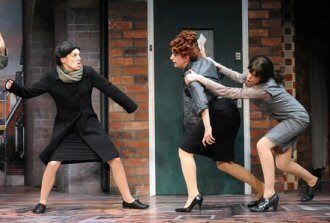 In 1960, the genius and passion of Tony Warren gave birth to a national treasure. Fifty years later, Jonathan Harvey should be tried for attempted murder.
As the familiar Coronation Street theme tune, composed by the late Eric Spear, filled the auditorium I was looking forward to Corrie! being an affectionate pastiche of Britain's longest-running and, arguably, best-loved soap. Instead, what followed was a preposterous parody.
A mish-mash of montages were cobbled together to give a cringe-worthy potted history of many of the most significant events to have taken place in Weatherfield during the past half a century. Although I never expected this 'brand new play', which has been 'specially commissioned by ITV' to feed the culture-vulture within me, even Jack Duckworth's pigeons would have been hard-pushed to find a tasty morsel in this contrived concoction of crass caricatures and sensational scene send-ups.
If, as the programme notes claim, "Coronation Street was also part of the great wave of 'kitchen sink drama' of the 1950s" then Corrie! has slid down the drain and come to rest in the gutter where it belongs.
Although I do not dispute the fact that the six actors on stage - Leanne Best, Simon Chadwick, Daniel Crowder, Jo Mousley, Peter Temple and Lucy Thackeray - work extremely hard playing a total of 55 characters between them, often in very quick succession, my gripe is that the mannerisms of each character were so exaggerated that they became less recognisable as a result. Thus the performances contained enough ham to keep Alf's Mini Market stocked for the next fifty years!
I also took umbrage at iconic characters such as Bet, Blanche, Audrey, Emily, Martha and Minnie being played by blokes. Despite the fact that there was an element of drag queen/panto dame to Bet, Julie Goodyear's television performance, combined with some brilliant scripts, always ensured that behind the beehive, leopard-skin and dangly earrings we knew there was a real woman. This did not come across on stage.
Furthermore, Corrie! is described as 'a new play' but, in essence, it is not. Most of the scenes are performed as they were originally written, using the same dialogue that the original scriptwriters penned. Only the words of the narrator, who is played by a genuine Coronation Street actor at each performance (in this case it was Ken Morley, aka Reg Holdsworth), are original - and my guess is that even they were scribbled down on the back of a Newton & Ridley beer mat during a ten-minute tea break from Baldwin's Casuals.
I am not sure who Jonathan Harvey has pitched Corrie! at, to be honest. After all, those who hate the soap wouldn't pay to go to the theatre to see a stage play based upon it and those who love it will surely consider this offering as sacrilege. Indeed, I suspect the show would make their hair curl faster than a last-minute cancellation at Audrey's salon.
Whereas Coronation Street could be best described as a quality soap that is able to produce a frothy lather, Corrie! is a cheap imitation that leaves a scummy residue ingrained in your mind.
However, I must point out, in the interests of objectivity, that there were howls of approval from the audience and, as far as I could tell, only a few yelps of dissent. So, it must be pleasing someone. However, for me it was more sorry than Corrie!
Runs at Darlington until Saturday 7 May 2011, then tours to Ipswich, Northampton, Bradford, Southampton, Stoke, Brighton, Hull and Malvern.
David Chadderton reviewed this production's premiere in Manchester
Reviewer: Steve Burbridge