Corteo
Daniele Finzi Pasca
Cirque du Soleil
O2 Arena
–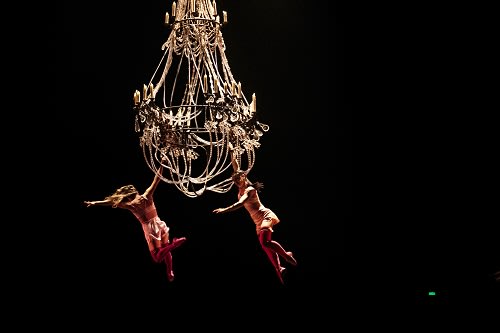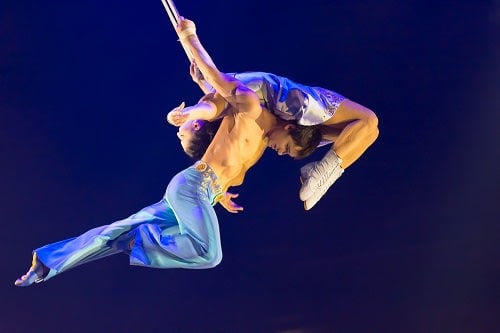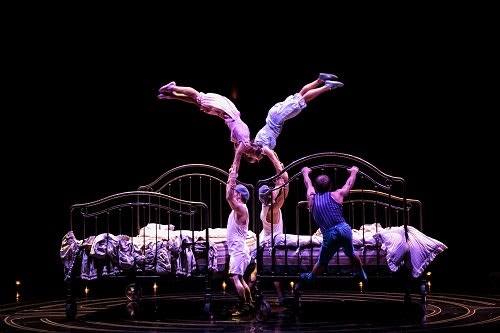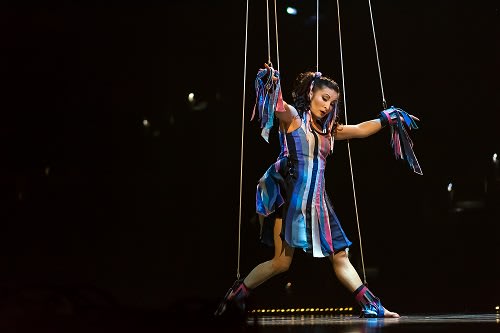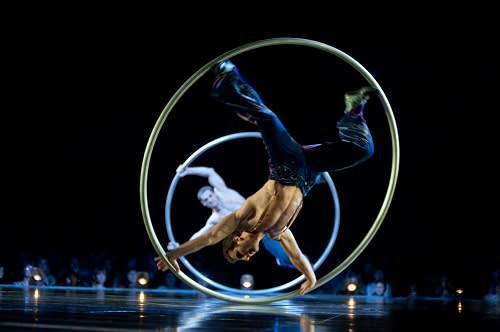 We may all have the occasional thought about how we would like to be remembered by those we leave behind. In Cirque du Soleil's Corteo, an Italian clown, Mauro the Dreaming Clown (Mauro Mozzani), imagines how his funeral cortège ('corteo' in Italian) will unfold. His fantasies conjure an 'antique' world which brings together circus, commedia dell'arte and carnival in an exuberant parade of acting, aerial exploits and acrobatics that sometimes borders on anarchy à la Baron Münchausen.
Written and directed by Daniele Finzi Pasca, Corteo premièred in Montreal in 2005 and toured the world as a big top show until 2015, before it was relaunched as an arena show in 2018. Its arrival, after a two-year postponement, at the O2 Arena marked its first performance in the UK and the 150th city of its tour.
Visually, the show has a lovely 'vintage' feel. The hand-painted central curtains are delicately beautiful (set design Jean Rabasse), based on the fantasy Parisian bohemian scene depicted by Adolphe Léon Willette in his painting Parce Domine, which was housed in the late nineteenth-century cabaret Le Chat Noir. They rise to reveal a stylishly painted circle, with a central trapdoor, runways extending into the wings left and right.
The stage divides the arena in two, with the two halves of the audience facing each other, so that as we watch the performance, we also see a mirror image of ourselves and enter the performers' perspective. The effect is surprisingly intimate. If it sometimes feels as if the artistes have stepped out of a Baroque painting (costumes Dominique Lemieux) then perhaps that's because Corteo was inspired by The Great Parade: Portrait of the Artist as Clown, an exhibition curated by the National Gallery of Canada in 2004 presenting almost 200 artworks spanning two centuries reflecting by the magic of the circus.
Mauro's journey to the afterlife is guided by four air-gliding angels—a celestial host of the Clown's former loves who have come together in tender, nostalgia to bid him a last farewell. Mauro drifts in on his flying bed of dreams and memories, the image creating a mood of wonder. An angel fits his wings and teaches him the art of flight: flowing arcs, not frantic flapping, are required!
The opening procession is solemn, but as the dreamy dirge gives way to laughter, joy and riotous reminiscence, Mauro dons his costume one last time and joins fellow artistes, and former friends and foes, in a wild performance which is part-variety act, part-vigil. If the clown's over-excited Italian pontifications are sometimes a bit wearying, then there's a sentimental tint to his ceaseless chatter that makes one inclined to forgive his garrulousness. After all, it's his party. The closing image of Mauro serenely cycling his way to that circus in the sky is a winner, evoking memories of ET's iconic bicycling scene with a hue of Sondheim-style wistfulness: "Me here at last on the ground, you in mid-air. Send in the clowns."
Aerial artistry dominates the sequence of acts which are characterised, as is customary, by astonishing displays of strength, balance, suppleness, harmonisation, grace, courage and trust. Corteo opens with 'Lustres (Aerial Chandeliers)': four women perform elegant acrobatics within enormous, garlanded hoops, their limbs entwining with the ribbons and decorative baubles which sway, swing and swoop over the stage. The elaborate ornament partly obscures the sophistication of their aerial ballet, but the visual extravagance is a treat.
Occasionally, the context of the 'action' isn't quite clear. In 'Artist Marionette', a live 'puppet' dangles from rigging, sometimes animated, sometimes a floppy rag-doll. Her manipulated movements (is she controlling the strings?) are intended to resurrect the beach-ball games of Mauro's remembered youth—or so the programme tells us.
Other acts need no context and are just breathtaking. 'Paradis' proves that a trapeze is redundant when acrobats can simply be tossed to and fro between two Korean double stations, executing twists, tumbles and tucks as they criss-cross in co-ordinated, mid-air complexity. The sheer strength and control of the two artists in 'Duo-Straps' who hang in sustained formations requiring incredible concentration and stamina—one body suspended from the other's Maltese Cross, for example—is awesome.
In other acts, athleticism and sophisticated synchronisation are to the fore. In 'Trampo Beds', six acrobats bounce with buoyant glee from bed-to-headboard and bed-to-bed, capturing the fun and freedom of Mauro's childhood. The remarkable precision of the two male pairs (apparently representing rich and poor) who spring between the two ends of a teeterboard in 'Planche', executing ever more complex somersaults at an ever faster tempo is wonderfully exciting, while in the final act, 'Tournik', four horizontal bars book-ended by two more form a frame for an ensemble of performers to swing in simultaneous synchronised motion, their bodies sculpting 360-degree circles through the air with almost defiant ease.
Dexterity and balance are not neglected. It would have been good to have more of both the five synchronised Cyr wheels that swirled smoothly around the stage circle with delicious ingenuity, and the gypsy dancer in 'Klezmer' who spun a multitude of hoops around her body and from her limbs with nimble grace. A few small errors in the juggling act, as rings, hoops and clubs flew at eye-defying speed between the three performers, at least proved that the acrobats are human after all, but there were no errors from the ladder specialist who not only turned a ladder into 'stilts' on which to walk around the stage, but did handstands atop an unsupported ladder, watched over by a guardian angel. There was not a wobble.
In contrast to some other Cirque shows, there is no linear narrative to Corteo's visual fantasy, but interspersed between the physical feats are various sketches which juxtapose the sublime and the ridiculous. Like the golf club of the Giant Clown (the Argentinian Victorino Lujan) which keeps missing the fidgety 'golf ball'—the white-hatted head of his partner standing in the trapdoor—they don't always hit the mark. Attaching the Clowness Anita Szented, a 'proportionate dwarf', to four huge helium balloons and inviting the audience to bat her back and forth around the arena did not seem the most politically correct entertainment of the evening. And, Szented's clowning around with fellow dwarf, Viktor Sovpenets in a parody of Romeo & Juliet titled 'Opera Roulette' descended into unfathomable pandemonium.
Musicians either side of the stage—a male and a female singer, keyboards, accordion, rhythm-nimble percussion, amplified violin and guitar—present an eclectic soundtrack (composed by Jean-François Côté, Philippe Leduc, and Maria Bonzanigo) of folk, jazz, dance-beat and organ prelude, occasionally joining in the stage action. And, music takes centre-place in 'Crystal Bowl', in which water-filled wine glasses and Tibetan bowls, struck or rubbed with a soft mallet, make a haunting song of mystery. If only the amplified whistling of the Ringmaster, 'Mr. Loyal' (Geert Chatrou), had not marred its magic.
Corteo is a charming mix of the mundane and the surreal. It lacks the technical wizardry and high-octane innovation of shows such as Luzia, but it blends the ethereal and earthy within a vintage frame, juxtaposing faultless feats of superhuman artistry with all too familiar human flaws. The result is an engaging show which takes a true and tender look at the comic and tragic that are our essential humanity.
Reviewer: Claire Seymour