Cosi Fan Tutte
Wolfgang Amadeus Mozart / Lorenzo Da Ponte
Royal Opera House
Released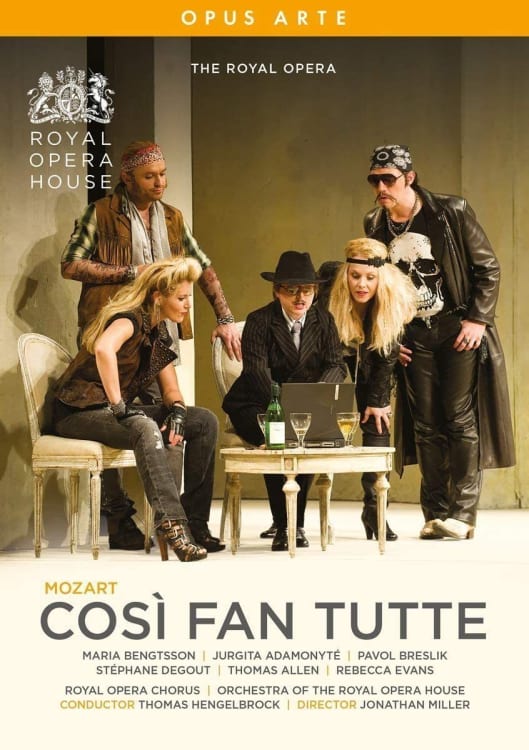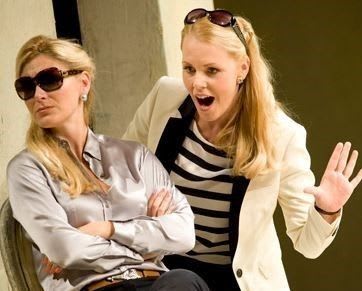 The opening night of the late Jonathan Miller's return to direct the 2010 revival of his own production of Cosi Fan Tutte was broadcast as one of the first Covent Garden cinema relays. This year it was streamed online for a month, and now comes the DVD.
Clearly the Royal Opera thinks highly of the production, yet it's not the obvious crowd-pleaser this might suggest. There is no sunny Mediterranean atmosphere, but instead a minimal staging in a partly moth-balled mansion that suggests an uncertain residence for the principal characters and their fluctuating emotions in this most equivocal of comedies.
Miller's vision is still entertaining, but rather than farce, or a cheery 'that's life' resignation, he offers a more bitter view of human nature, through the narrative character of Thomas Allen's Don Alfonso, exemplified at the end when his accomplice Despina, sung by Rebecca Evans, throws back at him her fee for participation in his plot to prove female infidelity.
The smartly-suited Allen is supremely arch, implying audience inclusion in his cynicism, amoral and a bit of a charmer not above trying it on with Despina. He has no real aria, but his delivery of recitative is so masterly as to carry the conviction of well-scripted conversation.
Evans too commands the stage as a smartly-dressed PA, with a good sense of comic timing, lively in Una donna a qindicie when urging her mistresses to have a little fun, sounding rich and clear despite a mouthful of donut in In uomini, in Soldati.
But while those two are the most familiar names in the cast, the opera really belongs to the two pairs of lovers, Maria Bengtsson as Fiordiligi and Jurgita Adamonyte's Dorabella, Stephane Degout as Guglielmo and Pavol Breslik's Ferrando.
The role of Fiordiligi is fearsomely difficult, and it's likely that Mozart wrote two of her arias, with a range of more than two octaves and prodigious jumps of a 12th, to embarrass a singer he disliked. Bengtsson, the taller of the two blonde sisters, doesn't have the firepower when the part descends into contralto territory—few sopranos do—but otherwise she was expressive, with a bright sound, culminating with a lovely coloratura flourish at the end of the long and punishing Per pieta. Brava!
Adamonyte brought girlish charm to the role of Dorabella, resonant and handling the dynamic contrasts well in E' amore un ladrocello—an aria often omitted, but worth its inclusion here. Baritone Degout has a warm sound and captured the brief cockiness of his character. Breslik started beautifully, holding those difficult pianissimi but rather ran out of gas as the show went on.
The set is contemporary: the blokes go off on a UN mission and return in disguise, not as Albanians, but as heavily tattooed rock musicians. The comedy is restrained, with few jokes, but a good one when a mobile phone ringtone is played by the fortepiano—a gag since picked up by other directors.
The plot is facile, but the music behind it hints at psychological truths, made explicit by conductor Thomas Hengelbrock's subtle direction, which produced clean, clear commentary with limited use of vibrato.
The visual and sound quality of the recording are excellent, and it's likely that the voices—which are not all the most powerful—sound better here than in the theatre. Sadly, the accompanying leaflet has no track list.
Reviewer: Colin Davison