Cosi Fan Tutte
Wolfgang Amadeus Mozart, libretto by Lorenzo da Ponte
Glyndebourne Festival Opera
Glyndebourne, East Sussex
–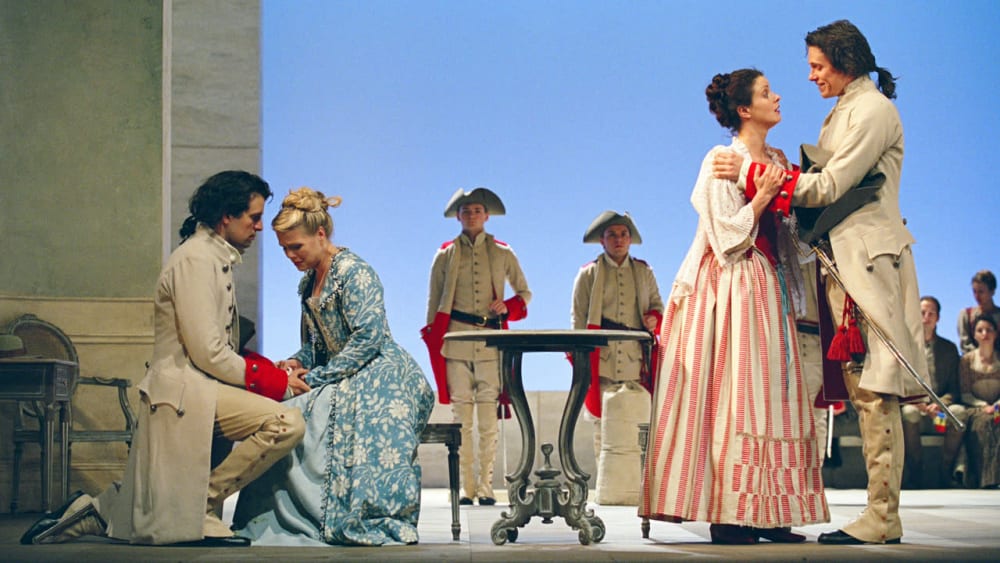 For much of the 19th century, Mozart's opera (which had premièred in Vienna in 1790) was thought to be too risqué to be staged and it wasn't until the 20th century that it regained its popularity.
Nowadays, we live in an age in which people are so very easily offended that old plays and films feel obliged to carry the statement, "please note this work reflects historical attitudes which modern audiences may find outdated and offensive."
Be warned therefore that the behaviour of the characters in Cosi Fan Tutte is cynical, cruel and as unacceptable as the characters' behaviour in Laclos's Les Liaisons Dangereuses.
Two young officers, Ferrando (Topi Lehtipuu) and Guglielmo (Luca Pisaroni), naïvely boast that their fiancées, two sisters, Fiordiligi (Miah Persson) and Dorabella (Anke Vondung), would never be unfaithful. Their friend, Don Alfonso (Nicolas Rivenq), an older man and a realist, bets them that they will be just like any other woman.
The boys accept the bet, pretend to be called up and go off to war. They return in disguise to seduce each other's fiancée. Ferrando, who is engaged to Dorabella, attempts to seduce Fiordiligi, whilst Guglielmo, who is engaged to Fiordiligi, attempts to seduce Dorabella.
Will the girls succumb? Of course, they will. That's what girls do. Women, the opera insists, are by nature unfaithful. Cosi Fan Tutte translates as Women Are Like That.
Despina (Ainhoa Garmendia), Don Alfonso's accomplice, encourages the girls to do exactly what men do all the time and have a bit of fun. However, what starts off as a joke gets completely out of hand and the girls are utterly humiliated. Mozart finds, under the farce and frivolity, real feeling and genuine heartbreak. Fiordiligi suffers most. Ferrando gets hurt, too.
Nicholas Hytner's extremely assured production, designed by Vicki Mortimer, was seen at Glyndebourne in 2006. Iván Fischer conducts the Orchestra of the Age of Enlightenment. The opera is beautifully sung and beautifully acted by the young cast. The performance is a joy and you can watch it free on the Glyndebourne channel. You will have to be quick. The screening finishes this Sunday 29 May.
Reviewer: Robert Tanitch