Così Fan Tutte
Music by Mozart, libretto by da Ponte
Opera North
Theatre Royal, Newcastle, and touring
(2004)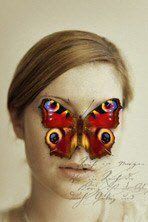 I don't know! You wait for years for a production of Così to come along, and then you get two in three weeks! And they were two very different interpretations: the Pimlico Opera version concentrated on the comedy, with a wee touch of slapstick, whilst Opera North's much bigger production tackles the opera's problem - the thesis that women cannot be faithful - in a much more head-on fashion, as an experiment in human behaviour, conducted by Don Alfonso.
And what a Don Alfonso Peter Savidge is! He is almost satanic as he glides around the stage, lurking occasionally just out of sight, manipulating the others, including his enthusiastically willing "assistant" Despina (Claire Wild), and we are left with the impression that it would take an almost superhuman resistance to stand up to his determination to succeed. Poor Dorabella and Fiordiligi didn't stand a chance, and Ferrando and Gugliemo are just as much his victims as the sisters.
The translation (the name of the translator is not given in the programme: why not?) is clever and witty, particularly in the recitative, and matches the music perfectly. And the design of set, costumes and lighting support the thrust of the production subtly and effectively. JD Atkinson, reviewing the production's outing in Leeds, has had some very apposite things to say about the set and costumes - and I agree with her wholeheartedly - but I would like to add something about David Finn's lighting, which, like the costumes, reflects the changing attitudes of the sisters.
When we first see them, in the black and white room wearing their grey dresses, the lighting is cold: as the plot progresses, and as the emotional atmosphere changes, colour begins to appear in the costumes and the light warms. All very cleverly done and making a big impact on the audience's reactions, without, I would think, the majority even noticing.
As far as the singing is concerned, this is a true ensemble production with each blending with the others most effectively. If I were to nitpick, I could say that the sisters' diction was not always quite as clear as one would have liked, but that is nitpicking, given the quality of the singing, not just in individual arias but in every combination, including what have always seemed to me, a non-singer, to be rather difficult sestets.
And a special word about Mary Connell, whose name appears in tiny type on page 31 of the programme: she signed the performance in BSL and lived every single word of it. Very impressive!
Touring to The Lowry, Salford Quays (20th & 22nd Oct.) and the Theatre Royal, Nottingham
(10th & 12th November), returning to Leeds on 2nd and 4th November.
Reviewer: Peter Lathan