Cosi Fan Tutte
W A Mozart (music), Lorenzo Da Ponte (original libretto)
Opera North
Lyric Theatre, The Lowry, Salford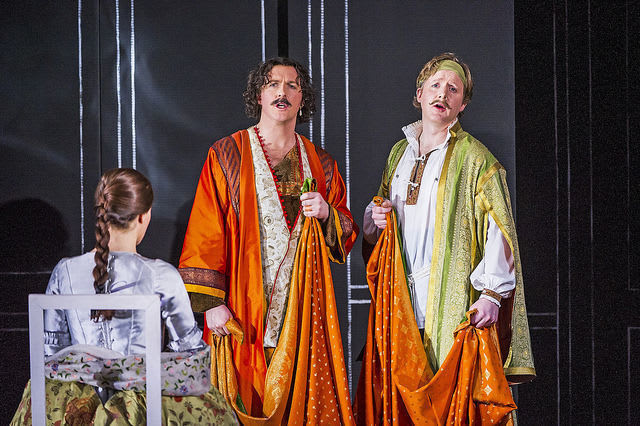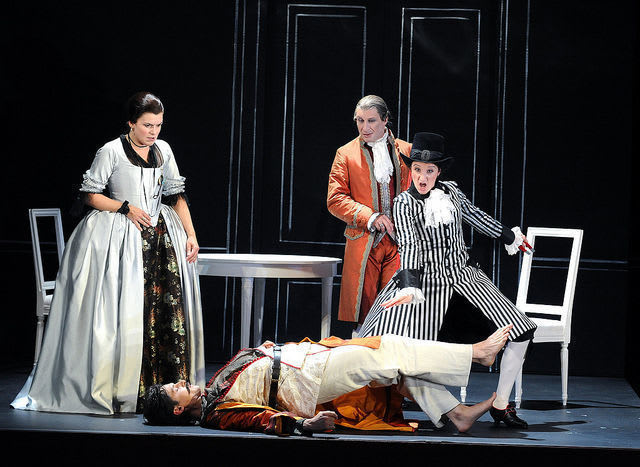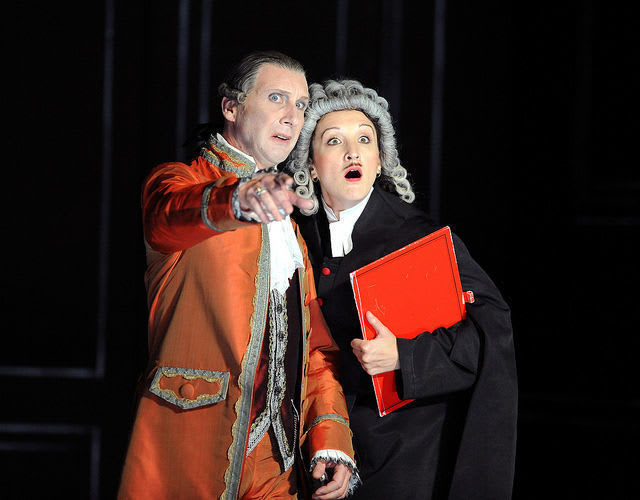 Cosi fan tutte. "All women are like that" (i.e. incapable of remaining faithful). Not necessarily a sentiment that will recommend itself to a 21st century audience. Da Ponte's adaptation strays away from Malraux's original theatrical conclusion (that both women and men struggle with monogamy). The self-serving (self-deluding?) aspect in the librettist's approach is heavy with unintended irony—da Ponte was himself a notorious adulterer.
Setting this aside, we might yet ask what Cosi Fan Tutte has to offer the modern audience. Scholars and critics have argued (not entirely persuasively) that Mozart's music works by standing in opposition to the libretto—presenting moral uncertainties and internal emotional conflict, barely present in the lyric. Maybe.
Two young men, provoked by the claim of a cynical old philosopher—that women are incapable of fidelity—engage in a bet with him. The philosopher asserts that, within a day, their beloved fiancées can be tempted and seduced into the arms of other men. To put this to the test, he demands that the two young men do exactly as he says for a day.
Thus, the two young soldiers bid farewell to their tearful beloveds and head off to "war" (actually to return moments later, disguised as gentlemen travellers from Albania). The "exotic strangers" immediately set about seducing the young women, whose initial outrage and resilience is eventually (or quite quickly, given that this all happens in a single day) worn away. The women's perfidy is underlined by the fact that each falls for the other's "heavily disguised" lover.
The frontispiece that greets the audience as we enter is a giant spy-hole set in a panelled door or wall. This will later lift away to reveal a sketchy representation of an 18th century drawing room, from which the action never shifts. Two circular holes, in wall and ceiling, remind us of the spy-hole and, I imagine, represent a kind of panopticon.
Malraux's theatre adopted the scientific model of the thinkers of his age—many of his plays are dramatised experiments into human moral conduct. The box in which the action takes place contracts and expands, thus manipulating the proximity of the creatures under study. Tobias Hoheisel's set is very clever, but its contribution to the audience's engagement with the production is surely questionable. His costumes are clearer and easier on the eye. The delight that Ellie Laugharne's Despina takes in cross-dressing as a doctor is surely not unconnected to the witty and stylish outfit she is given.
The action begins only when Don Alfonso enters and instructs the maestro to conduct. William Dazely's Alfonso moves with the smug self-belief of the know-it-all that, I can assure you, is de rigeur among philosophers across Europe and the Americas. Bazely's singing lacks a little richness, but he comports himself well enough for us to dislike (in an appropriate sense) this ruthlessly manipulative character.
As Ferrando, Nicholas Watts's voice has a sweet and vulnerable tone fit for the less arrogant of the two young soldiers. When the worm turns, there is a fine and bitter blend of triumph and uncertainty in Watts's delivery.
Gavin Ring (Guglielmo) fits well into the skin of the more confident young man. His highpoint is the comical boasting of Non siate ritrosi.
Helen Sherman's Dorabella, the more easily seduced of the sisters, is convincingly wayward yet winning. Máire Flavin has a successful debut as Fiordiligi, the stronger sister, both in personality and morals. Her Per pietà, ben mio, perdona wins the round of the evening.
While Tim Albery's direction is, for the most part, admirable and well-blocked, greater thought and imagination could have been applied to the piece's comic potential. This especially hinders Ellie Laugharne, whose Despina is in need of greater opportunity to exploit the artist's comic sensibilities.
A word on librettos and surtitles. Opera North goes with an English translation (and strangely unattributed). From the snippets I can make out, a good deal of cleverness and thought has been poured into this: "We're strong and athletic/ Romantic, poetic," sings Guglielmo. Most of the translator's hard work, however, is lost, not in translation but in transmission (from mouth to ear).
This is not a criticism of the singers' enunciation, nor even (for once) of the Lyric Theatre's dead acoustic. It's just a fact of operatic productions. It may sound peculiar to call for surtitles in one's native language but, if the libretto is to be a true partner in any production, surtitles are necessary. Failing that, why not just sing in the original Italian (my guess is the singers will thank you for that)?
The reception is warm but not enthusiastic. I'd call the audience perceptive and fair.
Reviewer: Martin Thomasson