Counting the Ways
Edward Albee
Face Front Inclusive Theatre
Oval House Theatre and touring
(2010)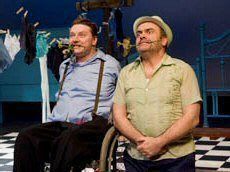 This revival takes a short play from 1976 in which a long-married couple look back on their partnership and question whether they still love each other and gives it an added vibrancy.
That original pair were a he and a she who stood for all of us who have long-standing partnerships but director Jeni Draper and her team have made turned one couple into two. They both play the same script, and at the same time, but one pair (Jon French and Catrin Menna) speaks it vocally and the other (Jean St Clair and Ilan Dwek) speaks in British sign.
Sometimes one couple does mirror the other but these are different characters and you get two totally different performances gong on at the same time. Sometimes they are synchronised word for word, sometimes consecutive and quite often the characters are addressing each other from the other side of the clothes line that divides their gardens in Jo Paul's imaginative set.
Face Front Inclusive is a company that includes people with disabilities and produces work that genuinely accessible to everyone. To the duality of speech and sign they here also add visual description for those who are unsighted or have impaired vision, not with the usual voice over commentary but by adding another character, George (Wayne 'Pickles' Norman) who is both describer and part of the play itself. Often the whole audience hears him, sometimes pre-recorded; enough to ensure that we are all fully aware of his contribution, though there is a great deal of his descriptive contribution heard only by those wearing headphones.
This way of working ensures that we are all sharing the many facets of the play and are one audience not separated into the hearing, the seeing and those who cannot. More importantly it intensifies and enriches the play which gains in its theatrical effect and more than doubles its humour for those of us who can both see and hear. It is some indication of how well the production is handled that much as you are drawn to both these couples you can't help but find it funny when a husband is charged with erectile dysfunction and probably firing blanks and you'll laugh even more to see it told again in sign.
This is a gentle and touching play as well as being very funny. The title, of course, has its origin in Elizabeth Barrett Browning's sonnet How do I love thee? Let me count the ways and Albee quotes Aden's verses in his dialogue for this is a script that has as warm a glow as Ian Scott's sunshine lighting that matches the delightful performances of the cast.
At Oval House until 15th May then Harrow Arts Centre 18th May, Stratford Circus 19th-20th May, and Trestle Arts Base, St Albans, 21st May 2010.
Reviewer: Howard Loxton