Country Music
Simon Stephens
Free Run Productions
Omnibus Theatre
–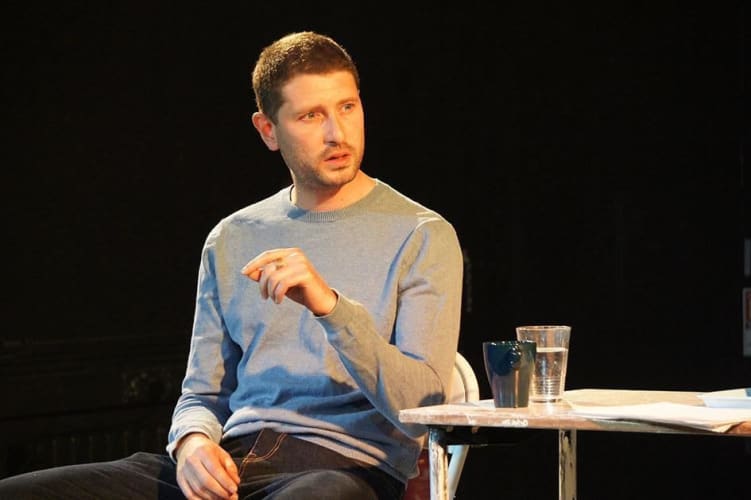 This first revival of a play that premièred at the Royal Court in 2004 gets a powerful and nuanced performance from Gary Crankson as central character Jamie from Gravesend, whose life is blighted by a violent act as a teenager.
We meet him first on 14 July 1983 (there's a title to tell us). He is 18 and with Lynsey (Rebecca Stone) his 15-year-old girlfriend in a stolen car parked by a road on the other side of the river in East Thurrock.
The car is represented by a couple of kitchen chairs but they are placed in the middle of a stylish set (by Liam Shea) of rope cables that suggests a suspension bridge that could represent all sorts of things. This is a play full of ambiguity that withholds information though you learn more as it proceeds. The couple are runaways from home, though you are never quite sure whether that means a children's care home, an institution for delinquents or the place where Jamie's mum lives with his stepfather.
While Jamie talks of a trip to Southend, perhaps to Brighton or escape together to the North of England, Lynsey wants to know what he's done. How has he got cash, tequila and a big bag of crisps? It slips out that he knifed someone but says he didn't kill them, a suggestion of it being done to protect his half brother Matty (Dario Coates) whom we meet in the next scene set five years later when he goes to visit Jamie in prison. That visit is at Lynsey's request to tell him that she and their daughter Emma have gone north to Tyneside to live with her new man.
Was Jamie's crime carried out to protect (or revenge) Matty from the sexual advances of the mysterious Mr McKay? The boy himself was either too young or too innocent to remember.
Moving on in time, there is an awkward meeting between grown-up Emma (Frances Knight) and Jamie, who has gone up to Sunderland in search of her. He is seeking some kind of forgiveness or redemption, is desperate to regain family but she seems merely inquisitive as to whom this murderer was who fathered her.
The 18-year-old Jamie seems not to be in the real world with his fanciful ideas of escape to a new life; he denies killing though admitting to stabbing and sees his action as justified. Tequila makes him feel good, a big bag of assorted potato crisps a treat, stealing a car an adventure; with his hazy awareness, he thinks he can get away with it. Crankson retains some of that naïve optimism as he presents the older man in need of some kind of redemption and acceptance.
As Lynsey, Rebecca Stone gives us the young girl's excitement and the dawning realisation of what she has got her self into.
Dario Coates as Matty shows a much more aware young man trying not to upset his half-brother while in fact eager to escape from the situation, while in Frances Knight's Emma, you can see a girl who seems to lack any compassion, entirely self-centred.
The play finally goes back to a sunny time to a point early in Lynsey and Jamie's relationship when things were happy, when things might have turned out very differently.
Stephens's play doesn't give you all the facts but by leaving the audience to fill the lacunae he makes them question more strongly whether people can change, whether redemption is possible.
Reviewer: Howard Loxton