Courage Everywhere
Judy Tate, Saviana Stanescu, Aoise Stratford and Lyrae Van Clief-Stephanon
Dorfman Theatre, National Theatre
–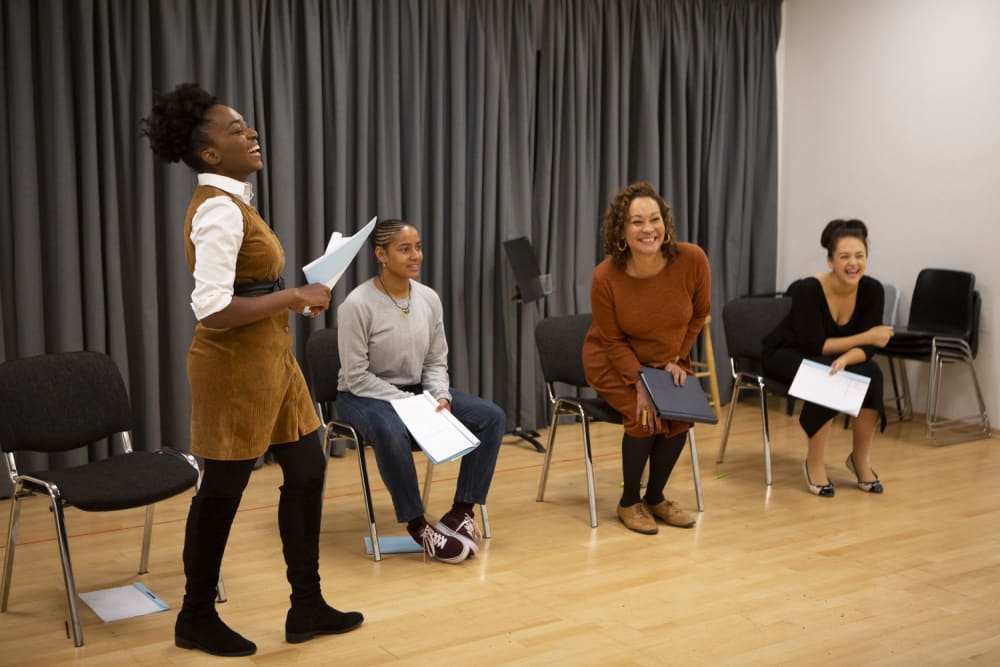 Tonight feels celebratory. A spotlight on black female voices in the US fighting for political equality, both historically and now, by way of three ferociously truth-bearing monologues-as part of Courage Everywhere, the National Theatre's weekend-long festival to mark the 100th anniversary of women (some) gaining the right to vote.
Stark stage it may be, but flesh is already on the bones as actors clutch scripts and alchemise in tonight's readings. How does this magic happen? How, with no costumes, props and little movement, do these actors breathe life into characters and bring audiences together in what feels like a common journey?
As the words fly off the page, responses from the auditorium range from jeering in unison at racist comments to laughter and anger, in line with a heated political rally. Communal support is built in the space because the acting and the words that spill out are just so powerfully strong—and this is where the magic happens.
Magda, Jo, Isabella is first up with three razor sharp monologues from US writers Saviana Stanescu, Aoise Stratford and Lyrae Van Clife-Stefanon, tackling race, class and belonging in the suffrage movement. Three instantly relatable characters stuck in specific histories, yet their troubles transmit universally for all women seeking voice.
Jo wants a better world for her children and is arrested merely for voting because she holds a criminal record. There is talk about institutional racism in the classroom and deep frustrations expressed for the current voting system. "What do you have to do," she asks, "lose your virginity before you can vote?"
Magda, meanwhile, is the Polish help, played out superbly by Trinidadian actor, Martina Laird, who delivers a painful account of subjugation, listing out jobs that map her daily grind, working for people who don't notice, except when the sink is dirty. So constricted, she dreams only of fresh air and butterflies, becoming obsessed with a shiny voting sticker. "I voted," she gleams, in a painful sad moment because in truth, she hasn't had a chance to vote at all, but rescued the sticker from her bosses' dustbin.
Then there's Isabella, who jumps from contemporary to historical: an angry young women one minute in a hardware store threatening to hatchet down the next man who comes too close, only to be transformed back in time as a slave—bought and sold like chattel. It's gripping drama but over all too quickly.
The final reading comes from In the Parlour, Judy Tate's witty take on a meeting that took place on March 1, 1913, the eve of what was to become the most historic women's suffrage march in history, where black activist Mary Church Terrell negotiates with white suffragette Alice Paul, who has organised the march but has banned African-American women from participating.
Set in the home of Edna Brown, a Howard University scholar and sorority sister, the young suffragette focuses on sewing walking skirts for the march, full of energy and naïve hope, in preparation for a march she's prohibited to attend while Nellie Quander, famous educator of her day and leader of a rival sorority, arranges a play-off between all three opponents.
The biting dialogue between the four women is piqued with zest and mocking humour. Despite the gravity of the task in hand, it's pure entertainment to watch Quander at work as she gently jibes and prods her way through battle armed with nothing but wit and clever phrasing, yet wins over her white counterpart, Alice Paul, who has no choice but to submit.
What draws the pieces together is the intergenerational voice that shines through the text. "The then and now are one," explains director Dawn Walton, partly why she was attracted to the writing. "I feel like I'm dealing with my mother's generation and yet the next generation are snapping at my heels. We have a responsibility to share things and pass them on," she says.
The strength behind these monologues is that women often ignored or abandoned by the powers that be are finally given voice, as important now as in 1913. And this, surely, is something worth celebrating.
Reviewer: Rachel Nouchi