Cow
Jessica Barker-Wren
Macaw
Underbelly, Cowgate
–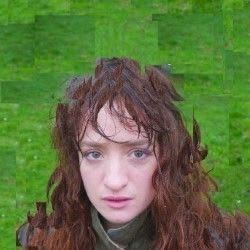 Never has a show tagline been so apt. 'A rural tragicomedy with songs' is what adorns the front of the Cow programmes and that's exactly what this show delivers in spades.
The rural element is quickly apparent with a large furry cow on wheels placed at the side of the stage and Jessica Barker-Wren draped over it replete with boots and Barbour. The tragicomedy however is a little more of a slow burn, the comedy happily dominating for most of the piece.
This one-woman show is a glimpse into the life of Bethan, a woman who, worried about her dad, has left the London metropolis to return to her childhood home in Devon. The farm is in disarray and her dad has been slowly losing it since the death of her mum, "let's brush that under the carpet" but is too proud to admit it.
Bethan looks after the animals, chops wood in a body suit (dancing wildly to Prince), gives us the backstory of all of the locals she meets and a potted history of her family. She laughs, she cries, she shares a really awful joke and all the while maintains silence on why she's in the market with a cow named Friendly and why she's desperately in need of a tractor.
Wren's performance is seemingly bright and breezy but it's a brittle façade with the quick wit often followed up with a wistful song or childhood memory. The folk songs are beautiful but where the rest of the show neatly flows they feel bolted on, a deliberate change of tone and pace but one that slows the narrative almost to a halt.
With plenty of laugh-out-loud moments and a bittersweet undertone, this rural piece is hugely enjoyable with some unexpected political points and unflinching explanations of country life adding to Wren's sparky delivery.
Reviewer: Amy Yorston