Cowardy Custard
Devised by Gerald Frow, Alan Strachan and Wendy Toye, featuring the words and music of Noël Coward
Evergreen Theatrical Productions
Yvonne Arnaud Theatre, Guildford, and touring
(2011)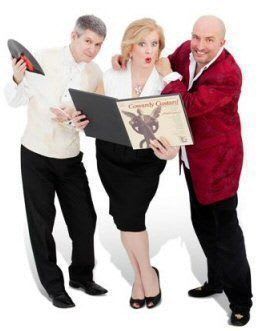 This would be a great show without Dillie Keane. With her it rises to heights of comic brilliance leading the audience into gales of uncontrollable laughter.
The show itself is basically Coward in a nutshell: his songs (surprisingly many were unknown to me), his words (extracts from his autobiography) and his thoughts, revealing that this was not just a man with "a talent to amuse", but along with his brittle and acerbic wit went a proud patriotism, a thoughtful look at life, and a sorrow for suffering and death, with particular sadness for those lost during the war. "The peace we are enduring is not worth the deaths."
Starting with his early years as a precocious child performer, the snippets of his life show a man with prodigious talents. Writer, composer, lyricist, singer, actor, director and producer, he excelled in all, but also revealed is a man who, despite his acerbic tongue, attracted love and friendship and was revered by many.
Beginning and ending with the regretful yearning of If Love were All from Bittersweet, there are around thirty songs in between including A Room with a View, Poor Little Rich Girl and the ever popular Mad Dogs and Englishman. Here the multi-talented Kit Hesketh-Harvey and Richard Sisson (aka Kit and the Widow of satirical comedy fame) are joined by young Stuart Neal, all performing with frantic precision and perfect enunciation and timing. Neal is also the object of desire in Mad About the Boy, sung by each of the performers in turn, and preens like a strutting peacock. Also an inspired dancer, the tap routine with the lovely Savannah Stevenson is fast and furious fun as they ask Has Anybody Seen our Ship?, while Stevenson in her turn holds the stage with her voice soaring magnificently through the theatre in a powerfully moving rendition of Twentieth Century Blues.
Anecdotes and poems proliferate, with the audience paying rapt attention not wanting to miss a word, but the main emphasis is on the music and songs, and back to Dillie Keane and her showstopping numbers. Of Fascinating Aida fame, she is well versed in the art of satirical comedy and it takes only a look or a grimace to have the audience chuckling in anticipation. I've been to a Marvellous Party (with copious champagne) is an absolute gem ending with Deane flat on the floor only able to crawl into the wings. I Wonder What Happened to Him is not far behind in the comedy stakes either.
Paul Foster keeps his versatile cast constantly on the move, not only with song and dance but also including extracts from Coward's autobiography and occasional scenes from his plays, most notably the semi-autobiographical Present Laughter where 'the Master' in late middle age (thinly disguised at Gary Essendine) converts an antagonistic young writer into an attitude of near worship.
The original production of Cowardy Custard opened at London's Mermaid Theatre in 1972, the first suggested title being This is Noel Coward. Too close to "This Was Noel Coward" said the Master and swiftly changed the name. He died eight months later.
Cowardy Custard is fun, fast, witty and crammed full of gloriously joyous entertainment, and I've been singing the songs all day. Marvellous!
Until 11th April then touring to Malvern, Bury St. Edmonds, Lincoln, Greenwich, Worthing, Poole, Fowey, Barnstaple, Southsea, Chelmsford, Buxton and Richmond
Reviewer: Sheila Connor