The Cradle Will Rock
Book, music, and lyrics by Mark Blitzstein
Arcola Theatre
(2010)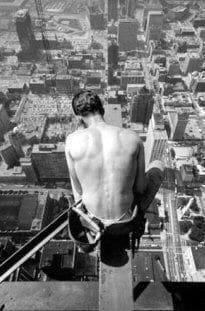 I've waited a long time to see this iconic show - I was out of the country for its West End revival in 1985 but I'd heard of it years before from older left-wing people in show business, some of them over here in flight from McCarthyism who told the now well-known story of its first performance as part of that burst of pre-war activity in American theatre that included Welles, Houseman and Harold Clurman. Mehmet Ergen's production at the Arcola shows exactly why it seemed so important that the production, having been halted by the Federal Theatre Project who had financed it and with the actors told by Equity that they could not perform 'onstage', company and audience walked 20 blocks uptown to a then dark theatre where Blitzstein proceeded to sing play and act the whole show from a piano, the actors soon joining in from their seats in the theatre.
There could not be a more appropriate piece for such a thing to happen to, but how does it stand up today? Its theme of greed, exploitation and self-interest are certainly no less relevant. Blitzstein begins with a scene in which a streetwalker tries to get a client to up his offer of 30 cents and asks him for $1 and then goes on to show how people prostitute themselves and their principles from sheer need or to climb another rung up the ladder.
In fact, the show had its beginnings in a song Blitzstein wrote for a prostitute which Bertolt Brecht heard him play in 1936 ('Nickel Under the Foot' - it's in the show) which made him suggest that the composer write a piece that embraced all kinds of prostitution throughout the system: church, press and the arts. That is exactly what he did a few months later.
Written in five weeks and dedicated to Brecht, it's almost a through-sung piece with very little spoken dialogue. That first scene prostitute is arrested and so are a group of people at a meeting of trade unionists, though in fact they are the 'Liberty Committee' there to disrupt it. They are taken off to the night court where they will face charges. The court then becomes the frame for a sequence of episodes that look back at how they sold out and ended up there.
It is very simplistic in the style of the agitprop theatre of the time. The location is called Steeltown, the big industrialist who controls the city is called Mr Mister, a union activist Larry Foreman, the prostitute is Moll, the preacher Reverend Salvation and so forth.
It is mainly through-composed but. in this production, at least, there is a break and a black-out to separate scene from scene, making a Brechtian kind of reminder to sit up and take notice - here comes another example. Its message of solidarity and the power of combined action, its espousal of the closed shop are very simplistic for today's cynical and sophisticated ears. Margaret Thatcher and her New Labour successors have done everything to undermine that kind of action - one can't help wondering how Blitzstein would have handled a government selling off publicly owned assets to make everyone a capitalist, except that it is really the same thing as what he is showing, the corruption by and triumph of self interest.
This may be politics in the extremes of black and white which offers no more real ideas than most party political speeches but the real story is the way in which good people can be made to support bad things.
Very simply staged with red girders as a reminder of the industry that the town lives off, accompanied, as at the actual premiere, by one piano, splendidly played by what I presume was musical director Bob Broad, it is performed by an exemplary cast who work together as an ensemble but still have their individual moments.
Aaron Shirley is the ubiquitously villainous big boss Mr Mister, scarlet-frocked Moll Alicia Davies makes you feel she really does have to make do with a cup of coffee for supper and Chris Jenkins gives Larry Foreman the kind of charisma that makes a people's hero.
There is a brief but very touching scene with Hemie Yeroham and Nichola Lagan as a couple about to be blown up and framed for a terrorist explosion and Josie Benson plays the sister of a man killed in an industrial accident accused of being drunk (or was he pushed?).
Stuart Matthew Price and Russell Morton make a hilarious duo of poet and painter representing the art world; Robin Samson and Adam Linstead are the representatives of the Church and the Fourth Estate, and Nathan Osgood a good doctor caught in Mr Mister's trap, and there is a beautiful performance by Morgan Deare as a drugstore owner grief stricken in his guilt.
The Cradle Will Rock is musically invigorating, though it doesn't have the kind of numbers you go home whistling after one hearing, and it isn't going to add anything to current political debate but it does point an accusing finger at all of us and it still makes a very good piece of theatre.
Runs until 18th December 2010. The Arcola then closes at its present address but will reopen in January not far away at 24 Ashwin St. There are gala nights of "The Cradle Will Rock" on 9th and 17th December to raise funds for the conversion of the new theatre or you can contribute directly to the appeal fund.
Reviewer: Howard Loxton