Crazy for You
Music and lyrics by George Gershwin and Ira Gershwin, book by Ken Ludwig
Jamie Wilson and Gavin Kalin, The Watermill Theatre
Curve Theatre, Leicester
–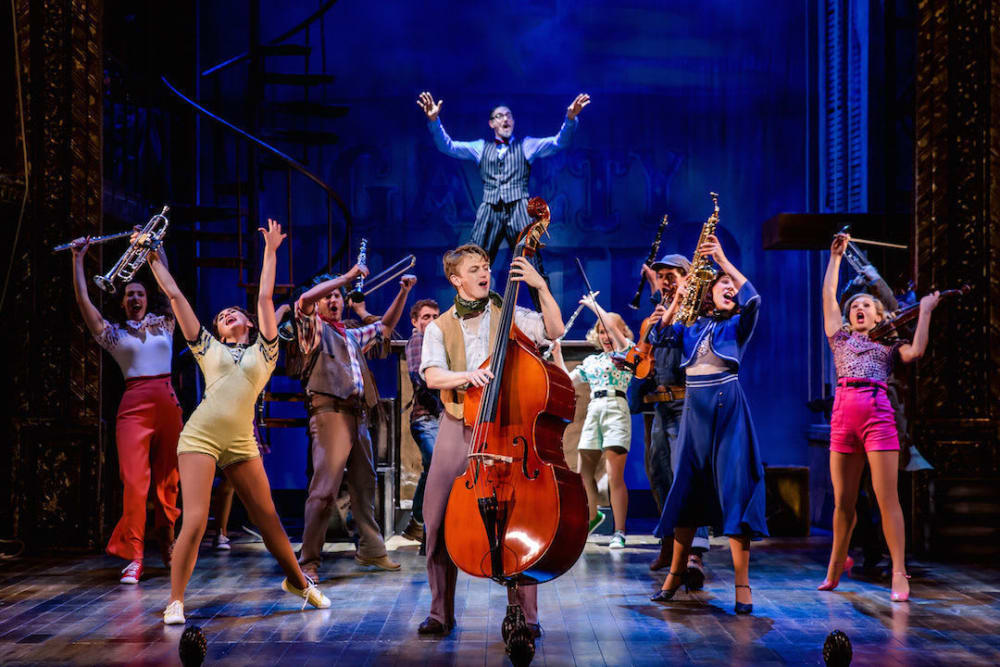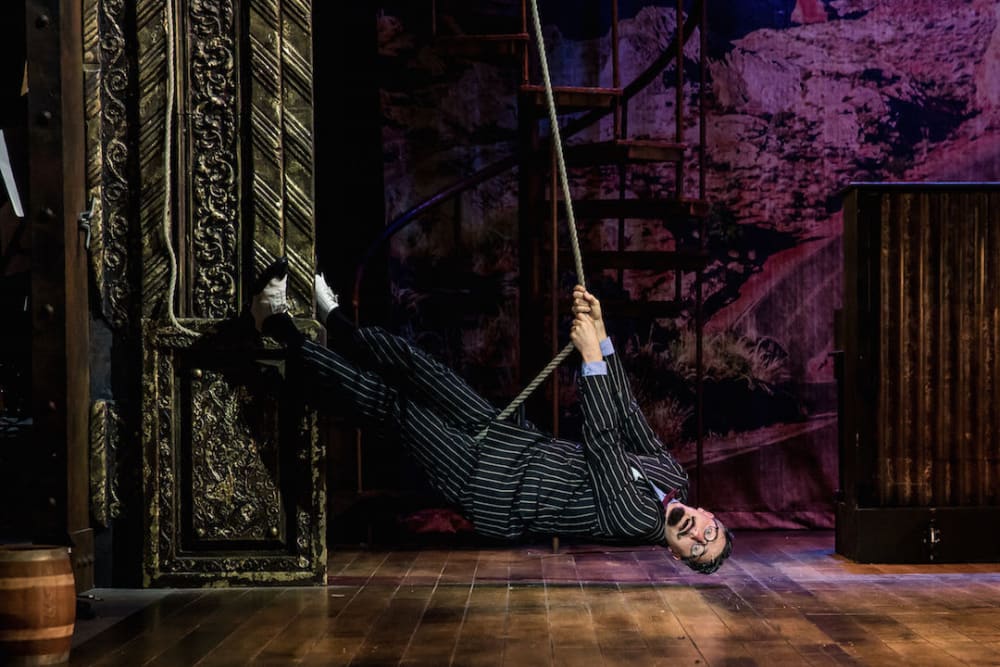 If you can cope with lashings of cheese and schmaltz and you're crazy about corny, old-style musicals, then it's your last chance to see the Watermill Theatre's revival of Crazy for You, now hoofing it at Curve, the final venue on its current UK tour.
The reference to corn, cheese and schmaltz should not detract from the fact that this is a wonderfully produced show, featuring a clutch of TV stars and 19-strong company of supremely talented quadruple threats.
All instruments—from baritone saxophone and xylophone to flute and flugelhorn—are played live on stage by the cast, who also sing, dance and act their way through this celebration of the great Gershwin songbook. Even the programme is a thing of beauty (although more briefcase than handbag-sized).
Let's not dwell too long on the plot; it is the barest of skeletal bones on which to hang the fineries of Diego Pitarch's period-perfect costumes, his equally impressive set design and Nathan M Wright's fun, flirty choreography.
Rich banker's boy Bobby Childs (Tom Chambers) dreams of performing on the stage. His domineering mother demands he travels instead to Deadrock, Nevada to foreclose on the unused Gaiety Theatre, the owner of which is refusing to sell. Bobby sees Polly Baker (Charlotte Wakefield), the theatre owner's daughter, and falls instantly in love.
In the instant immediately after, Bobby decides to help Polly and the initially reluctant locals put on a show, sell tickets, pay off the mortgage and, hooray, problem solved. Conflict and drama are added in the shape of Bobby's fiancée Irene (Claire Sweeney), a case of mistaken identity with "hilarious consequences" as Bobby impersonates impresario Bela Zangler (Neil Ditt) and a lack of an audience.
Wakefield is a sensible, practical foil for Chambers's relentless charm and cheerfulness, as they spar and make great music together, particularly "Embraceable You". Wakefield's performance of "Someone to Watch Over Me" is sublime—a shame she seems to end up with the least appealing costumes (frumpy and a bit too Calamity Jane).
Ditt and Chambers's routine to "What Causes That?" is great fun and a perfect example of excellent comic timing, slapstick and stage presence - all hallmarks of this show, Chambers in particular. Claire Sweeney adds a zhuzh of glamour; her spats with Bobby, Polly and Lank Hawkins (Christopher Fry) are nice and catty and she flounces on and off stage like a good 'un.
This show is pure escapism. Based on Gershwin's 1930s Depression-era show Girl Crazy, Ken Ludwig performed a major re-write, added new songs from the Gershwins' impressive back catalogue and Crazy for You opened to award-winning success on Broadway in 1992 and the West End the following year. Ludwig has included a lot of good jokes and a welcome antidote to the sugary sentiment.
I feel the inventiveness and exhilaration of "I Got Rhythm", which brings act one to an end, has more impact than the show's finale, as Bobby and Polly descend to the stage on a giant crescent moon 'C'. All very Hollywood, but a bit much for me.
Has it aged well from the '90s? The all-white cast needs calling out and female empowerment is swiftly swept under the carpet (as marriage seems to trump all yet again), but in terms of sheer entertainment and enjoyment, this show has it by the shedload.
Reviewer: Sally Jack