Crazy for You
Book Ken Ludwig, music and lyrics by George Gershwin and Ira Gershwin
Jamie Wilson and Gavin Kalin, The Watermill Theatre
New Victoria Theatre, Woking
–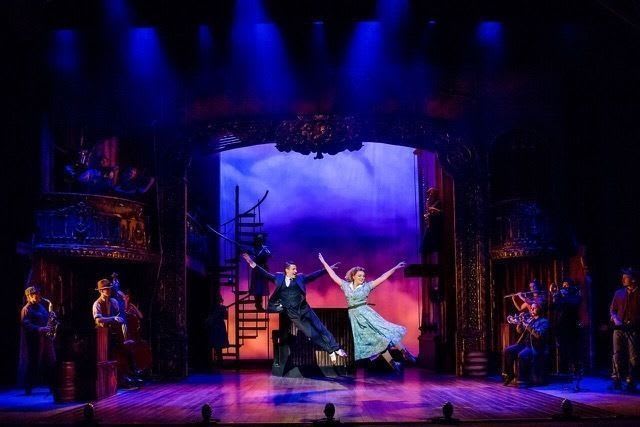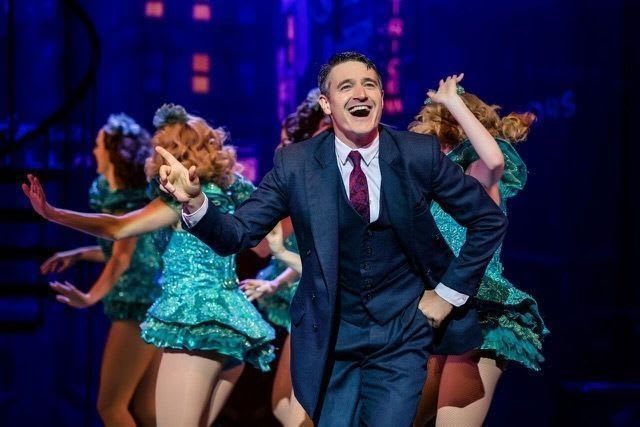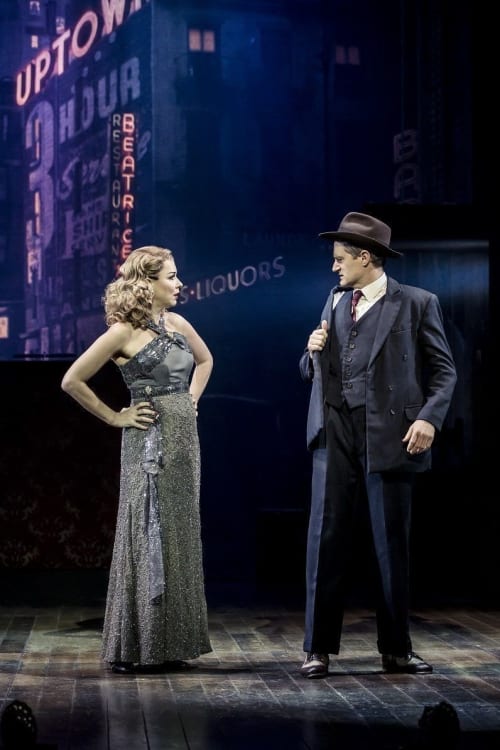 The stage is set as if in a theatre and when, from one of the boxes, the first notes of a clarinet solo from Rhapsody in Blue soared through the theatre, I knew I was in for a good evening—although Crazy is the name of the game and it has the sort of incredible story which, for a time, gave musicals a bad name.
The show revolves around Tom Chambers as young man Bobby who longs to sing and dance on Broadway, but his audition with Bela Zangler (Neil Ditt), although a virtuosic performance, fails to impress the impresario when the final flourish lands on his foot.
Depressed and wanting to escape from his long term fiancée (his mother's choice), he agrees to travel to an old mining town in Nevada to foreclose on the now-redundant Gaiety Theatre which the owner, with happy memories of his wife performing on stage, is refusing to sell.
The owner has a daughter, Polly, and it takes only one look for Bobby to know he's in love, "Things are Looking Up", and he has to save the theatre for her sake. This is where credibility takes a dive when his "let's do the show right here" attitude is only justified when, miraculously, six glamorous showgirls arrive. The miners, who had been lazily "Just Bidin' My Time", wake up to possibilities and the town comes alive.
Well, there are a lot more complications but that is basically the story which is fun and undemanding, but for me it is incidental to the Gershwin brothers' music and lyrics.
Music is played on stage by sixteen of the performers who are able to play, dance, act and (sometimes) sing all at the same time and with a huge variety of instruments including piano, saxophone, clarinet, violin and double bass, right down to a penny whistle, all integrated and orchestrated superbly by Catherine Jayes. I particularly enjoyed her arrangement of "Someone to Watch Over Me" sung so beautifully and with a wistful longing by Charlotte Wakefield who, as feisty daughter Polly, gives great depth of feeling and meaning to her role.
Written during the Depression era in America and originally entitled Girl Crazy, it was intended as escapism and a feeling that all will be right in the end and there is plenty of humour in the script, mostly with the old Vaudeville-style jokes: "I didn't come here to be insulted. Oh! Where do you usually go?". The best comedy, however, is the very well-timed sequence when Bobby, disguised as Zangler, meets the real thing and they act in unison as if at a mirror.
Claire Sweeney as the glamorous and wealthy discarded fiancée doesn't have much of a look-in until she also arrives to find out what is going on, finds her amorous intentions distracted elsewhere and revels in a great bewitchingly sexy number "Naughty Baby".
The outcome is less than believable but the show exudes glamour, colour, music and song. Despite some slight faults here and there (Bobby stepping on toes did not appear accidental, and a few slight timing issues) who could not leave the theatre with a smile on their face and a song, if not in their heart, at least buzzing around in the head.
Reviewer: Sheila Connor