Crazy For You
Music and lyrics Ira and George Gershwin Book Ken Ludwig
Watermill Theatre Company
Watermill Theatre Newbury
–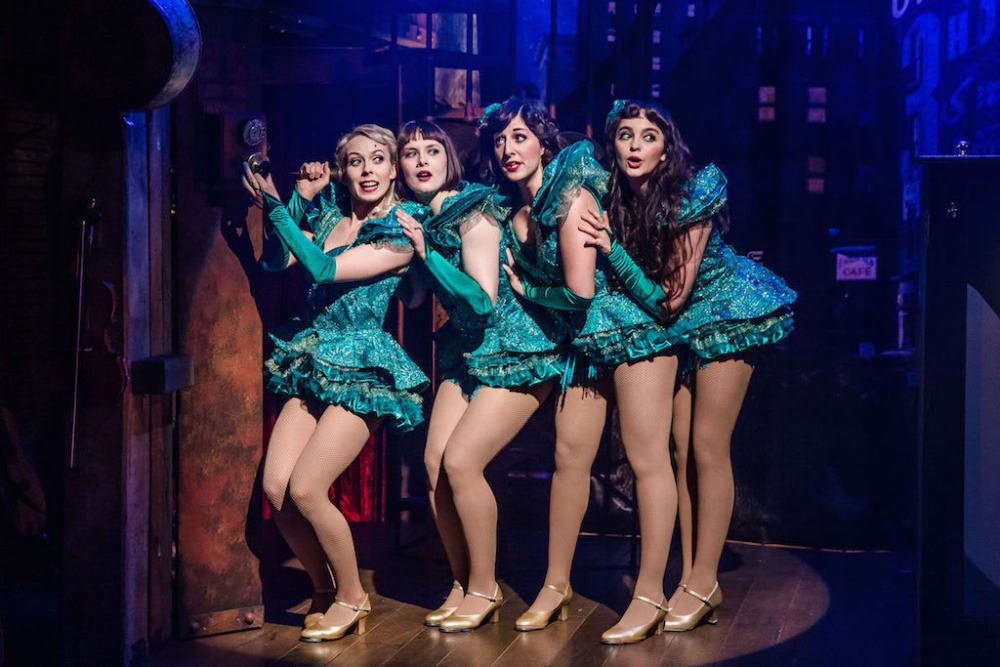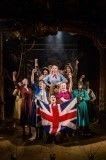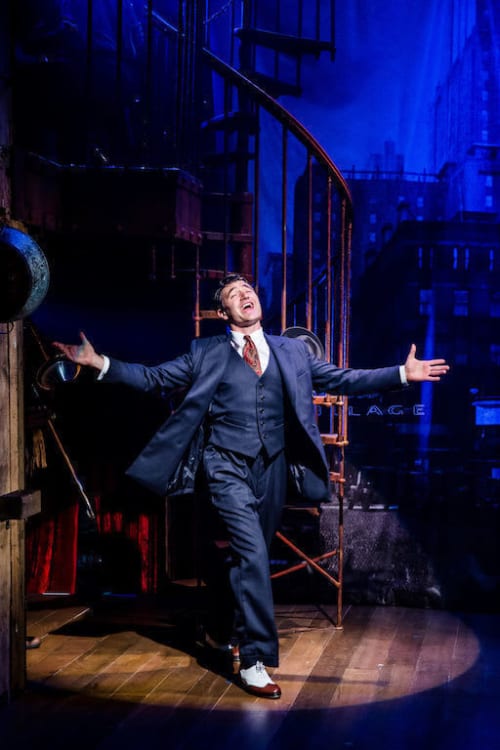 The Watermill's exuberant production of Crazy For You by George and Ira Gershwin with a book by Ken Ludwig is an absolute delight and a palpable hit.
It is inventively and skilfully directed by the Watermill's Artistic Director Paul Hart who maintains the tradition of casting actor-musicians. The large, highly-talented, versatile ensemble play a vast number of instruments with dexterity.
They also sing superbly and dance with aplomb and energy with excellent choreography from Nathan M Wright and striking lighting by Howard Hudson.
The stage design (Diego Pitarch) is impressive with the gilt and gloss of an old proscenium arch in the decaying western town of Deadrock in Nevada as well as creating the desert, the saloon and a New York skyline.
The spectacular, effervescent opening number sets the mood for an evening full of fun and ingenuity with the cleverest one-liners and visual gags all delivered with perfect timing.
Things are not going well in Deadrock as the Gaiety Theater faces foreclosure but feisty Polly Baker, the excellent Caroline Sheen, and her father (Kit Benjamin) are determined to try and keep the Gaiety open.
Back east, Bobby Child, played with energy and panache by Tom Chambers, is desperate to get into showbiz. Meanwhile, his mother (Lindsay Goodhand) would prefer him to find a job in banking and sends him to Deadrock to close the theatre.
He falls in love with Polly but she is not interested and also has to fight off the saloon owner Lank Hawkins (Jeremy Legat) who wants to marry her and is trying to purchase the theatre and expand his hotel.
Bobby tries to help save the Gaiety. He disguises himself as the impresario Bela Zangler played by Peter Dukes and they decide to put on a show to raise the money with the help of the lethargic cowboys and a wonderful troupe of sparkling Follies dancers led by Tess (Hollie Cassar) with Katrina Kleve, Serena Sandham-Davies and Anne White, who perform some dazzling routines.
Things take a turn for the worse when the real Zangler turns up with hilarious results; the mirror scene is exceedingly clever and funny.
The songs are wonderful from the cowboys: from "Bidin' my time" to the romantic "Someone to Watch Over Me" and the superlative tap dancing number, "I Got Rhythm".
But will the Gaiety be saved and will Bobby get his girl? You will have to see it to find out, that's if you can fight for a ticket.
As Bobby says in the last number of this terrific show, "Who Could Ask For Anything More?". How true. Bravo!
Reviewer: Robin Strapp