Creature
Akram Khan
English National Ballet
Sadler's Wells Theatre
–

Listing details and ticket info...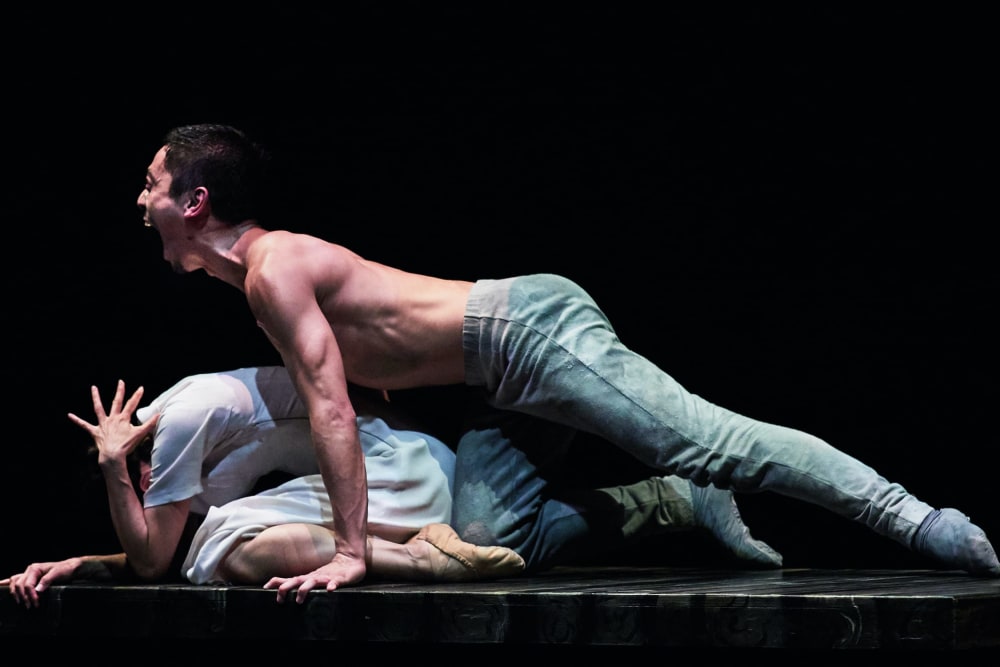 Akram Khan's Creature, his third major piece for English National Ballet, brings Southern Indian dance with its rich language of hand inflections and expressive body gestures into a balletic frame to create compelling, claustrophobic movement that examines what it means to be human.
Khan was inspired by both Mary Shelley's Frankenstein and Georg Büchner's Woyzeck to create imaginary narrative spaces exploring themes of isolation and climate change, using the creature as metaphor for humanity and the deep need to connect through belonging.
Set in a timeless military research station in the Arctic that feels like the end of the world, the newly formed creature is being used for an experimental project where he is tortured and put through the mill. He is at the mercy of his evil military creator. Humans have ruined the planet, leaving the door wide open to a masculine, power-crazed despot at the helm, who performs rape, murder and abuse in the name of scientific discovery. So far, so depressing.
The opening sequence builds on atmosphere and impending doom as the creature crawls out of the dark space. A recording of Richard Nixon's phone call to the Apollo 11 crew on the moon with the phrase, "because of what you have done…" is broadcast across the stage on repetitive loop. It alludes to tragedy and the creature becomes increasingly distressed as he attempts to shut the sound out with hands muffling ears. He is learning to be human and is being tortured in the process of discovery.
Jeffrey Cirio as Creature is remarkable. His athletic and sinewy frame allows each and every movement to maximise in terms of physical expressiveness. There is a feral energy as he transforms from robotic movement, eyes wide and mouth juddering, to feeling his way to Marie, encircling her in his arms, wistfully danced by Erina Takahashi, the first and only form of human connection. As the two intertwine and Marie breaks from cleaning and broom swishing to ruffling the creature's hair, it's hard to shake off such imagery because herein lies the key to humanity through physical connection, thus shedding layers to reach the molten centre of this troubled ballet. The moments of tenderness between the two are searingly beautiful and sad to watch.
Such drama is framed by Michael Hulls's atmospheric, bleak lighting and the soundscape includes sporadic voiceovers by Andy Serkis. Vincenzo Lamagna's score and sound design is often uncomfortable to listen to with discordant instrumentals, but it's always a bonus to have live musical accompaniment, artfully executed by the English National Ballet Philharmonic.
Tim Yip's colourless set sinks the narrative into a bleak and unforgiving place. The stage is surrounded by timber that clatters from up high, taking audience away from the central drama as the Arctic unit is closed down and the army abandon ship, leaving the creature with his dead companion cradled in his arms.
Creature is bleak in tone and is at times hard to watch as creator abuses his creation, snatching life away from the only living thing that the creature can connect to and from whom he learns to feel. Such cruelty digs deep, and when Marie folds into his arms, limp and lifeless, you would have to have a heart made of stone not to melt.
The rest, in comparison, feels like wallpaper. Lots of trudging, marching and much tooth-gnashing as Fabian Riemair's terrifyingly believable Major and his army ensemble violently squeezes the lifeblood out of opposition and the scenes snowball towards distress and, finally, isolation and loss.
Reviewer: Rachel Nouchi