Crime & Punishment: A Rock Musical
Fyodor Dostoyevsky (adapted by Phil Willmott) and the music of Toyah Willcox and Simon Darlow
Gods and Monsters Theatre
The Scoop
–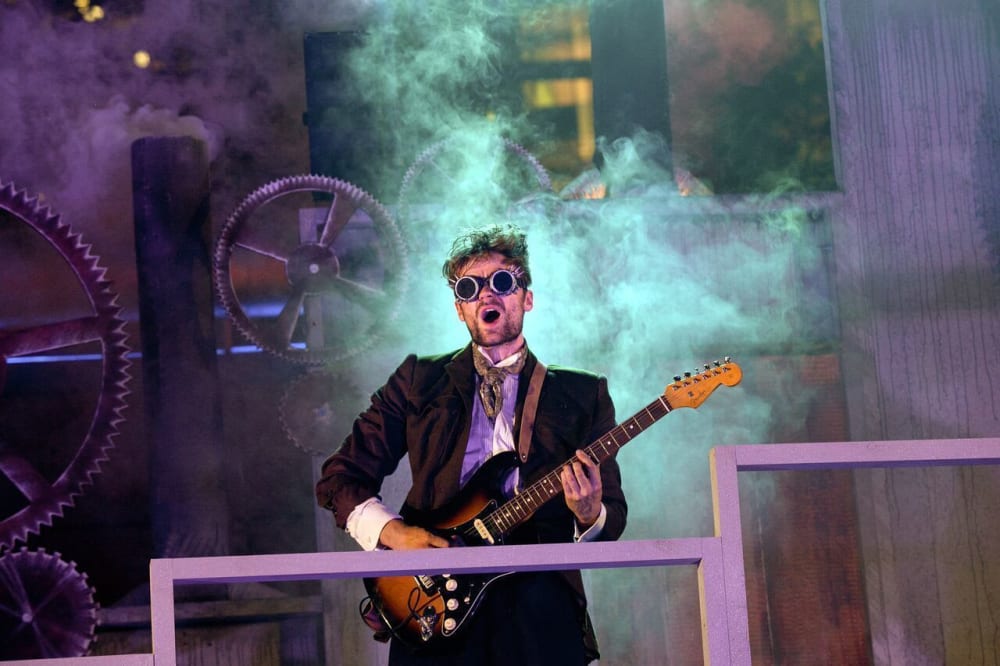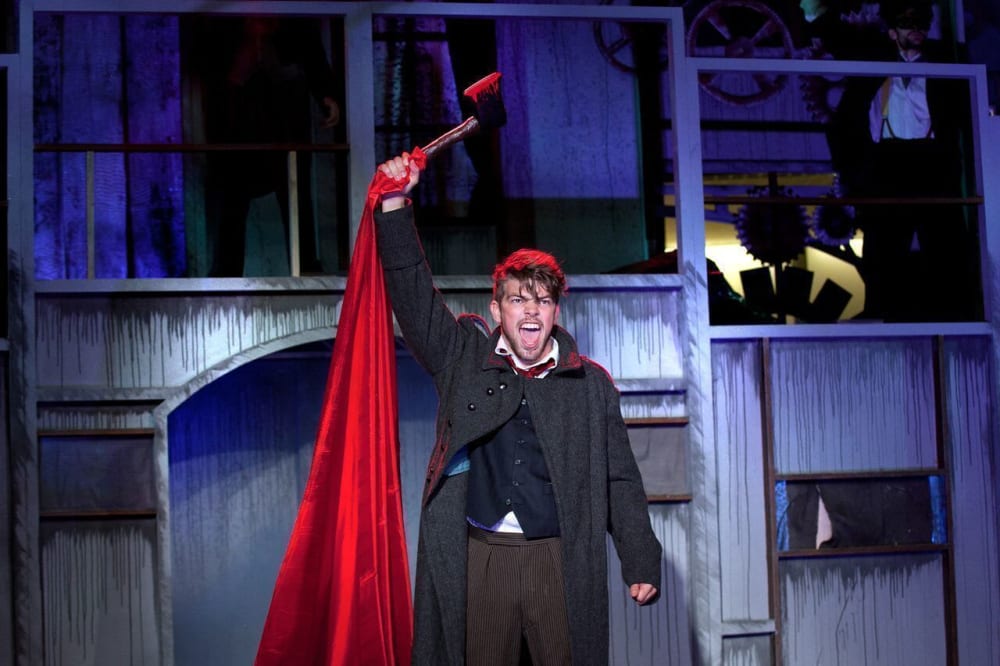 Phil Willmott has managed to cut Dostoyevsky's novel down to a ninety-minute musical. Concentrating on protagonist Rodiom Raskalnikov, he has carved out storyline that presents the main plot clearly and uses Toyah Willcox's songs (mainly old ones, some specially written) not as decoration but integrated so that they contribute to the storytelling.
Philip Eddoll's steampunk set, all cogwheels and smoking chimneys, has already been used for The Wawel Dragon (the evening's earlier offering for a younger audience). Now onion domes are added to make it more Russian but, though the location remains St Petersburg, with the black-goggled cast slowly crawling all over it as the audience assembles, this surreal place could be any- and everywhere.
Although some of the songs have repetitive texts that go on too long in relation to what they contribute, this doesn't feel like a jukebox musical but, while the band, which is presumably recorded, is well balanced the individually miked, the cast are not so well served. Contemporary pop may consider words unimportant but in a musical play we need to hear them clearly.
Toyah's "We Are" opens the show with an eruption of confidence from the gathering of students: "we are the young ones, we are the chosen ones, we are the only ones!" before Raskolnikov (Alec Porter) declares that he is penniless and must give up his studies.
We rapidly learn that his sister (Jasmeen James) is about to marry a rich man (Reuven Gershon) to pay for his studies, hear a student declare that he could easily kill for money and Raskolnikov wondering whether a bad deed, a murder, could be cancelled out by the good deeds that it enables. The ideas that the book explores are already established before the students break out into a frenzy of red flag waving with "I Want to Be Free".
Porter is an attractive, warm-hearted Raskolnikov. We see more of his compassion than his alienation from society and, although we are shown the effect of his mental disturbance and hear his ideas about special individuals, supermen, above normal law, there is little chance to explore his ideas or the debate in which Dostoyevsky engages.
Raskolnikov's killing of pawnbroker Alyna (Angela Leverick) and her sister happens offstage behind a cloud of smoke but is re-enacted in dumb show when reported, then again appearing, with their bonnets dripping symbolic red cords, behind police chief Porfiry (Phil Willmott) while he is conducting his investigation. This develops into a ludicrous dance that turns dark drama into comedy, as the policeman leads "It's a Mystery". It may lighten the audience's mood but ill represents what may be going on in Raskolnikov's mind.
Rachel Delooze plays Anya, the innocent daughter of a drunkard (Willmott again), forced into prostitution by their poverty. Raskolnikov wants to help her and she sets out to bring him to salvation.
This simplified plot carries none of the weight of the book's moral arguments and there have been better stage adaptations of this Russian classic than this compacted version but the energy of the music and the commitment of the performers make up for its deficiencies and get an enthusiastic response from the audience.
Crime and Punishment plays at 8PM on Wednesdays to Sundays only. Performances are entirely free but those who can afford to are asked to buy a programme and/or make a donation in the collection buckets after the show.
Reviewer: Howard Loxton