Crimes, Camera, Action
Feargus Woods Dunlop
New Old Friends
Theatre Royal Bath
–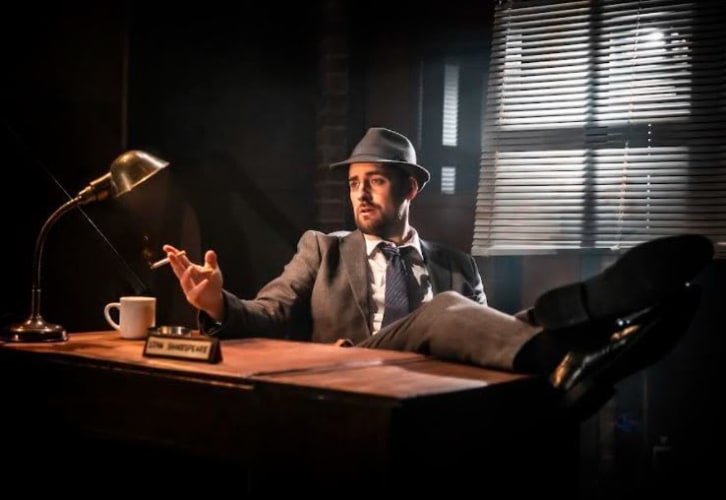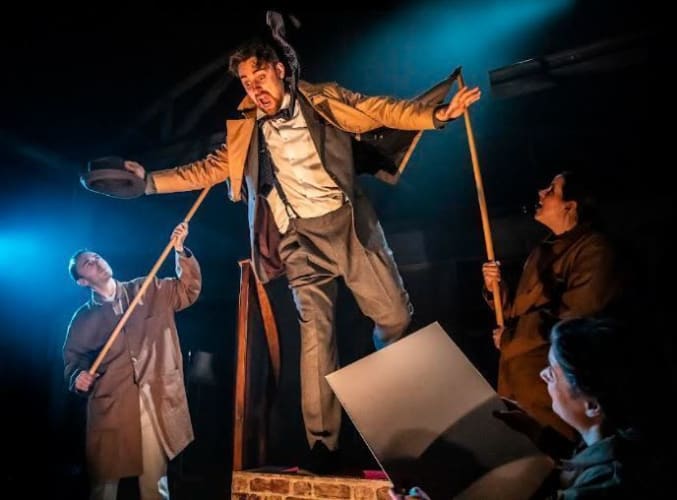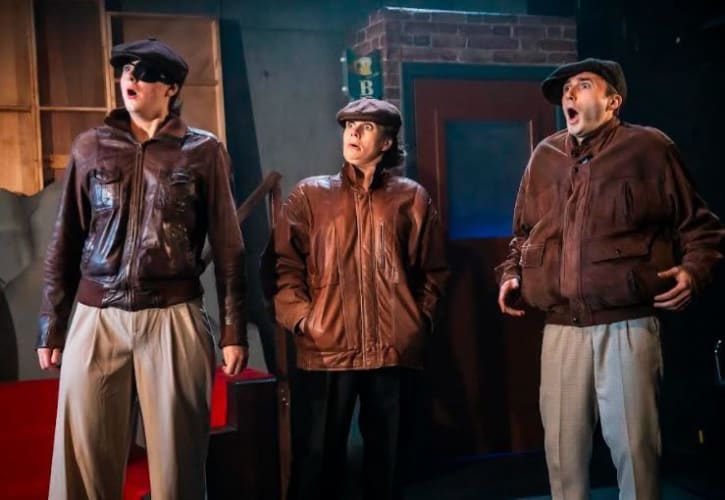 The husband-and-wife team behind the 'Crimes…' saga bring us a new installment in keeping with the style and humour from its previous five shows (which have also been extended into the world of podcasts). Crimes, Camera, Action delivers a throwback to the mystified and stuffy world of private detectives.
Feargus Woods Dunlop and Heather Westwell first met in the foyer at Theatre Royal Bath. Few could stake claim to the Theatre Royal being like home more than Dunlop, who also wrote the play pre-pandemic. After attending his first show—Mother Goose—in 1986 before reaching a year old, he's since performed on all three stages (Theatre Royal, Ustinov Studio and The Egg), and now, 32 years later, he and Westwell are expecting a child.
Seventeen months ago, previews for the production were in full flow in the Ustinov before that dreaded call came last March. Now, almost a year and half later, the pair—joined by Mark Collier and Kirsty Cox—finally have the chance to put on the sixth part of the series.
The programme notes set out its inspirations: from Agatha Christie's distinct plot twists to Humphrey Bogart's portrayal of sleuths from the Golden Era of Hollywood—big names to drop and hope to follow.
So here in Crimes, Camera, Action, we are treated to a classic whodunnit amidst the turning over point from the silent pictures to talkies, led by an aptly named investigator, Stan Shakespeare. The Bogart-esque investigator is tasked with detecting how a screen starlet's mishap with a prop ends tragically.
There are few strings that Dunlop doesn't pull at. Engineering gags every which way—it's basically a non-stop bonanza of wit that asks the audience to keep up. A no-passenger approach to its pacing is exactly what's required; the four-hander cast are asked to play no fewer than 40 roles, rubber-stamped by smart characterisation throughout. With the large undertaking, they are supported by some crisp work behind the stage. The sound and lighting plays an important role in delivering a one-two whenever necessary, whilst adding subtleties in the show's ambience and setting. The team really delivers a knockout blow.
From the ingenuity of the VCR-like rewinding and fast-forwarding scene to an accountant's climax, gags rarely land so well. Even Dunlop can't help but enjoy witnessing his jokes deliver on stage, producing an occasional wry smile when his fellow cast members land one of his chucklesome lines—mostly through Shakespeare's English assistant Oliver Laurence's (played terrifically by Collier) jumbled one-liners to his crush Gloria Raynes (who is portrayed equally as well by Cox).
The second half lets loose on the afterburners to accelerate the narrative but the audience doesn't mind. Ever listen to an album being played and have an immediate urge to discover the lyrics? It is a similar feeling here. A fine-toothed comb is needed to go through each line, filled with every literary proponent one could imagine. It's a level of wit few could compete with.
It is a show written and performed with love for the era, the genre and for putting the audience's enjoyment front and centre. New Old Friends, the wedded couple's production company, will embark on a nationwide tour this autumn with Crimes in Egypt. If murder mystery is your kind of thing, then don't miss out.
Reviewer: Jacob Newbury