Crimes on Centre Court
Feargus Woods Dunlop
New Old Friends
Theatre Royal Bath
–

Listing details and ticket info...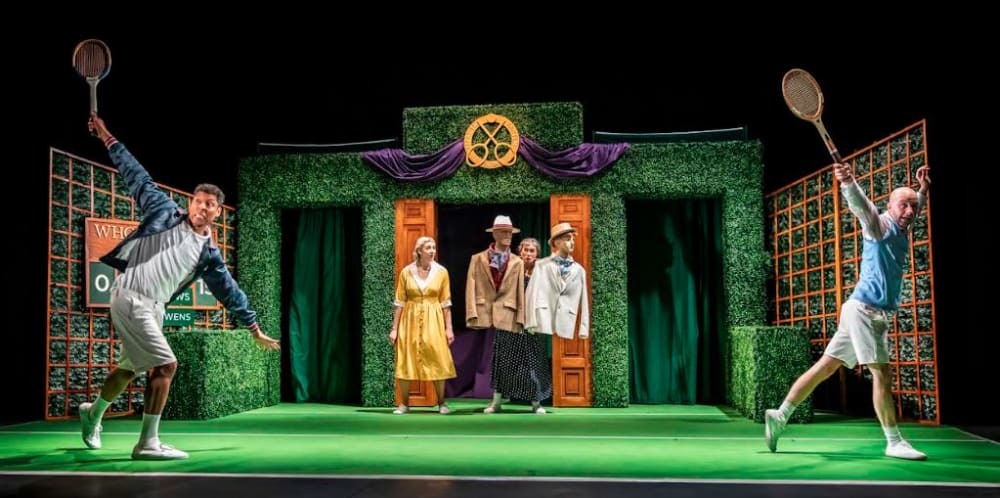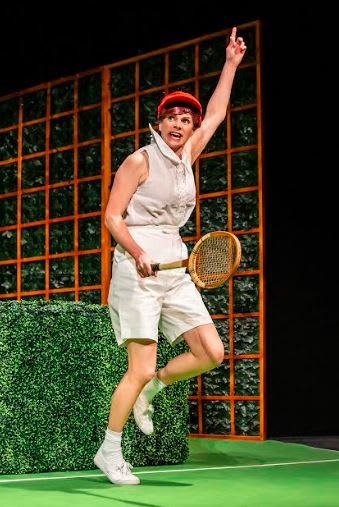 The story of New Old Friends has been captured many times already. In short: the pair behind the company are Feargus Woods Dunlop and Heather Westwell, a married couple from Somerset who met in Theatre Royal Bath's foyer in 2008. Since then, they have produced an abundance of plays and podcasts within the murder-mystery-comedy genre.
For a dozen years, they've produced shows up and down the country until the pandemic hit and threw uncertainty right across the industry (and continues to do so). So, when Theatre Royal Bath got in touch asking for some new material, they got to work to adapt the successful Crimes on Centre Court podcast, which reached #2 in the iTunes fiction chart, to the stage.
This, after all, is the third show produced within the Theatre Royal Bath building in the past year—two of which have been on the main stage. In that time, they have also found time to have a first child and juggle the unpredictable nature of the theatre industry at the same time. Leaving criticism aside, it is hard not to get behind their story.
So, here we are served (first of several intended puns) another instalment in the "Crimes…" saga. Crimes on Centre Court takes us to The Whombledon International Tennis Tournament, where chair Lord Knows has suddenly died. His son, Hugh, brings in private investigators Perry and Penny Pink to uncover what's really going on behind all the strawberries and cream.
We are greeted by classic elements of New Old Friends productions with innovative set design, pit-stop-like costume changes, and tongue-twisting alliterative spiels. But we are also introduced to a few original creations through the medium of song.
In typical company fashion, a cast of four (Emile Clarke, Ben Thornton, Kirsty Cox and Sedona Rose) are in sixth gear throughout. Highlights include double-entendre chilli back and forth, slow-motion tennis with hawk-eye and Thornton's epic solo rap verse.
The decision for music to play a larger role in NOF's plays is an astute one. Fred Riding's excellent piano-driven score in addition to some catchy, comedic tunes—written by Guy Hughes and sung by the quartet in hedge costumes (you read that correctly)—provide an added dimension not seen regularly in the whodunit format. It begs the question, will we see a New Old Friends musical sooner rather than later? Maybe Crimes at a Eurovision Song Contest or Crimes in the West End?
Flipping through the programme notes pre-show and during the interval paints the cast and crew as a tight-knit team. Cox, one of the four on stage, has been a mainstay for years in the company, while production manager Becky Vowles has spent the last eight years alongside Woods Dunlop and Westwell.
Here, each member of the cast has their time to shine. Thornton's physical comedy has the audience in his hands, Cox's facial expressions are a joy, Clarke's ostentatiously posh delivery is on point and Rose provides a much-needed, steady constant to the madness.
Once again, New Old Friends delivers a thigh-slapping, belly-aching romp of a whodunit comedy full of ingenious skits. There's barely a second, especially in the second half, to take stock during a barrage of deliciously hilarious one-liners and belly-aching back-handers. It is yet another straight-sets victory to New Old Friends!
Reviewer: Jacob Newbury