Crimes on the Nile
Feargus Woods Dunlop
New Old Friends
Ustinov Studio, Theatre Royal Bath
–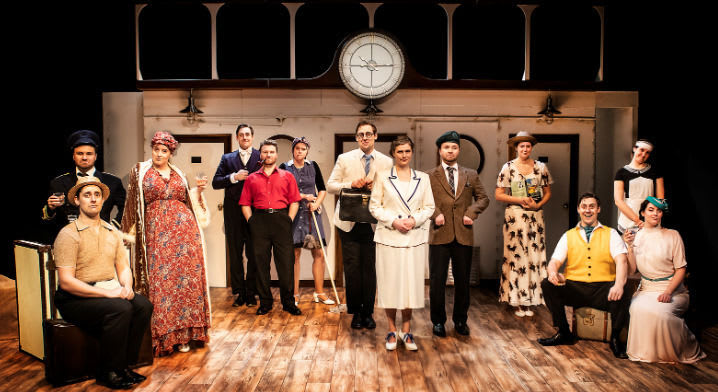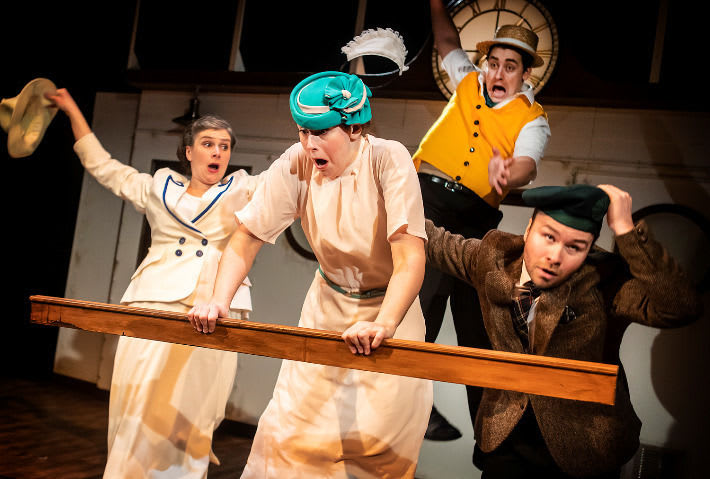 Belgian super-sleuth Artemis Arinae returns in New Old Friends' latest comic murder mystery, set in a fictional Agatha Christie inspired golden age.
This Bath-based theatre company has built a reputation for good old-fashioned spoof silliness, underpinned by Feargus Woods Dunlop's verbally dexterous scripts and some energetic well-timed multi role-playing from a four-strong cast directed by James Farrell.
For those who have seen New Old Friends' previous productions, the formula for Crimes on the Nile is an entertainingly familiar one. Because wherever she goes, even on holiday, Arinae is stalked by murder. This storyline finds our detective heroine ready to relax on board a cruise ship, impervious to the inevitable requests for investigative assistance, until tragedy befalls one of the other guests. Then it's up to Arinae and her legendary intellect to identify the murderer before any further killings take place.
Elements seen in previous productions are nonetheless endearing: hats fixed in position on set with actors scurrying between them to portray different characters and doors opening and closing in rapid succession, as cast members deliver lines while switching back and forth between roles.
Still there's no shortage of new show inventiveness to savour: alliterative tongue-twisters and innuendo abound. Then there's the rewinding of the timeline—with the cast reversing across the stage as the central clock whirrs back to the beginning of the trip, an ingeniously recreated crocodile encounter and the ever-enlarging perspectives of a fiercely competitive camel race.
The cast of four is hard-working and incredibly enthusiastic in serving up its archetypal array of character-based fun. Kirsty Cox as Arinae performs a pivotal role in delivering the narrative with aplomb; as the body count increases, so does the number of suspects—and it pays to keep an eye on that clock.
Husband and wife team Feargus Woods Dunlop and Heather Westwell delight in switching personalities with abandon (at the drop of a hat, you could say), from lascivious erotic novel writer Temperance Westmacott (whose every book includes wenches) to her overgrown and disapproving son Colossus and Hans Reichman, a doctor practiced in timing bodily functions with Germanic precision. Fergus Leathem fleshes out the ship's booze-addled captain and other guests, from acrobatic Scottish lawyer Kirk McMiller to the convention-busting American steel magnate Marty Montgomery Jr, who euphemistically discloses a penchant for fish and red wine.
Occasionally this production could push even harder; there's creative use of cases and trunks but the various levels of Connie Watson's polished set are under-utilised. And the final timeline of events is devilishly hard to follow, until you decide it doesn't really matter and go with the flow to the quick-fire set-piece saloon bar dénouement.
Yet, as New Old Friends grows in confidence, this could be their most ambitious and impressive production to date. Crimes on the Nile is a fast-paced, beguiling romp through the thriller genre; a combination of slick storytelling and new and old tricks. Lightening the mid-winter gloom with hearty chuckles, for sheer madcap fun you could find it criminally hard to beat.
Reviewer: Claire Hayes