The Cripple of Inishmaan
Martin McDonagh
Druid Theatre Company
The Lowry, Salford, and touring
(2008)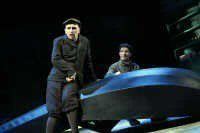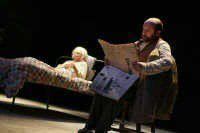 Irish theatre company Druid, which has brought Enda Walsh's quirky plays to Edinburgh for the last two years, visits Salford with the first of Martin MacDonagh's Aran Islands trilogy, The Cripple of Inishmaan, set in 1934 when a Hollywood film crew visited Ireland to film Irish fisherman — an important event in the play, even though we never see them.
Billy is the cripple of the title, brought up by Aunt Kate, who starts talking to stones when she gets depressed, and Aunt Eileen, neither his real aunt, who run a shop on the Aran Island of Inishmaan off the west coast of Ireland. Billy's parents drowned when he was a baby in mysterious circumstances that no one is willing to tell Billy about, although we hear several different versions of the incident over the course of the play. Local 'news man' — really just a compulsive gossip who takes his role rather too seriously — Johnnypateenmike, who has been trying to kill his mother with alcohol for years and failing, brings the news of the film crew, which sets Billy dreaming of being in the movies, and he convinces fisherman Babbybobby to take him, along with violent young teenager Helen and her sweet-loving brother Bartley, to Inishmore, where he succeeds in being selected for a screen test in Hollywood.
There are some wonderful characters in the play, superbly realised by a perfect cast. Aaron Monaghan creates a very sympathetic character out of Cripple Billy without taking his display of disabilities over the top or making him sentimental. David Pearse's Johnnypateenmike is a wonderful comic creation, completely selfish and unsympathetic for most of the time but very funny, with a perfect foil in Patricia O'Connell as his 'mammy' hurling insults and put-downs to him from her sick-bed as he forces another bottle of whiskey on her. Helen is, in many ways, the stereotypical bored teenage girl but is certainly not played as a stereotype by Kerry Condon. Laurence Kinlan is suitably immature and annoying as her younger brother Bartley. Andrew Connolly's Babbybobby is strong and silent, seeming to have a generous heart but not giving anything away about what lies deeper inside. Dearbhla Molloy and Marie Mullen as Aunts Eileen and Kate form a double act that could be straight out of Beckett, seeming both realistic and a little unreal at the same time.
Typical of McDonagh, the play is both hilarious and very dark at the same time. The beautifully-drawn characters can have you rocking with laughter one minute before showing a dark, violence that is genuinely shocking the next. The dialogue shows a playfulness with language and speech that indicates a writer with a huge amount of confidence in what he is putting into the mouths of his actors. Then just at the very end when you think he is giving you a happy ending, he has to shatter the mood with a much darker twist.
This is a wonderfully funny and disturbing play from one of Ireland's greatest playwrights, given an unmissable production by director Garry Hynes and Druid Theatre Company.
Reviewer: David Chadderton