Crisis? What Crisis?
Tom Black
Parabolic Theatre
New Diorama Theatre (off-site) at a secret location
–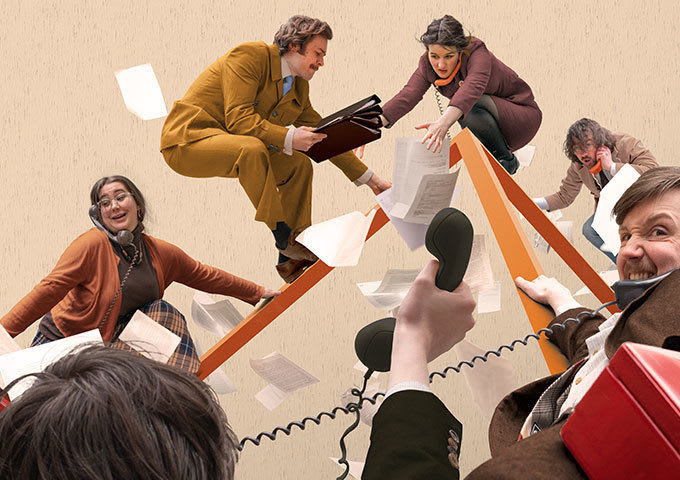 "Crisis? What Crisis? Was the sarcastic headline The Sun newspaper used to sum up Labour Prime Minister Jim Callaghan's reaction in January 1979 when, on returning from an international summit in the Caribbean, he rejected a journalist's suggestion that Britain was in chaos. In parliament, eleven weeks later, his government faced a vote of no confidence tabled by opposition leader Margaret Thatcher.
Parabolic Theatre's immersive show takes audiences back to that time, to what became know as the "winter of discontent" when, struggling through a severe and disruptive winter, the country faced multiple strikes and strike threats. They were sparked off because, at a time of rapidly rising international inflation, the government had set a 5% limit on wage rises in the public sector hoping to give a lead to private employers. When the Road Haulage Association offered a 13% increase (to TGWU drivers who had initially asked for 40%), inevitable demands from other unions followed.
This isn't a play and it doesn't recreate actual history like James Graham's This House. Instead, it invites audiences to become participants and, by becoming Labour's strategists and policy makers, have a chance to change history. Can you do a deal with a union leader to get them on your side? Can you win over dithering MPs of your own party? Can you handle the press, come up with a way to win people over?
The actors (they're basically the ones not wearing face masks and who are dressed for the '70s) may have adopted characterisations, but they are there more as facilitators and motivators than to deliver any personal narrative.
For support, there are files giving background on unions and MPs, a Treasury civil servant offering a range of action scenarios along with their estimated effect on the economy and public reaction, team leaders for specific areas, a special adviser to recruit (did the one I saw selected get chosen because they had the dirt on some big names?) and a head honcho who occasionally calls everyone together to announce some major development.
Everything has to be done from the office and, of course, with 1979 technology. Not e-mails but faxes and Ceefax on the TV, and negotiations almost always by telephone. Fortunately, the switchboard operator seems to already know the whole nation's numbers, but get used to dialling instead of a touchpad or pressing buttons.
After just a short briefing, it is remarkable how rapidly things start to take off. Soon, the atmosphere is frantic. Of course, this is a long way from the real world. For instance, I wasn't aware of employers being brought into the picture. When one negotiator delightedly announced that Equity General Secretary Peter Plouviez had just come on board agreeing a 13% pay rise, I wondered who would pay it and would the Arts Council get a bigger budget. Would we really consider selling off Gibraltar to Spain or the Falklands to Argentina? Ending charity status for Public Schools might win support; what about scrapping Polaris?
Crisis? What Crisis? is about as true to reality as a game of Monopoly and it as a game one should judge it. It is well organised and effective: the participants I saw it with seemed to have a great time. If this kind of gaming is your thing, then snap up a ticket before they are all gone. The Parabolic team of David Alwyn, Jaya Baldwin, Tom Black, Zoe Flint, Beth Jay, Owen Kingston, Chloe Mashiter, Christopher Styles, Angus Woodward do a fine job.
Wheeler-dealering and a bit of chicanery may indeed be all part of politics and the truth may be that political survival has become more important to politicians than principle, but I note that the back of the pseudo party membership card issued to every participant is printed with Clause 4 from the Labour Party's Constitution. Would these punters show the same enthusiasm for that in their real lives? How different would life be if Thatcher had not triumphed?
Reviewer: Howard Loxton