Crocodiles
Lee Mattinson
Royal Exchange Theatre and Pingng Productions
Royal Exchange Theatre, Manchester
–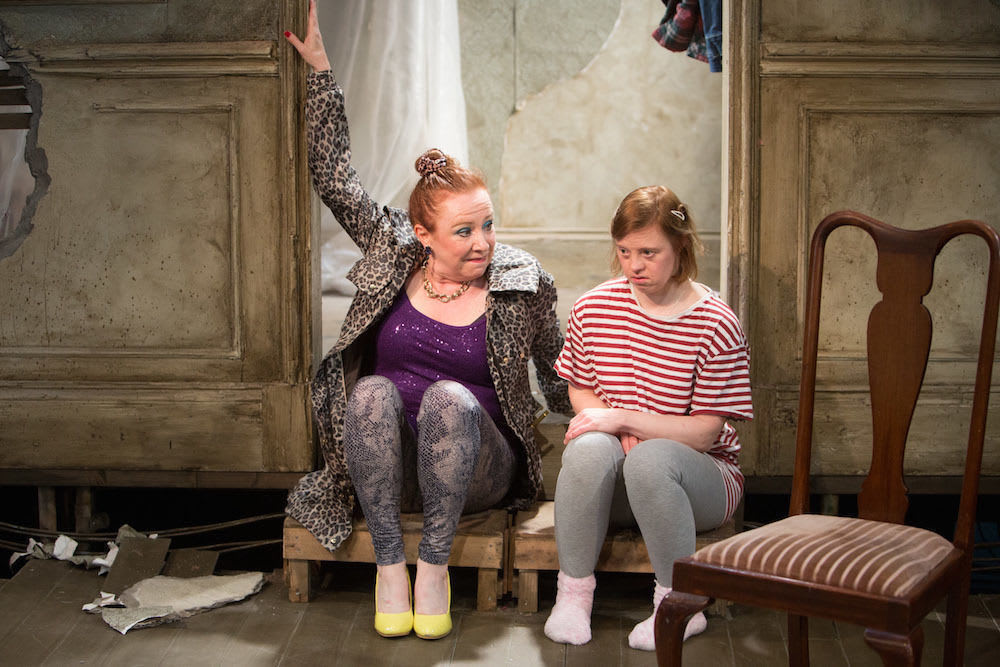 This play won the Verity Bargate Award in 2011, but is only now seeing its première in the Studio at Manchester's Royal Exchange Theatre.
The impressive set from designer Sarah Beaton is of the interior of a severely run-down seaside hotel in the north of England—north east, it would seem by the accents—with a huge hole in one wall. It is still inhabited by the Glass family, who used to run it as a hotel: matriarch Cornelia, her ape-like son Rudolph and Rudolph's wife Matilda.
The play starts when Cornelia is welcoming home her favourite son, Vincent, who had a job on CBBC but has left under mysterious circumstances. She is trying to persuade him to stay so they can reopen the hotel, but she doesn't know he is gay and has made her views on homosexuality shockingly clear. Rudolph, however, wants Vincent to take him away with him as they planned when they were kids.
There are many more aspects to this story, including Rudolph's "Judy and Punch" shows, Vincent's growing relationship with a boy in the town, Rudolph and Matilda's daughter Lucy who is deaf, dumb and blind but can predict the future (she looks rather like ET wrapped in a blanket when she finally makes an appearance), an impromptu performance of Bucks Fizz's "Making Your Mind Up" complete with the ripping off of skirts, Matilda apparently writing a sexy novel (I couldn't always tell what she was saying in the excerpts) and casual mentions of the public burning of witches in the town centre.
This account makes it sound rather more fun than it actually is. Mattinson appears to be aiming for the sort of surrealism in a realistic setting that Enda Walsh creates so successfully, but it doesn't work at all. It's just a jumble of ideas and styles that don't make any sense together. It is occasionally funny, but not enough to justify sitting there for two hours.
I was told when I arrived for press night that the play had been cut again that day, which is never a good sign. The effect on the cast was clear, as lines were lost, transitions between scenes were hesitant and actors fumbled their way through some parts of the play.
It's almost held together by a whirlwind performance from Melanie Hill, who makes something reasonably coherent from her character but is so big a personality that she often overwhelms the scenes in which she appears. James Atherton is the only really likeable character as Vincent, Kevin Wathen gets the pathos and the brutality of Rudolph across and Sarah Gordy gets across some nice emotion in the scenes with which she is most confident.
The family story at the heart of this play could work, but the extra bits look tagged on to give the appearance of quirkiness rather than to add anything to the meaning of the play. As a production, it doesn't look ready to put before an audience.
Reviewer: David Chadderton