Crowning Glory
Somalia Seaton
Theatre Royal Stratford East
–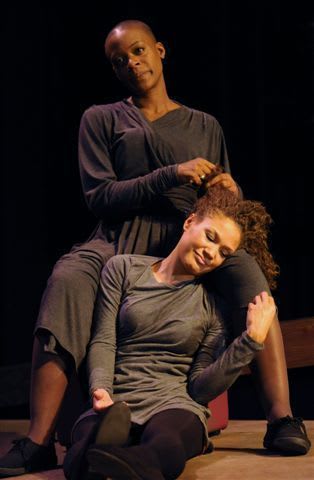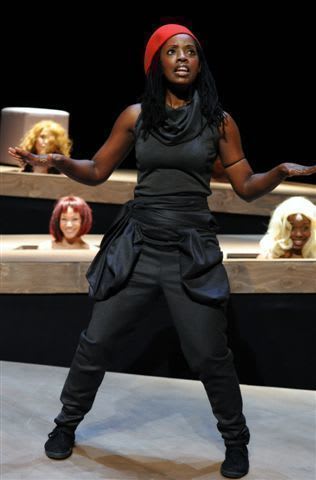 It is difficult to believe that a play about black girls' hair could be as good as this is. Of course it is not just about hair, that's the symbol for everything about black women's sense of self, so perfectly expressed in their approach to how they groom their heads.
Essentially, Somalia Seaton's play (showcased in a rehearsed reading at the Theatre Royal last year and now receiving a brilliant full production) presents seven women, six black one white, each delivering a monologue.
Monologues are not my favourite form of theatre, but both writing and performance here are so alive they fill the stage, and they are cleverly placed within a chorus that looks back to the earliest theatre while vox pop video interviews and spoof YouTube inserts could not be more up-to-date.
Should one braid in cornrows, weave, wig or shave?
A litany of attitudes to looks sets things going, a shared reaction to the promoted image of beauty: pale skin, straight hair, thinner lips. Cosmetics and hair conditioners for black women not in this store.
Now comes a cleverly conceived sequence in which mothers tease their daughters' heads while Sheri-Ann Davies as "Haircomb", in school blazer, provides the voice for what her mother is saying, her words channelled through her daughter and the actress at the same time giving us the child's discomfort.
A send up of beauty-care instructions to obliterate your own looks to look like your favourite celebrity leads to Toyin Ayedun-Alase's loud-mouthed "Pickyead". Feisty and frank, she is watching the black guys going for long-haired white chicks or pale-skinned girls with straightened hair.
"Bounty" (white inside chocolate outside), with her beautiful RP accent, is strikingly played by Rebecca Omogbehin. Dark-skinned but rejecting the clichés of blackness, men who find her too dark-skinned, those who don't find her behaviour "black enough", she is boasts of "fantastic sexual encounters with white men… infatuated by my very existence". As a child, her mother rubbed in the bleaching cream but now she's her own woman and won't be defined by other people.
After a chorus piece about feeling good out with a guy and wondering why people have to be jealous, it is the turn of the mixed-race woman. Allyson Ava-Brown is lively, north-country "Halfbreed". It's the hair that marks her out or she'd pass as Spanish, Armenian, Moroccan, leaving her "to figure out what side is ready to welcome her."
The white woman who believes she's not racist comes next. "Token" supports Save the Children, Water Aid, even a child out in Rwanda but still asks, "Why does your hair look like pubes?". Katie Hayes makes her very funny, putting her foot in it offensively with the very best intentions. The writing here has a bigger element of caricature, perhaps a necessary emphasises to make the point to the caucasian part of the audience, though it is just as savagely plain-speaking throughout.
Lorna Brown is red-beret-wearing "Panther", blaming white supremacy for "sisters believing their hair is unmanageable and ugly". Her call is to be yourself; she ridicules hairpieces, wigs, whiteners and straighteners. As heads pop up around her in flowing blonde locks or fancy coiffures, she storms down the shop aisle that stocks them and goes out flourishing her can of cocoa butter.
"Bal-ead" represents the drastic solution. T'Nia Miller (who has been wearing a headscarf until now) presents the shaved-head look to a boyfriend, though he seems keener on the football on telly than bothering to notice. She's wild, she's liberated, she's regal, like an ancient African Queen. But flaunting herself a sexy red basque, has it been a disaster?
Seven women, seven fine actresses: they handle Somalia Seaton's bouncing rap-influenced verse with fluent skill, work beautifully together as a chorus and all give striking individual performances.
Nick Barnes's elegant set of a zig-zagged ramp that stretches out through the proscenium with screens that slide in for video projects and shadow play works perfectly, lit by Chloe Kenward, and Dawn Reid's direction keeps the humour bubbling without in anyway diluting the strength of feeling that this passionate, sometimes painful outburst delivers.
This is a fine example of the way that the Theatre Royal nurtures talent and responds to the concerns of its community. See it. You won't be disappointed.
Reviewer: Howard Loxton