Cruel
Companhia de Dança Deborah Colker
Theatre Royal, Newcastle, and touring
(2010)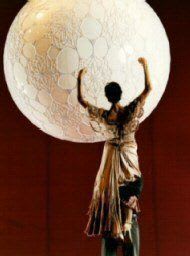 Cruel is about cruelty, the cruelty inherent in love.
In the first section under a huge lace-patterned globe of light, men and women in formal costumes dance together, occasionally changing partners, but are soon joined by a lone woman who tries to intrude into others' relationships, initially at any rate unsuccessfully. The party degenerates: clothing is discarded; someone is sick; the globe (the moon?) slowly vanishes into the flies.
The scene changes. Dancers move on and around a long white table which they push around the stage, occasionally seeming to try to run others down. Knives are brandished and stabbed, then thrown, into the table top. A dancer hangs underneath the table as it moves. The curtain falls on the first half.
As it rises for the second act we are confronted by four large wheeled mirrors, each one pivoted like a revolving door and having an opening pothole through which the dancers push limbs or even their entire bodies. At times dancers stand or move on top. The mirrors are pushed around the stage in various combinations. The act - and the performance - ends with one female dancer standing alone, a slight smile on her face, as the curtain falls.
There are many moments which stick in the memory: some simple (a woman moves upstage with one foot en pointe, the other shoeless), some threatening (a throat is cut), some stunningly beautiful (a woman is lifted so that she is almost framed by the hanging globe), some poignant (the exit of the rejected woman in the first section) and some dazzlingly athletic (many moments could be instanced here).
There is a sense of suppressed and not-so-suppressed violence throughout (I was reminded of Hofesh Shechter's Uprising in many ways), which was particularly evident in the first half. It was, I have to say, somewhat diluted by the second half where I felt that, as in some kinds of director's theatre, the concept (in this case, the mirrors) got in the way: concentration on the medium, you might say, got in the way of the message. And no doubt it was deliberate but the final moment felt like an anti-climax.
The only other piece by Deborah Colker which I have seen (Knot in 2006) was built, like this one, around stage settings which are players in the drama, but while then they were integral and integrated, here, in the final act, the piece began to feel somewhat incoherent.
What, however, is not in dispute is the skill, flexibility, strength and pure stamina of the dancers. They are simply breathtaking. The lighting, too, by Joghino de Carvalho, is stunning, enhancing the choreography and Gringo Cardia's set design.
Reviewer: Peter Lathan