Crumble's Search for Christmas
Robert Alan Evans
West Yorkshire Playhouse
Courtyard Theatre, West Yorkshire Playhouse
–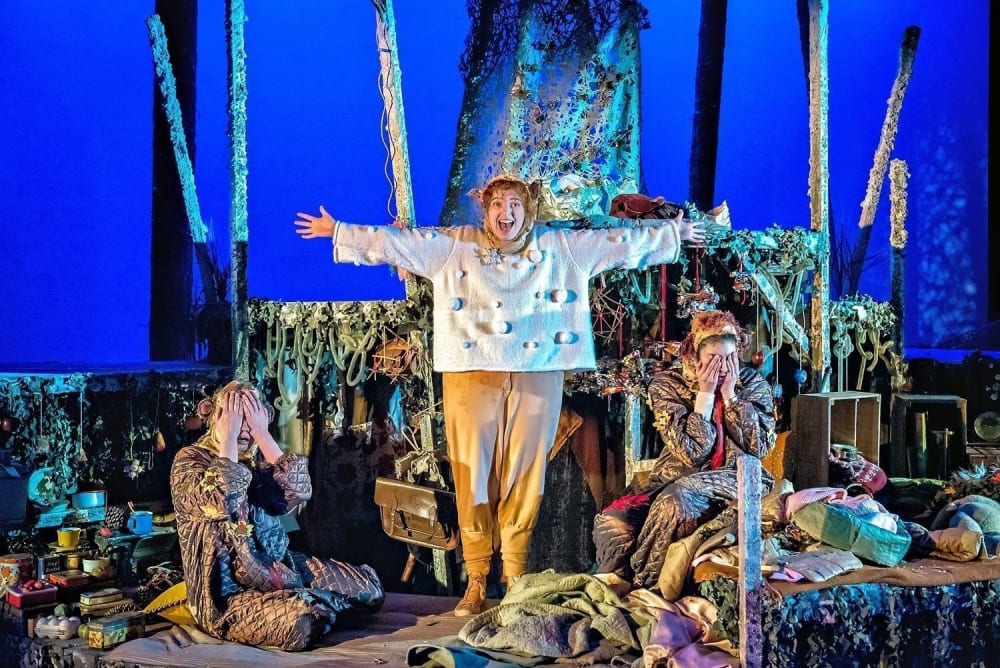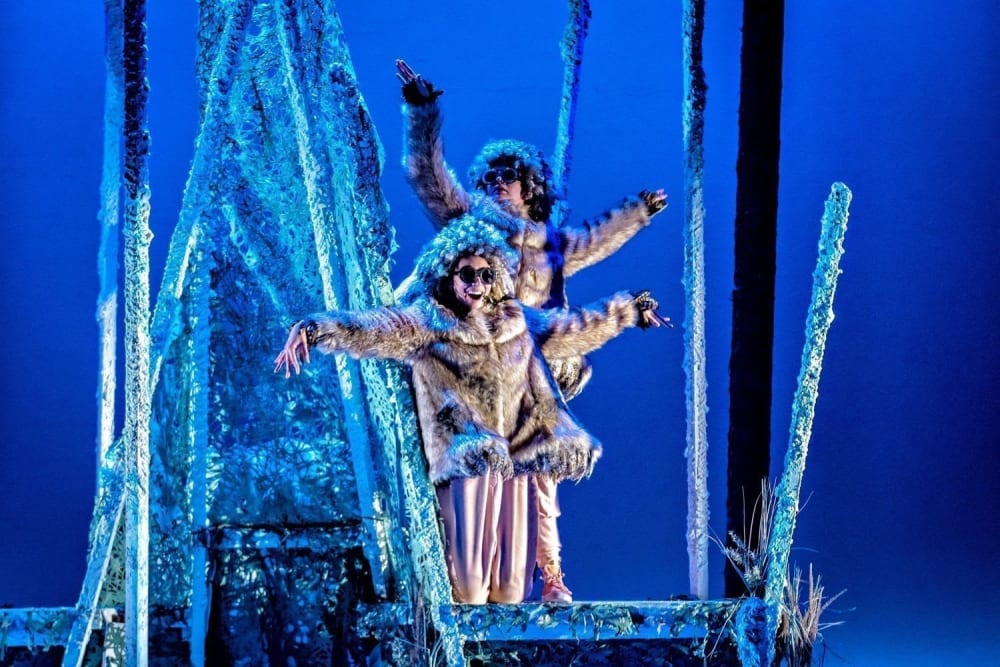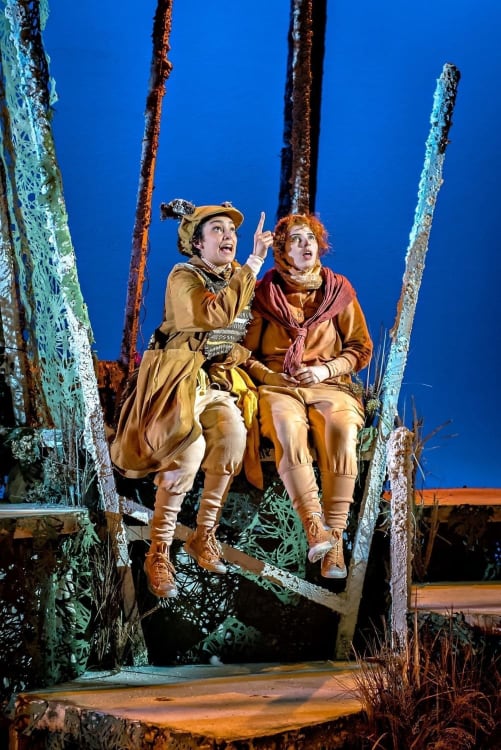 Nestling snugly alongside the spectacular entertainment of The Lion, the Witch and the Wardrobe in the West Yorkshire Playhouse's Christmas programming is the much smaller, gentler but no less warming Crumble's Search for Christmas.
I didn't have an expert with me during the performance I saw, but there were several two- to six-year-olds in the audience who seemed utterly rapt in this 50-minute journey through a wintry wonderland.
Written and directed by Robert Alan Evans and devised with the cast of three, this is an original tale of an unspecified but bearlike creature, Crumble (Emily Goldie), and her or his two friends Boo (Lucy Bairstow) and Elderberry (Riana Duce). While Crumble and Boo diligently go about their preparations for winter hibernation, Crumble becomes obsessed with a Christmas card found flapping in the breeze. Wondering what this "Christmas" may be, Crumble is dismissed by the others as a dreamer and a procrastinator. But when the time comes to sleep and Boo and Elderberry nod off in their burrow, Crumble is left wide awake and ready to head out on a search.
Bairstow, Duce and Goldie form a tight-knit and talented trio of young performers, charmingly sketching out the relationships between the three main characters even as the audience is still filtering in.
As Crumble searches for this mysterious thing called Christmas, Duce and Bairstow take on a range of other roles as the animals encountered on the way. The first of these, a forgetful squirrel performed by Duce, is a delightful comic turn, as are the reindeer played by Bairstow and the duo of preening, party-going owls. Finally, Crumble meets the spirit of Winter and discovers that there's not as much to be scared of as we had been led to believe—as long as you've got a nice warm jumper, scarf and hat.
This final encounter illustrates nicely the playful and imaginative staging as a whole, as the pair engage in a smile-inducing snowball fight, and various sleights of hand produce the winter woollies for Crumble to put on.
The characters are all well-differentiated and the occasional moments of music and stage effects are neatly employed, feeling magical and keeping even the youngest engaged in the story. The arrival of winter is a tribute to the transformative power of clever lighting design (Simon Wilkinson), as the vertical poles and surfaces of the burrow seem to become colder and icier in front of our eyes. The design, by Karen Tennent, is simple but versatile in this way, and supports the playfulness of the endearing threesome of performers.
There is, of course, a happy ending, and along the way Crumble learns three things crucial to any good Christmas: songs, friendship, and fun. It's a great way to introduce youngsters to the kind magic of the theatre, and a wonderful fuzzy warm-up to a happy Christmas.
Reviewer: Mark Smith