Cry God for Harry, England and St George!
with Sam Maynard
Mulberry Theatre Company
theSpace @ Surgeons Hall
–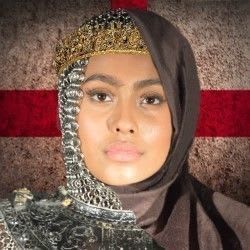 A group of East London teenagers are challenged to put on a production of Henry V. Like many amateur companies, one of the difficulties is getting everyone together to rehearse.
As personalities nudge their way through and the production progresses, the community is littered with threats of an Islamophobic attack on the day of their presentation, actors start dropping out. How they react to this and how they influence each other is reflected in the "once more unto the breach, dear friends" powerfully presented by the ensemble at the end.
We see the characters struggle with Shakespeare and with the treat of their community. Haters will hate. It's often the only thing they are good at.
The acting talents of this company is standard community theatre fare. But company members Ruwsan Abdulmajeed, Sumaya Begum, Jubeda Salam, Nadia Ali, Themanna Begum, Samia Chowdhury, Shahana Rahman and Sumaiyah Rahim, supported backstage by the company, present their point with determination and dedication. (16 thespians between the ages of 13 and 17. Forgive me if I have muddled the names.)
Director Sam Maynard has brought out the best in all of these young performer and seamlessly applied the Henry V speech. This is what community theatre is all about; their community.
Reviewer: Catherine Lamm