Cuckoo
Suhayla El-Bushra
Unicorn Theatre
–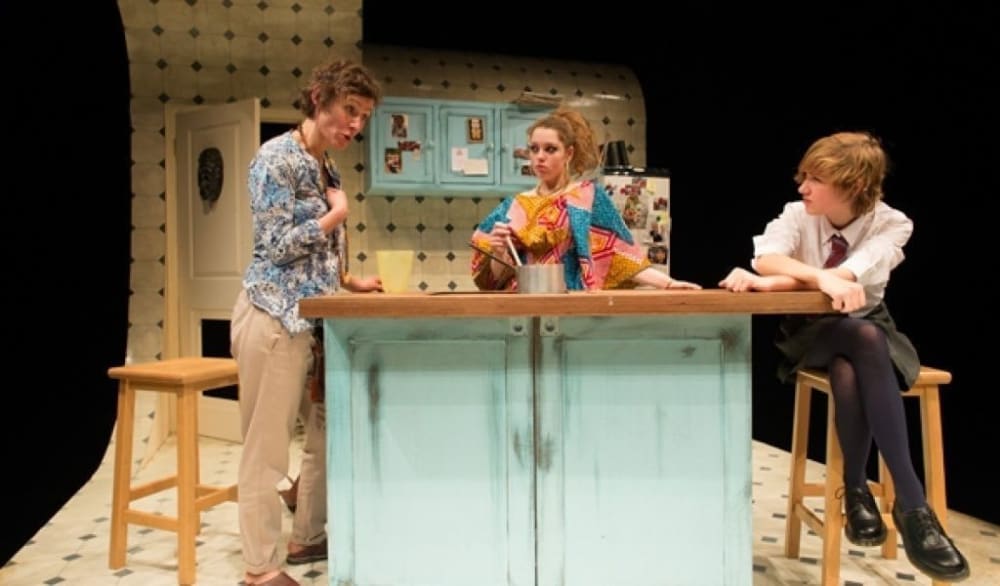 "Everything was grey until you came along, and now it's in colour" declares teenage Nadine to her new mate Jenny.
They are a surprising pairing: Jenny—a quiet, chess-playing, well-spoken, serious girl whose one-time hippyish mother did welfare work in Africa, now back in England since her father died—and Nadine—loud-mouthed, drug-taking and violent who can't stand her mum's new boyfriend and has recently been excluded from school for breaking a boy's arm.
Jenny's mother, whom she calls Erica, not mum, rather likes her daughter's new friend and the way she has brought Jenny out of her shell, but when Nadine can't stand it at home anymore and asks to move in, she is like a cuckoo in the nest. Jenny becomes jealous of the closeness between Nadine and Erica; she seems to be being replace both as friend and daughter.
This isn't a play that makes moral judgements. Erica goes back to smoking and shares Nadine's cannabis and if Jenny coughing her guts out on her first cigarette and being unable to handle alcohol seems just a little clichéd, it is the undermining of her good-girl image that points up Erica's child-rearing failings. It is a fascinating three-way battle for affections with an ambiguous ending that could open up a whole new chapter.
Director Nathan Curry has drawn excellent performances from two members of the Unicorn Young Company: Eden Howard making her professional debut as Jenny, giving a subtle performance of wary watchfulness that could suddenly go crazy, and Kate Lassman-Long in her second professional show as Nadine,gyrating to a pop song or chucking things on the ground in exasperation. Sarah Malin's Erica matches a self-conscious sense of parenthood with a liveliness in response to Nadine's eruption into a life that lacks the stimulus she had in Africa.
Georgia Lowe sets the action in a rising arc of vinyl flooring so that a basic kitchen set can serve as school toilet or rooftop and the production cleverly uses the characters moving a kitchen island unit to change scene to parallel the changing balance between the characters.
The drink and drugs and language used probably account for the theatres suggestion that it is not suitable for those under 16 and indeed it might be thought to set them a bad example, but it seemed to me that it is exactly that mid-teenager to whom it seems most appropriate. Late teens might not identify or need it to be more streetwise—however it should lead to plenty of discussion among those youngsters who see it and set off some soul searching among parents.
Reviewer: Howard Loxton