Cuddles
Joseph Wilde
Ovalhouse and Arch 468
Ovalhouse Theatre
–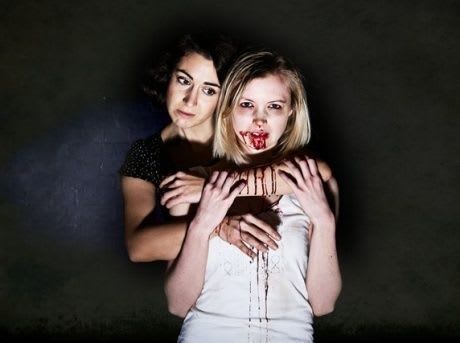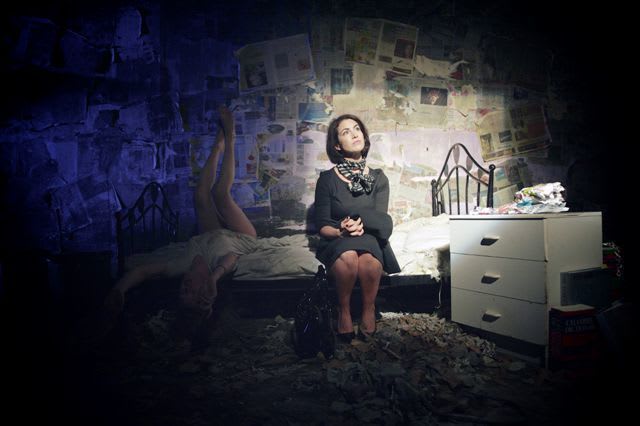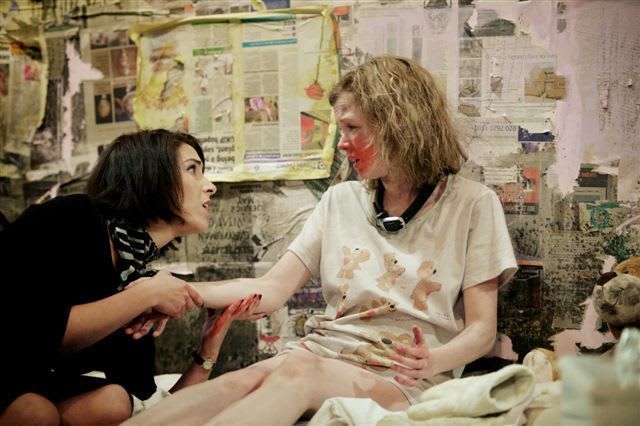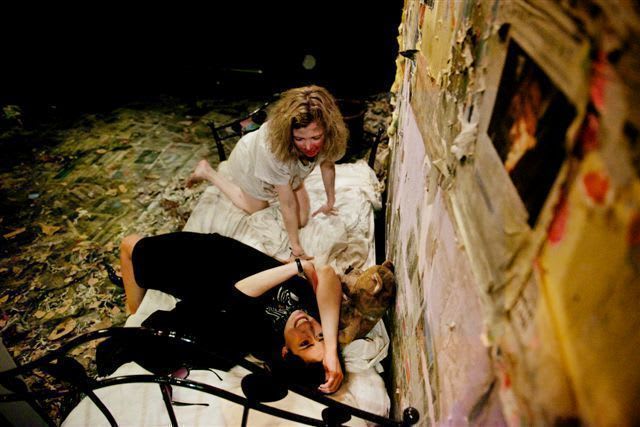 Teenage Eve lives in Loughton. She thinks she is a vampire. Her favourite meal, which she calls dinner dinner, is her sister's blood—and she is always hungry.
A virtual prisoner in one room, she has never been out into the world beyond, a world full of dangerous monsters that sister Tabby daily braves. She has been brought up on fairytales and Harry Potter and lives her life in her imagination.
We watch them together and see their daytime lives in parallel, intercut with each other as Eve pursues her imagination and Tabby runs her office, visits a young man she has injured—an incident she describes to Eve as an encounter with a "Chugger", one of a race of inhuman monsters who wear bibs around their necks on which they write their victims' names. Chuggers used to be people but no one loved them and that turned them into monsters.
Whether the newspaper-papered walls and detritus-strewn floor of James Turner's set, to which the sisters add the rubbish of dead flowers and uneaten sandwiches, is meant to be real or to symbolically imply the disorder of their lives and to remind us of the newspaper stories of prisoned girls and their captors, its red and green bins for faeces and urine are real in the corner—even the toilet that Tabby uses is outside Eve's safety zone.
Libby maintains an all-embracing fiction, the sound of a mobile phone is identified as exotic birdsong (balanced in the real world scenes with the man she is beginning to get involved with by hearing a blackbird singing). Eve's life is governed by strict rules. Even cuddles have strict grading: level one means you can hug yourself, two rubbing the head against the other like a friendly cat and so on.
Tabby's smart turnout in black suit with shiny handbag suggest the efficient business lady but she is as damaged as her naïvely-innocent sister, a woman ill-versed in social niceties, going on about abortion on a first date and automatically assuming that sex will be expected.
What at first seems an artificially invented situation to allow the writer to explore the extremes of control is gradually revealed to have its origins in abuse and a relationship that one begins to suspect much earlier than its revelation.
What could be extremely unpleasant to witness is lightened by flashes of black humour and the richness of Wilde's language and invention. Forced by her sister to go outdoors, Eve rushes in declaring she felt "the eye of God burning me alive". What happens when you suddenly change the world and the rules you have always lived by? How do you adjust to a new life? Wilde doesn't attempt to offer solutions but he certainly raises lots of questions.
The consistency of Wilde's vision and the well-matched and forceful playing of Rendah Heywood as Tabby and Carla Langley as Eve give reality to the situation. Edward Lewis's sound design adds further drama to Rebecca Atkinson Lord's carefully shaped production of what is being promoted as this writer's first full-length play, though at 80 minutes straight though some might question that description. Do modern audiences no longer want to spend a whole evening at the theatre?
Reviewer: Howard Loxton