Curtains: A Musical Whodunnit
Book by Rupert Holmes, original book and concept by Peter Stone, music by John Kander, lyrics by Fred Ebb
Dan Looney, Adam Paulden and Jason Haigh-Ellery for DLAP Entertainment, Sally Horchow and Roger Horchow
Sunderland Empire
–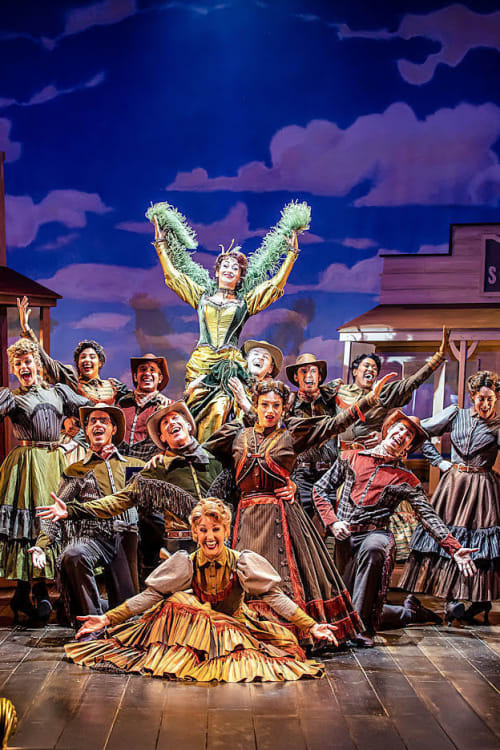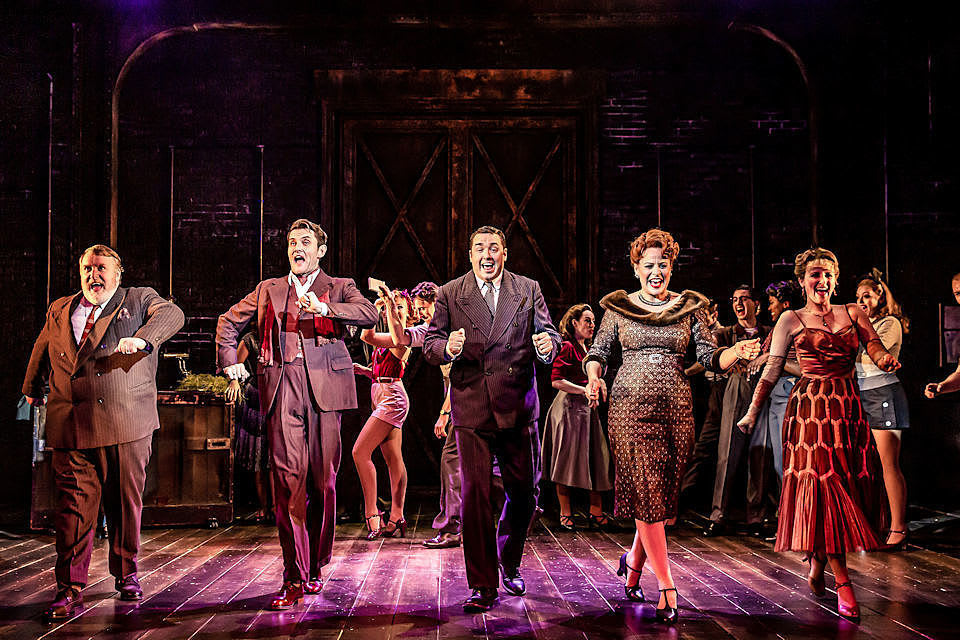 The first night is a disaster! Not only do the critics find this pre-Broadway try-out of a musical which transfers the story of Robin Hood from Sherwood Forest to the Old West awful but the leading lady (herself a disaster in terms of her performance) is murdered during the curtain calls. The police are called and arrive in the person of Boston PD's Lieutenant Frank Cioffi (well, he had to be Italian, didn't he? Let's not miss a cliché!) who just happens to be an enthusiastic amateur actor.
This, then, is the premise of Curtains: A Musical Whodunnit, a musical about a murder in a musical—sort of Hill Street Blues channelling Agatha Christie meets Kiss Me, Kate, with added comedy, as our hero not only solves the murder but rescues the show too. And it's got songs by Kander and Ebb. Not their best, it has to be said, not Chicago or Cabaret, but pretty damn good nonetheless, and pretty witty too. Not many could get away with a song like "What Kind of Man?" attacking theatre critics or "It's a Business" which undermines all the cherished show-business myths. "There's no business like showbusiness" takes on a totally different meaning!
The setting is the 1950s, one of the golden ages of the Broadway musical—Seven Brides for Seven Brothers, Guys and Dolls, The Bandwagon, An American in Paris, Singin' in the Rain and many more. The show is awash with showbiz clichés. There's got to be a hoedown dance routine, of course, and the director must be English. The producer's concern (of course!) is for the return on his investment and there's the dumb blonde would-be star who proves to have more talent than anyone, especially her mother, suspects.
And there has to be some love interest for the man who saves the day.
Oh yes. And let's work in a bit of innuendo too!
As for the villainous murderer, this is, after all, a detective story in the Christie, Allingham or (dare I say it?) Midsomer Murders mould, so the chances that we mere mortals in the audience could work out who it is are vanishingly small—and that's just how it should be!
The tunes are catchy and bright, the choreography (Alistair David) varied and enjoyable with everything from country style to a bit of Fred and Ginger and even a hint of Busby Berkley. The set (David Woodhead) and costumes (Gabriella Slade) are perfectly suited to the period and the style and director Paul Foster pulls it all tightly together and keeps it going at a cracking pace.
In other words, it's a fun show which plays with different genres and keeps us amused, entertained and involved for a full three hours, and that, of course, is as much due to a talented and tireless cast as it is to all the other aspects of the show. Carley Stenson (Georgia Hendricks), Ore Oduba (Aaron Fox), Rebecca Lock (Carmen Bernstein) and Samuel Holmes (Christopher Belling) have impressive CVs, whilst popular stand-up Jason Manford as Lt Cioffi reveals a singing ability as great as his comedic talents.
However, as I have said on many occasions in many reviews, such is the quality of the UK's triple-threat performers that to find a weakness anywhere in the cast of a show like this would be totally unexpected, and here, yet again, the rest of the cast make a major contribution to the audience's enjoyment.
It's not great music theatre but it's fun music theatre. It's not great Kander and Ebb but it's enjoyable Kander and Ebb and has many of the qualities which give them their pre-eminent position in the pantheon of music theatre composers and lyricists. Well worth seeing! You'll enjoy it.
And next week Cabaret comes to the Empire!
Reviewer: Peter Lathan